16 Best Road Bikes Under $1000
---
Nowadays, you can have all the benefits of good road bikes, including disc brakes, a wide gear range, and a lightweight carbon fork for less than $1000.
Shimano Claris drivetrain is common in this price range. Expect quick and silent gear shifting.
Most bikes in this price range come with caliper brakes, but you can find a few models with mechanical disc brakes.
Get a bike with 700×28c tires. They're quick and comfy.
Expect to spend at least $700 for a decent entry-level road bike.
---
We love road bikes because they're the fastest among all bike types. We've spent more than 50 hours researching, reading, and speaking to cyclists to find the very best road bikes under $1000.
Our current top recommendation is Co-op Cycles ADV 2.10 – a fast and comfortable road bike ready for riding on asphalt or gravel. But we also have recommendations if you need something with a compact geometry or a women's specific frame.
---
-Best Overall Cheap Road Bike-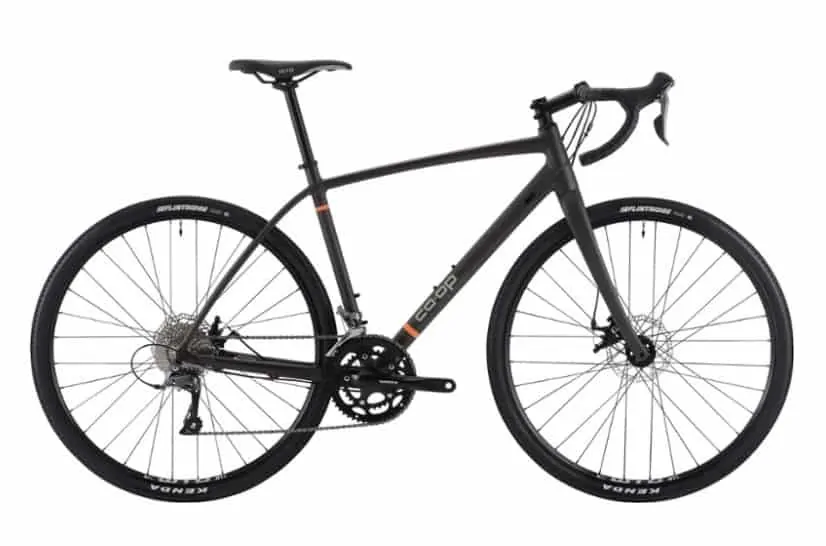 ---
Ready for casual road cycling or bikepacking
Aluminum frame and carbon fork
Shimano Claris drivetrain with 16 speed
Promax DSK-718R Mechanical Disc Brakes
---
While you could have trouble finding this bike, it is definitely worth your effort to search for one. The ADV 2.1 features an aluminum frame and carbon fork for balanced durability, and it is so lightweight, climbing couldn't be easier.
The Shimano Claris 2 x 8 drivetrain with compact double cranks provides an excellent range of 16 gears, so both speed and power are yours in one reliable road bike.
This bike comes with Promax mechanical disc brakes plus 12-degree flared handlebars offering both a wider and more upright hold for hands and body.
Kenda Flintridge 700c x 35mm tires built for speed and a clean centerline for efficiency on hardpack terrain both distinguish this bike from competitors. Small touches, like shoulder knobs for a surer grip on gravel, can't be dismissed.
Related: Short History of Co-Op Cycles
---
-Great Parts for a Great Price-
---
Shimano Claris R2000 drivetrain with 8 speed
Bontrager R1 Hard-Case Lite 700x28c tires
100 Series Alpha Aluminum Endurance Frame
Alloy dual-pivot brakes
---
Value-minded road cyclists seeking a drop-bar bike that's an upgrade in feel, speed, and efficiency over flat-bar hybrids or mountain bikes will want to test out this bike before making a buying decision.
The Domane AL 2 is a wonder of technology offering a Shimano Claris R2000 drivetrain with 16 speeds and shifters integrated into the brake levers so hands remain on the handlebars at all times.
Read more: Best Trek Bikes
Conquer terrain that varies in elevation atop this lightweight aluminum frame with mounts for fenders and a carbon fork, not typically found on road bikes with affordable price tags.
Referred to by Trek product developers as the "ideal, comfort-first introduction to road riding," this bike may not rival tricked out bikes made to dominate at the Tour de France, but the lifetime warranty and brand reputation will deliver memorable experiences until you're ready to compete!
---
-Best Value Road Bike-
---
ALUXX-Grade Aluminum compact frame
Shimano Claris drivetrain
Giant P-R3 AC, 700×28 tires
KMC Z72 chain
---
According to "Bicycling Magazine," this bike's "steering is tame and doesn't feel nervous if you lay off the brakes and let it run." But the fact that this ride costs even less than the aforementioned Trek Domane AL2 could convince you of its merits.
Promoted as a smooth, fast, and fun bicycle, this versatile aluminum road bike is an upgraded design that Giant product developers say enhances "the well-rounded performance ride quality."
Push your pace to the limit, ride more miles, and expand your riding experience at a price that won't run you off the road. The Contend 3 was developed for what Giant calls "aspiring riders" who want to be rewarded with responsive acceleration plus an ergonomic riding position that minimizes body aches.
Zoom along on the innovative D-Fuse seat post that reduces vibrations and road shocks, enjoying enough frame and fork clearance to run wider tires (up to 32c) if that's your desire.
Read more: Are Road Bikes Faster Than Mountain Bikes
---
-Best for Women-
---
Balanced ALUXX-Grade Aluminum frame
Giant S-R3 AC, 700×28 tires
Shimano Claris drivetrain
Top bar brake levers
---
Ladies: This bike was designed with you in mind, and it won't force you to cut back on the amount of cash you spend on fashion and makeup. Made exclusively for women adventurers seeking a comfortable, well-engineered ride no matter the terrain, this baby is comfortable on long hauls, lively on climbs, and confident on descents — just like you.
Read more: Best Bike Skirts for Women
Features include state-of-the-art ALUXX-Grade aluminum frame geometry and an advanced-grade composite fork with OverDrive steerer. No matter how far or wide you travel, stay energized thanks to precision steering and a comfortable saddle.
The PowerCore bottom bracket transfers power directly from each pedal stroke and onto the road below so every journey is efficient and balanced – just the virtues women want in a bike.
---
-Cheap and Reliable-
---
Cannondale SmartForm C2 aluminum frame
Shimano Sora drivetrain with 18 speed
Rim Brake with Shimano Sora brake levers
Schwalbe Lugano, 700x25c tires
---
Tipping the pricing scale at just over our median price range of $1000, this Cannondale Optimo Sora won't disappoint if you decide to exceed your budget a bit. It's built for excellent handling, speed, and durability.
"A performance road bike with race-winning DNA. Smooth, fast, affordable—pick three," say Cannondale designers. Features include a lightweight SmartForm C2 alloy frame, carbon fork, Shimano Sora 9-speed group w/ FSA Vero dual chainring crank, and alloy handlebar and seat post for optimal performance.
Included on this bike's list of virtues are the subtle rack and fender mounts that expand this ride's versatility, even in lousy wet weather or during a stressful commute.
Even the wheels are unique: Front and rear hubs are from the Formula RB-31 and RB-32 family, rims are sturdy and feature 14g stainless steel spokes and 700c x 25c Vittoria Zaffiro tires add a touch of the exotic to this commendable product.
---
-Great First Road Bike-
---
E5 Premium Aluminum frame
Specialized FACT carbon fork
Shimano 2000 Claris shifters
Tektro, alloy, dual-pivot brakes
---
While some road bike manufacturers follow the "one size fits all" rule, the Specialized Allez stands out from the crowd, offering sizes 49cm, 52cm, 54cm, 56cm, 58cm and 61cm, so if size has been problematic for you in the past, this may be the ride you seek.
Identify your needs and style and the Allez is up for it: road cycling or commuting. As performance-packed as it is versatile, this bike features a lightweight alloy frame, carbon fiber fork, and mounts for racks and fenders.
Climb as many hills as you like but you don't have to feel like a beast of a burden if you live in a high rise and must carry your ride to your digs because this ride is very light.
The redesigned E5 Alloy frame sits atop thin-walled tubes that reduce weight (almost a pound) and forget about alloy or cheap carbon fiber forks; this cycle comes with a full FACT carbon fiber fork that benefits handling.
Read more: Can a Man Ride a Women's Road Bike
---
-Best Compact Road Bike-
Tommaso Imola
---
Full Shimano Claris 3×8 drivetrain
Compact frame geometry
Rim Brakes
Steel Fork
---
What's white, black, and orange and comes in 6 sizes? This showy Tommaso Imola isn't shy about showing off its brand name splashed across the frame. For an entry-level road bike, the Imola exceeds industry standards. Every component is Shimano R2000 Claris, so anticipate a wealth of benefits contributed by this groupset.
The 6061 SLA aluminum compact frame and SST steel fork are paired for a strong, reliable ride, you can shift like a pro and show off your cycling acumen because all of the parts that went into the drivetrain are designed to work flawlessly together.
Tackle any road you desire. Lightweight Tommaso TC-20 wheels offer reliable performance and strength under an amazing number of road conditions as you sit atop your Tommaso WTB Volt Road Saddle in command of Tommaso UltraCompact handlebars that give you the ride of your life.
Read more: Tommaso Sentiero Review – An Excellent Bike for Exploration!
---
-Best Endurance Women's Bike-
---
Endurance geometry
Shimano Claris drivetrain with 8 speed
Tektro MD-C550 mechanical disc brakes with 160mm rotors
Giant S-R2 Disc wheelset, 12mm thru-axle
---
This uniquely-colored women's bike isn't for cyclists who want to go unnoticed, yet beyond its beauty, endurance is mighty. Lightweight and balanced due to modern endurance geometry, whether you're riding for the day or commuting to work, the AR 4 doesn't disappoint thanks to Sporting OverDrive and PowerCore technologies.
The efficient frameset delivers superior stiffness without compromising compliance and the ride is surprisingly comfortable due to the Advanced-Grade Composite fork and ALUXX tubing.
Liv marketers insist that the AR4 "opens up a whole new treasure chest of possibilities" on asphalt, unpaved road, flats, climbs and descents. Wide tires, an Advanced-Grade Composite fork and D-Fuse seat post contribute to this bikes' lack of vibration even on harrowing terrain, and when it's time to stop, powerful mechanical disc brakes won't let you down.
---
-Jack of All Trades-
---
Vittoria Zaffiro V 26 tpi tires
Endurance geometry
Shimano Claris drivetrain
Shimano Claris Dual Control shifters
---
While this hot red Fuji ride is available in 7 sizes (46cm, 49cm, 52cm, 54cm, 56cm, 58cm and 61cm). Fuji engineers claim that the Sportif 2.3 takes "geometry cues from our top-level endurance bike, the Gran Fondo," but here's where differences arise: the Sportif has a longer wheelbase and taller headtube, so for riders who look like the Hunchback of Notre Dame every time they dismount, this Fuji will reduce pain and aches.
Road-compliant seat stays and smart specs make the Sportif an enviable all-weather ride because the frame and forks are designed to accommodate most aftermarket fenders. Since the frame is crafted of Fuji's mid-level aluminum and double-butted frame tubes, it's both light and durable.
Wave seat stays disrupt and diffuse road vibration, offering a slight vertical flex that smooths the ride and because cables are routed inside frames tubes, longer cable life is likely.
---
-Premium Feel, Affordable Price-
---
Aerodynamic handlebars
Shimano Claris drivetrain
700c x 37mm wheels/tires
Big clearance – fatter tires ready
---
While this unisex road bike is also among the products on our list that can be hard to find, that doesn't mean you shouldn't look once you hear more about this clever ride. Ready to undertake anything thrown it's way – from gravel racing to rail-to-trail excursions — the Claris 700 features an aluminum frame and 16 gears.
Frameset mounts are included for racks and fenders down the road, and efficient 700c wheels with 37mm tires plus aluminum tubing and an aluminum fork with generous tire clearance make a tidy package that is also affordable.
Employing classic Journeyman geometry and an 8-Speed Shimano Claris GS derailleur, changing speeds is as easy as tapping the Shimano Claris STI shifter for a fast response. The simple Fantail fork with Three-Pack Mounts for ease-of-handling is a compelling feature for shoppers.
---
-Great for Century Rides-
Raleigh Merit 2
---
Great for comfortable long rides
Wider Kenda K-193 Road 700x28c tires
Custom Formed and Butted Aluminum Frame
Shimano Sora Drivetrain
---
If you crave a road bike costing under $1000 and seek a name brand that has been around forever, this Raleigh Merit 2 belongs on your shortlist. This is the quintessential endurance bike if you take century rides and long road rides because it is fabricated for comfort and efficiency.
Fitted with a responsive aluminum fork, Shimano R3000 Sora caliper brakes for stopping power and featuring the stability of wider tires, this light, the fast ride is designed to emulate the classic road bike, offering optimal, precise control and steering.
Manufactured in 6 sizes (50cm, 52cm, 54cm, 56cm, 58cm, and 60cm), this bike comes with rack and fender mounts, a signature Raleigh Road bike seat with steel rails and a Kalloy HB-CR21 Road Bend 31.8mm handlebar and exactly the geometry you seek for your next road adventures.
---
-Best for Bikepacking-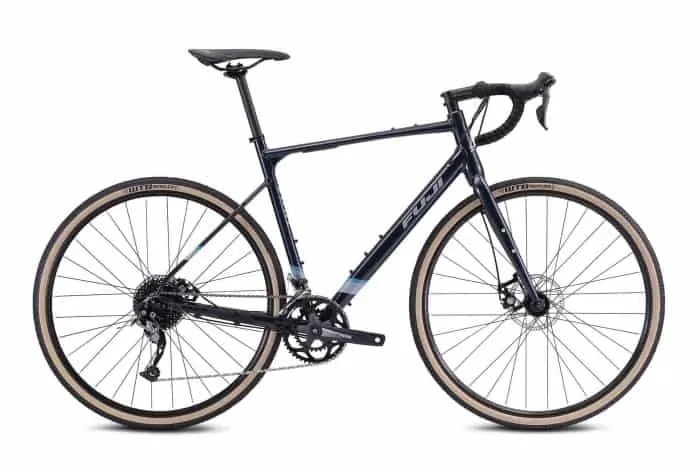 ---
Ready for gravel races, light touring and bikepacking
Shimano Sora Drivetrain
Quick WTB Riddler 700×37 c tires
Fuji A6-SL custom-butted alloy frame
---
Do you yearn for a sleek black road bike that manages to fit within your $1000 bike budget? The Jari 2.3 checks off plenty of boxes as you go about your quest. Designed to shine in all sorts of circumstances – from gravel and light touring to bikepacking adventures – the Jari is a workhorse, daring riders and terrain alike to throw obstacles in its path.
Long, slack geometry combines to deliver a stable, confidence-inspiring ride. Available in 6 sizes (48cm, 52cm, 54cm, 55.5cm, 57.5cm, and 60cm), each bike in this line features a proprietary A6-SL custom-butted alloy frame for lightweight, strength, and reliability, a Chromoly fork with a low-rider water bottle and rack mounts and Shimano Sora components.
All credit for smooth riding goes to WTB ST i23 Light TCS rims with Formula hubs plus WTB Riddler 700×37 c tires and no worries about rack and fender mounts since they're included in this bike's design.
---
-Best Fitness Bike-
---
Ready for commuting or fitness
Integrated connectivity with Cannondale App
Shimano Altus/Acera 18-speed drivetrain
Hydraulic Disc Brakes
---
If your definition of the ideal ride is having the ability to move at the speed of light, the Cannondale Quick Disc 3 deserves your attention.
According to the manufacturer, this swift, sporty ride adapts to all circumstances, so whether you're up for a workout, city cruising, or taking a stress-releasing adventure, the Quick Disc 3 is ready to respond to your mood and your need for speed.
Beyond the merits of frame design, high-quality raw materials, style, and responsiveness, this bike comes with an integrated wheel sensor that helps track your activity (e.g., speed, distance, and calories burned), registers your bike, and it will even remind you to service your bike, all of this courtesy of the free Cannondale App.
---
-Fast, No-Nonsense Road Bike-
---
Full Shimano Tiagra 4700 groupset
Premium 6061 SLA Aluminum frame
Comfortable WTB Volt saddle
UltraCompact handlebar
---
The Monza sells out fast, and it's easy to see why. This bike offers a smooth, powerful ride that rolls like a dream thanks to 40mm deep rims that provide a cushioned ride with noticeable, increased aerodynamics and stability.
The Tommaso 6061 SLA Aluminum compact road frame and HCT Carbon fork provide a reliable ride. The Monza drivetrain features the full upgraded Shimano Tiagra 4700 for on-demand shifting power when you need it most.
Tiagra shifters and derailleurs are known to provide effortless control and lightning-fast shifting. Tommaso TC-40 rims offer great aerodynamics with a deep rim profile and bladed spokes, so wheels are tough, durable, and dampen vibrations. Increased centrifugal force adds balance and stability to your ride.
Notes one fan, this bike is "fast, exciting, innovative, groundbreaking, and it's hard to get bored with it."
---
-Affordable All-Rounder-
Schwinn Fastback 2
---
18-speed Shimano Sora drivetrain
Front and rear Schwinn alloy caliper brakes
A 28-millimeter tire clearance
Schwinn S2 road stem and bar with Schwinn S1 road race saddle
---
The Fastback 2 is another popular addition to the company line that sells out fast – likely because the price is one of the lowest on our list.
Delivering a balance of performance and comfort, added speed components push this ride's limits so riders cruise and climb effortlessly courtesy of the 18-speed Shimano Sora drivetrain with Shimano Sora shifters and alloy FSA Vero compact crank.
Front and rear Schwinn alloy caliper brakes and the Shimano Sora braking system will stop on a dime. Additionally, enjoy 28-millimeter tire clearance and rack and fender mounts.
Comfortable? You bet. The Schwinn S2 road stem and bar with Schwinn S1 road race saddle and double-gel bar tape add comfort at key touchpoints for an exceptional ride at a price that's hard to ignore.
Read more: Best Entry-Level Road Bikes
---
-Great Value and Performance-
---
Premium Tommaso Corsa TC20 wheels
Full Shimano Claris drivetrain
Ultra-durable 6061 SLA Aluminum compact frame
WTB Volt saddle
---
As you may already notice Tommaso is one of my favorite bicycle brands. They make very solid, high-quality, and good-looking bikes.
Tommaso Imola Endurance is another great example of this trend. The road bike is fitted with a very compact aluminum frame and steel fork. It is the ultimate bike for commuters as its frame has been drilled for all types of fenders and racks, which is very nice.
The 3×8 groupset from Shimano Claris R2000 provides a wide range of gears to make it perfect for all terrains from hills to flat roads for all types of riders. The Shifters, Derailleurs, Crank, and Brakes are all new 2019 Claris. Tommaso Imola Endurance features wider 25mm, 700C tires for nice performance and smooth ride.
The responsiveness and performance shifting of this bike is impeccable due to the Shimano Claris STI shifters used in it to provide consistent and smooth shifting in all riding conditions. It offers comfort and powerful control on the road due to its premium quality compact handlebar and geometry of the compact frame.
---
Is it possible to find good road bikes for under $1000
The good news is that today there are many good road bikes which are cheap, reliable and very fast. Some things are important for every bike. You can have all the benefits of good road bikes, including disc brakes, a wide gear range, and a lightweight carbon fork.
If you're wondering how much you should spend on a new bike, check our full guide on prices and deals.
Of course, you can't buy an affordable bike with a carbon frame, but I guess this would change in the future. Road bikes are different from other bicycles because they're lighter and much faster. They have very narrow tires that make the difference. Their geometry puts the rider in a very aerodynamic position, which helps with the wind resistance.
Read more: Why Are Road Bikes So Expensive
If you have never ridden a road bike before, you will notice how much faster they are than any other bike type. You will be 6-7 miles per hour faster with minimal effort than you would be on a mountain bike or a hybrid bike.
So let's say you have decided that you want a road bike. The biggest problem is that road bikes are expensive! Well, this could be true, but there are also some excellent and affordable road bikes under $1,000, which will be the perfect choice for any beginner "roadie."
---
How to choose the best road bike under $1000
Road Bike Size
A bike that is not correctly fit for you is uncomfortable and can cause carpal tunnel syndrome and back pain during long rides. Sometimes it is very tempting to buy a wrong-sized bike because it is on sale and the price is excellent. Don't make such a big mistake because sooner or later, you will hate cycling.
Read more: Our Favorite Bikes for Back Pain
My advice is to check with your local bike store your correct size. I'm sure that they will help you and this way you could then order the correct size online. For more information on bike sizes, you can also check this very good and comprehensive article by Evans Cycles.
Also, you can check our own bike size charts article.
---
Road bike frame material
A bike with an aluminum frame can be less expensive than other materials whereas the steel frame can be stronger and more durable for you. The frame made of titanium can be lighter than the aluminum frame and sturdier than steel but it is costly also. So it may not suit your budget.
Carbon fiber is also used by several companies to manufacture frames of road bikes. The designers make a frame, after considering several other factors to make them more comfortable, strong and lightweight. For your budget below $1,000, you won't find any bikes made of carbon fiber or titanium.
What is the best road bike under $1,000?
Our current top recommendation is
Co-op Cycles ADV 2.10
– a fast and comfortable road bike ready for riding on asphalt or gravel.