---
After 40 hours of research on the topic, we conclude that the best bike for seniors is Cannondale Treadwell 3. It's a reasonably-priced step-through hybrid bike that is perfect for commuting and meeting up with friends. If you prefer to hop on the e-bike trend, then Trek Verve+ 2 Lowstep is an excellent low-step hybrid electric bike that won't disappoint you.
---
Riding a bike gives you a feeling of freedom and enjoyment as crisp, clean air opens your lungs. However, as we get older, it becomes harder to find the best bikes for seniors that meets our physical capabilities.
To make this process easier, I've made this guide to help you find the bike that suits your needs.
---
PROS:
The comfortable aluminum step-through frame
Affordable price tag
Reliable disc brakes
Cannondale makes excellent bikes
Comfy quilted saddle and ribbed grips
Integrated wheels sensor for tracking speed, distance, etc.
Perfect for urban cycling
CONS:
Only 7 speed
Not suitable for hilly areas
Cannondale Treadwell 3 is an absolute champion in our battle for the best bikes for seniors. For $635 you get an excellent bike made for city commuting, casual riding in the neighborhood, and meeting with friends.
What I like the most about this bike is the step-through frame, which is very comfortable for the older riders. The frame is made of high-quality aluminum as well, which means it's lightweight.
Everything about this Cannondale bike says quality components – from the quilted saddle to the ribbed grips. Not to mention the Promax mechanical disc brakes, which are very capable of stopping this bike.
The bike is fitted with integrated wheels sensors for tracking speed, distance, and calories burned— registers your bike and reminds you of needed service via the free Cannondale app. It comes with a convenient phone mount on the stem that securely holds any SP Connect–compatible smartphone case.
Shifters and rear derailleur are Shimano Tourney, which guarantees excellent quality and longevity of use. The tires are also perfect for an entry-level bike – Maxxis DTR-1, 650b x 47mm. This is something scarce for the bikes below $700.
The only thing that might stop some buyers is that the bikes have only seven speeds – no front derailleur here. But the truth is that it is enough for your casual rides, and you don't need more gears.
---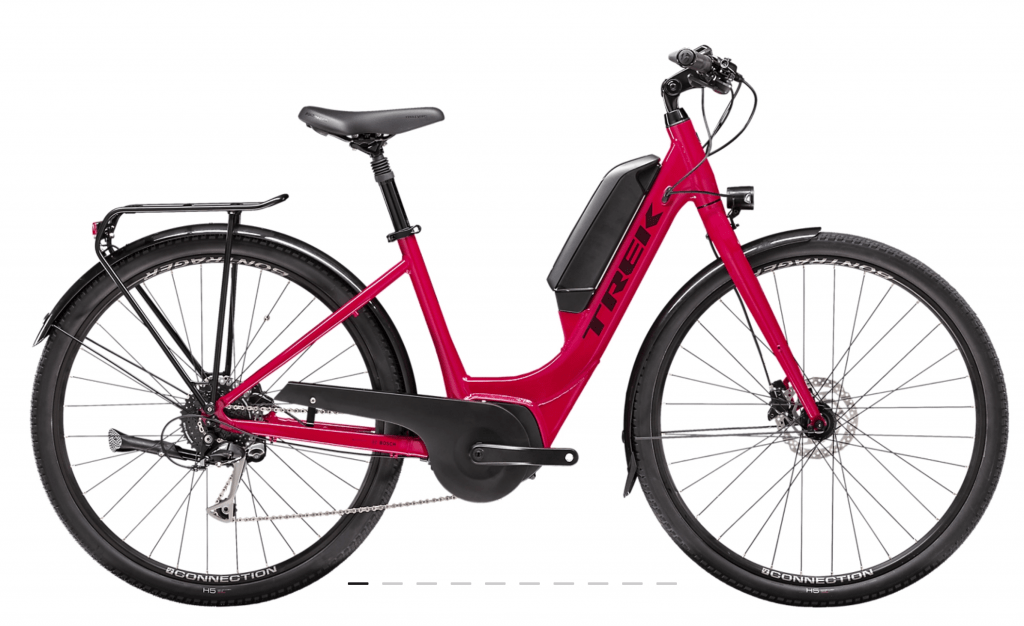 ---
PROS:
Super comfortable low-step frame for seniors
Powerful drivetrain made by Bosch
Excellent battery and overall electric equipment
Comes fully equipped with fenders, lights, and rear rack
Great stopping power due to Shimano MT200 hydraulic disc brakes
CONS:
Expensive for most boomers
---
You are probably shocked by my suggestion, but let me explain. I know that if you are a senior, and not in shape, starting out is very difficult. With this e-bike made by Trek, it won't be difficult at all. Your daily training or commute to the local market will be helped by the great Bosch pedal-assist system which is one of the best on the market right now.
You can cruise on the streets or in the park with assisted speeds of up to 20 mph. The motor is a 250-watt Bosch Active Line with an outstanding 40nm of torque.
The ride will be more than comfortable due to the suspension seat post which is rarely included in an electric bike. It will be safe as well, due to the powerful Shimano MT200 hydraulic disc brakes.
The best feature of the Trek Verve+ is the geometry of the frame. It's a nice low-step frame made for comfort and easy to hop on and go. Not many electric bikes these days come with such a nice low-step frame.
What's more, the Trek Verve+ comes fully equipped with fenders, lights ( front and rear ), and a rear rack.
In conclusion, Trek Verve+ 2 is an excellent bike for seniors who want to have more fun, and train for their health. The biggest benefit of using an e-bike is that you can get home safe and sound even if you get tired many miles away in the countryside.
---
---
PROS:
Super-comfortable step-thru frame
Nice retro style
Powerful brakes
32 spoke wheels suitable for heavy riders
Leather seat
---
I rather enjoy the look of the Parker Step-thru as it has a retro design with minimalist features that I enjoy. This bikes a great option for seniors with its steel, step-thru frame that offers easy mounting and dismounting.
It's a single-speed bike that's designed for cruising the neighborhood, while getting a low-impact workout, so you'll only move as fast as you can pedal. Another reason the Parker step-thru's ideal for seniors is because of its KT Coaster brake hubs. These hubs allow you to break with your feet and have no cables or wires to get caught upon.
Plus, it offers a more attractive design without all those wires and cables running throughout the bike. This bike has 32mm deep-v rims and 32 spoke front and rear wheels designed to grip the surface as you ride for better stability.
This bike has many comfort features you'll want, like leather handgrips and mustache handlebars that'll keep the strain off your wrists and puts you in a natural upright position to ease back pain. With the leather-covered, padded saddle you'll stay comfortable throughout your entire ride, without painful sit sores.
If you're looking for a casual neighborhood cruiser, the Parker Step-Thru makes a great option. You'll pay $256 for this bike, making it very affordable. It's well worth its price tag considering the amount of comfort it provides while you ride.
---
---
PROS:
Very comfortable ride
Raleigh is a very good bike brand
Spring-loaded saddle
Quick puncture resistant road tires
CONS:
It's a hybrid no step-thru frame
Could be pricey
---
The Raleigh Detour 2's an attractive hybrid bike that's designed for ultimate comfort that's perfect for baby boomers. I like the Raleigh Comfort seats that have plush padding and the back-sweep handlebars because both features keep stress off your back and neck.
Plus, its spring-loaded saddle helps absorbing bumps as you ride on rough surfaces, which gives you better stability. Its upright sitting position and wide-set handlebars, with a leather grip, will prevent you from having to lean over the handlebars.
Since you won't have to lean, you'll avoid back, neck, and wrist strain that can ruin your riding experience. The upright positions also good for seniors because you'll have better balance when riding over rougher surfaces.
The Raleigh Detour 2 lets you ride on all terrains, having a light-weight aluminum frame and 27 gears, you can go up hills without much effort. It's full-sized road tires with anti-puncture material, give you a smooth riding experience that won't leave you stranded with a flat tire.
Plus, it's equipped with Promax Alloy V brakes that give you powerful braking capabilities right at your fingertips.
You should plan on paying $290 for this particular hybrid bike. It's about mid-range compared to other hybrids, some falling just above or slightly below its price. It offers several useful features and a stylish design that's worth the price.
---
---
PROS:
Very easy to hop-on and off due to the low step-thru frame design
Good Kenda tires
Retro-styled design
Looks incredible in the cool mint color
CONS:
A little bit difficult to assemble
---
Retrospec Beaumont is my pick for the best bicycle for senior women. It's a lightweight step-thru steel frame design that always works with seniors. This bicycle is fitted with some really good, high-quality components which are easy to use, and long-lasting.
Some of the most notable ones are Kenda 700x35C tires, Shimano 7-Speed drivetrain, and RevoShift twist shifters. One of my favorite parts of this bicycle is the look. It's retro-inspired, and can easily transport you back into the 1960s with its retro colors, plush grips, cushy saddle and included charming mid-century bell.
If you don't like the original white color ( cream ) of course you can choose one of the others available: Olive, Turquoise, Coral, Black, and Cool Mint.
I won't lie to you – the most gorgeous one for me is the Cool Mint.
With the 7 speeds, you've got just enough gears to climb some mild hills or to commute in the town. It's more than enough for cycling recreationally in the park. The brakes are good enough as well, nothing to worry about on this part. The seat is also quite comfortable, which is very important for a senior cyclist.
Some buyers claim that this bike needs some professional help to be put together which is something I always preach too. You need to visit your local bike shop to assemble it, especially if you are elderly women.
Despite this downside, the Retrospec Beaumont is a decent bike for senior women, which can enjoy cycling in the park or in the neighborhood.
---
What to Consider When Choosing The Best Bikes For Seniors
Some bikes are for speed and performance, while others are for comfortable cruising.
For you to find the bike that's suitable for you, you'll need to evaluate each of these components to determine if it's the right option for you.
A recently published article by AARP a company that empowers seniors to live how they choose discusses the importance of bike features that benefit seniors.
Since there are so many features on any given bike, it's hard to figure out which areas are the most important.
However, there are several key features you need to look for to have an enjoyable experience.
---
Choosing The Right Frame
The wrong frame could turn your pleasant ride into an unpleasant nightmare. The first thing you should look for is a frame that's easy to move around without being too bulky.
Look for a bike made from lightweight materials and offers the durability you need when your out riding on various types of terrain.
Most bikes consist of steel, aluminum, or carbon fiber. The lightest materials used in bike frames are carbon fiber or aluminum, however, they tend to have a higher price tag.
If you can handle a heavier bike, a steel frame packs more weight but offers a cheaper price tag.
Aside from its weight, you want to choose the proper frame design. If you have trouble lifting your leg and maintaining your balance, a standard bike frame won't work.
The risk of falling due to difficult mounting or dismounting could cause serious injury and end your cycling adventure before it ever starts.
Instead, you should look for a bike that features a step-thru frame.
A step-thru frame also called a low frame or open-frame doesn't have a top tube that connects the upper frame near the handlebars to the bar under the saddle.
This requires you to take a small step over the frame, without having to try to clear the high cross-bar.
---
Positioning is The Key
When you're searching for a bike, you should look for one that features an upright position. An upright bike puts you in a natural upright position that keeps your body weight off your joints and evenly distributes it from the pedals to the handlebars.
Plus, with an upright position bike, you'll be able to easily maneuver it without putting stress on your neck and back.
With better weight distribution and proper positioning, these bikes offer more stability than your traditional bike.
It won't tip over on you as easily on unstable terrain when moving at a relaxed pace.
During your ride on an upright bike, you'll use the muscles from more areas of the body than a regular bike, helping you strengthen your body and burn calories at a faster rate.
---
The Perfect Saddle
The saddle, also known as the seat, is a rider's main source of comfort during any length of ride. The right saddle helps keep pressure off your groin area and prevent painful saddle sores.
This is especially true if you are a heavy rider.
You should look for a saddle that's compatible with your ischial tuberosities, commonly called your sit bones.
This video by Bicycle Lab, explains why choosing the right saddle's important and what the wrong saddle does to your body.
Another important factor to consider on the saddle is the material it's made of.
You want a material that's moisture-wicking or a high-quality leather to prevent uncomfortable chafing.
Under the material, it should have a gel pad or medium-firm padding, giving your backside cushion.
Additionally, you want to make sure the saddle on your bike's adjustable. An adjustable saddle allows you to adjust your sitting height, making it easier to reach the handlebars and control your bike.
As your hands rest on the handlebars, it should feel natural and not forced or awkward.
---
Handlebars are important
The wrong type of handlebars causes a lot of strain on your wrists, back, and neck. The best option for seniors is high handlebars with a stem that's 1 inch above your saddle.
This prevents you from hunching or overextending and keeps lower back pain and sore wrists at bay.
Your handlebars should also have a textured grip with comfortable material. Ideally, ones made with leather or high-tech materials that feature a simple design and doesn't interfere with proper hand placement.
Without a proper grip, you put yourself at risk for sore wrists and blisters every time you ride.
---
Bike Types for Seniors
There are many different types of bikes and even more sub-types that make it hard to narrow down the choices that are best for you. In fact, Bicycle Escape made a guide of all the different types of bikes, to help riders find that right one to suit their needs.
Despite the large selection of bikes, there are a few that offer the most benefits to seniors and baby boomers, when compared to other types of bikes.
---
Mountain Bikes
Come in different styles but all of them have the same concept in mind. They've all been enhanced for maximum durability and performance that allow you to ride through rough terrain.
They're ideal if you plan to ride through pothole-ridden streets, over curbs, or on pathways that have large rocks, roots, and other obstacles.
With a mountain bike, you'll have either front or fill suspension to minimize the roughness of your ride and large knobby tires that firmly grin your riding surface.
Low gear ratios are common for climbing steep hills and the handlebars sit in a position that has you leaning forward. They also offer powerful brakes and shock-absorbing seats
---
Hybrid Bikes
A Hybrid bike, also known as a comfort bike, takes all the best features found mountain bikes and road bikes, to create an entirely new bike.
By putting these features together, you'll create a hybrid with tons of comfort features like thickly padded seats and shock absorbers.
They offer various handlebar options, brake and shifter levers, and up to 27-speed options.
This bike's suitable for casual riding around your neighborhood, back and forth to work, or a relaxing ride around town, with the option to take it on trails or down gravel paths.
These hybrids have medium-width tires and tread that allows them to grip and cushion any surface you ride on, unlike other bikes that only perform well on certain terrain.
It's designed to glide smoothly over any surface and keeps you in the upright position for pain-free cycling.
---
Recumbent Bikes
A recumbent bike doesn't look like your traditional bicycle. These bikes sit very low to the ground, featuring a comfortable padded seat with a backrest, similar to that of a chair.
As you sit in a recumbent bike, you are placed in a relaxed, reclined position that eliminates the aches and pains associated with riding a regular bike that has you hunched over the handlebars.
There are several varieties of recumbent bikes that give you the option to choose which style offers you the most comfortable and convenient ride.
They offer short, medium, and long configurations and two or three-wheel versions, depending on the type of cycling you plan to do. In addition, they offer either handlebars in front of you or underneath you, giving you the choice on which versions the easiest for you.
---
Tricycle
An adult tricycle offers a variety of styles to choose from, giving you the option to pick the one that suits your needs.
It's become a popular choice for many baby boomers and seniors who suffer from disabilities or balance issues.
Unlike a regular bike, you can ride as fast or slow as you want, without ever falling over.
Most tricycles have all the same components as a traditional road bike and offer a step-thru frame for getting on and off your bike easily.
They offer an upright sitting position for less body pain and three wide wheels for better shock absorption.
An adult trike's designed for comfort with extra padded saddles, wide handlebars, leather grips, and a rear basket.
---
Health Benefits For Seniors Who Ride Bikes Everyday
Cycling is good for seniors, there is no doubt about it. We even think that bicycling is one of the best exercises for the elderly.
Exercising every day offers a variety of benefits to people of all ages. As we get older, exercise becomes a crucial factor in combating a variety of ailments that come with aging.
The best way to get your daily exercise would be riding a bike. It's been shown to offer many health benefits both physically and mentally.
In fact, according to The Centre of Cognitive Ageing, if you engage in regular physical activity, like riding a bike, you'll have less atrophy and White Matter Lesions.
Less White Matter Lesions helps lower your risk of developing brain dysfunctions like Alzheimer's, as well as other conditions/problems like Multiple Sclerosis, decreased cognitive abilities, and vision loss.
Additionally, according to Harvard Medical School, regular cycling helps you perform daily activities such as walking, standing, and climbing stairs as you develop stronger muscles and bones.
It also offers an improvement in your overall mood, as physical activity helps release endorphins, responsible for feel-good emotions.
Have you ever wondered at what age you should stop riding a bike?