10 Best Bikes for Seniors in 2023
ALSO CONSIDER: Best bikes for heavy riders || Best bikes for college students || Best bikes for back pain || Best bikes for food delivery
Remember the thrill of your first bike ride? Age doesn't have to curb that joy. As we grow older, our needs shift towards comfort, safety, and ease of use. But how do you find a bike that matches these needs?
After extensive research and testing, I've compiled a list of the best bikes for seniors, focusing on comfort, safety, and a smooth ride. This is more than just a post, it's your guide to rediscovering cycling in your golden years.
Best Bicycles for Older Riders of 2023
What makes an excellent bike for seniors?
Comfortable and upright riding position: An upright position reduces strain on the back, neck, and wrists, ensuring seniors can ride comfortably for extended periods.
Step-through frame for easy mounting and dismounting: With a step-through frame, seniors can effortlessly get on and off the bike without lifting their leg over the top tube, enhancing accessibility and safety.
Low standover height for stability: Bikes with a low standover height allow seniors to straddle the bike with their feet flat on the ground, providing a stable and confident feel while stationary.
Comfortable saddle and wide, swept-back handlebars: A well-padded, wide saddle, coupled with wide, swept-back handlebars, promotes a relaxed riding experience, reducing shoulder and wrist strain.
Easy-to-use gears and optional electric assist: Simplified gear systems are user-friendly for seniors, and an electric assist option can provide extra help, enabling longer rides and conquering hills with ease.
---
-Best Bike for Seniors 2023-
Brakes: 9.5 | Handling: 8.9 | Drivetrain: 8.5
What's good 👍
Easy Mounts and Dismounts: The lower crossbar is designed to allow users to mount and dismount the bike with ease. This design feature is a major benefit for those who may have mobility issues or who prefer a less strenuous process of getting on and off their bikes.
Upgraded 2x Drivetrain: The upgrade from a 3x to a 2x drivetrain helps provide smoother and less frequent shifting. This not only improves the overall riding experience but also reduces wear and tear on the gear mechanism, potentially leading to longer bike life and lower maintenance costs over time.
Suspension Fork for Comfort: The bike comes with a 63mm travel suspension fork which is capable of smoothing out rough roads. This feature provides a comfortable ride, reducing the impact and discomfort that could otherwise result from bumps or potholes.
Quality and Durability: Users have widely praised the bike's overall quality and durability. A high-quality, durable bike can withstand rough usage and adverse conditions, providing a reliable ride for a longer period of time. This characteristic also signifies a good return on investment for the buyers.
What's not so good 👎
Costly: One of the significant drawbacks of this bike is its higher price point. The cost may be a barrier for some potential buyers, especially those on a tight budget or who are unwilling to invest a significant amount in a bike.
Co-Op CTY 2.1 Step-Through bike, overall, is an excellent investment for both trail and road use. With its low crossbar, the bike offers easy mounting and dismounting, making it a practical choice for riders of different fitness levels. One significant upgrade from the previous model is its 2x drivetrain, which provides smoother shifting, thereby enhancing the riding experience considerably.
The bike's suspension fork is another standout feature, offering 63mm of travel to navigate rough terrains effortlessly. This makes the bike versatile and suitable for various roads and trails. Safety is also well-considered in this model, with reflective sidewalls for enhanced visibility, and the reliable Tektro hydraulic disc brakes that ensure secure stopping power in all weather conditions.
Read more: Overview of Co-Op Cycles
On the ergonomic front, the riser handlebar and grips offer comfortable and natural hand positioning, reducing the strain on longer rides. Users have also praised the bike's double chainrings that simplify front shifting and offer plenty of gear options for flat or hilly terrains.
---
-Best Hybrid Bike for Seniors-
Brakes: 6.9 | Handling: 7.7 | Drivetrain: 7.8
What's good 👍
Rigid Steel Step-Through Frame: The bike's step-through frame is made of rigid steel, which provides enhanced strength and durability. This frame design also makes mounting and dismounting the bike easy, particularly for individuals who might struggle with high-top-tube bikes.
Schwinn 7-Speed Twist Shifters: Equipped with Schwinn 7-speed twist shifters, this bike offers a range of gear options for different terrains. The twist shifters allow for quick and easy gear changes, improving the riding experience, especially on hilly routes or variable road conditions.
Rear Carrier for Groceries: This bike comes with a rear carrier, a convenient feature for those who need to transport items such as groceries. This can make the bike a useful tool for short errands or commutes, eliminating the need for a car or public transport for small-distance travel.
Value for Money: Users have appreciated the bike's "bang for the buck" – a term used to denote getting a lot of value for the price. This suggests that despite its affordable price, the bike does not compromise on the quality or features it offers.
What's not so good 👎
Weight: Weighing in at 42 lbs., this bike is on the heavier side compared to many other models. This might make it more challenging to carry up stairs, transport on a car rack, or maneuver during rides. It could also affect speed and efficiency, particularly on uphill routes.
Schwinn Men's Wayfarer is an exceptionally looking bike with a step-through design! Its retro look and feel leave very little to be desired! With precision alloy brakes, a nice upright seat, and its quality steel construction, I can easily say that this bike is one of my favorites within the Schwinn brand (I'm known for the retro taste, sorry 🙂 ).
Read more: 65 Best Bike Brands
We at YesCycling love it for the comfortable ride and the affordable price tag. It rides very nicely and has minimal difficulty in turning sharp corners. Some of the complaints we must mention are the average quality tires and the shifting, a standard twist shifter. If you are OK with those, you will have no problems with the Wayfarer.
Also, remember that you get only seven gears, and if you live in very hilly locations, you might need to check for another bike.
---
-Best Low-Maintenance Bike for Seniors-
Brakes: 9.3 | Handling: 7.9 | Drivetrain: 8.8
What's good 👍
Infinity Shifting Enviolo City CVT Gearing: This bike is equipped with an innovative Enviolo City Continuously Variable Transmission (CVT) gearing system. This enables smooth, seamless gear shifting, providing an infinite range of speeds and enhancing overall ride comfort and efficiency.
Low Maintenance, Low Hassle: This bike is designed to be low maintenance, reducing the amount of time and effort needed for regular upkeep. This can be a significant advantage for those who prefer a "ride-and-forget" bike experience, without the need for frequent tuning or adjustments.
Tektro or Promax Hydraulic Disc Brakes: The inclusion of either Tektro or Promax hydraulic disc brakes ensures reliable and effective stopping power. These brakes perform well under various conditions, including wet weather, providing safety and control during rides.
Kenda Puncture Resistant 700×35 Tires: The bike comes with Kenda puncture-resistant tires, offering durability and peace of mind during rides. These tires reduce the risk of flat tires, allowing for worry-free commutes or leisurely rides.
What's not so good 👎
Expensive: This bike comes with a high price tag ( $949 ), which might be prohibitive for some potential buyers.
---
This mid-priced Turi comes highly recommended by senior citizens who love this bike's handling, weight, and responsiveness. Crafted as "the ultimate low maintenance, low hassle, all day, comfort bicycle for lifestyle riders," this is the ride active seniors look for but don't always find, whether their usual activities are bike path fitness expeditions or just running errands.
Like other Priority bicycles, the Turi offers riders its proprietary seamlessly shifting Enviolo hub and industry-leading, reinforced Gates Carbon Drive Belt that never needs grease. Gear confusion? Not likely, say reviewers who find everything about this bike ideal for folks over 50.
Read more: Best Electric Bikes for Seniors
Produced by a company that attracts faithful fans like New York City streets attract dust, this Turi tackles hills effortlessly, and when it's time to bring the ride to a halt, the Tektro hydraulic disc brakes and puncture-resistant tires won't let you down.
---
-Best for Casual Riding-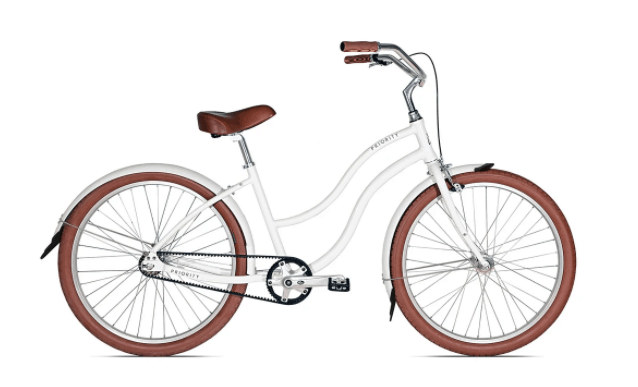 Brakes: 7.3 | Handling: 8.5 | Drivetrain: 8.0
What's good 👍
Rustproof: The bike is 100% rustproof, ensuring longevity and durability.
Puncture-Resistant Tires: Equipped with puncture-resistant tires, reducing the risk of flats.
Gates Carbon Drive Belt: Features a Gates Carbon Drive Belt, known for its low maintenance and quiet operation.
Affordable Price Tag: Despite its quality features, this bike is affordably priced.
What's not so good 👎
Limited Hill Performance: This bike may not perform well on steep hills ( only 3 gears ), limiting its versatility in varied terrains.
Priority Coast is one of our favorite cruise bikes for a reason. Called "The Ultimate, Low-Maintenance, Life-Proof Beach Cruiser" by reviewers prepared to deliver the good, the bad, and the ugly, so consumers don't choose the wrong bike; this stunning ride is affordably priced, weighs just 30 pounds, and it's an ideal choice for seniors who are hell-bent on remaining active into the future.
Featuring a Shimano Nexus 3-speed internal hub and the brand's signature Gates Carbon Drive belt system, the Coast is the first choice of cyclists who ride in coastal areas and don't want their bikes to rust out before their time.
Cruiser-style handlebars play host to a right 3-speed twist shifter and left front-hand brake. Sealed bearings, water-resistant grips, a comfy saddle, and Kenda puncture-resistant tires are ready to take you where you need to go.
Read more: Best Belt-Drive Bikes
The double kickstand ensures you don't have to continually pick your bike up from where it has fallen, just in case you're rushing to get to your early bird dinner with your active fellow retirees.
---
-Best eBike for Seniors-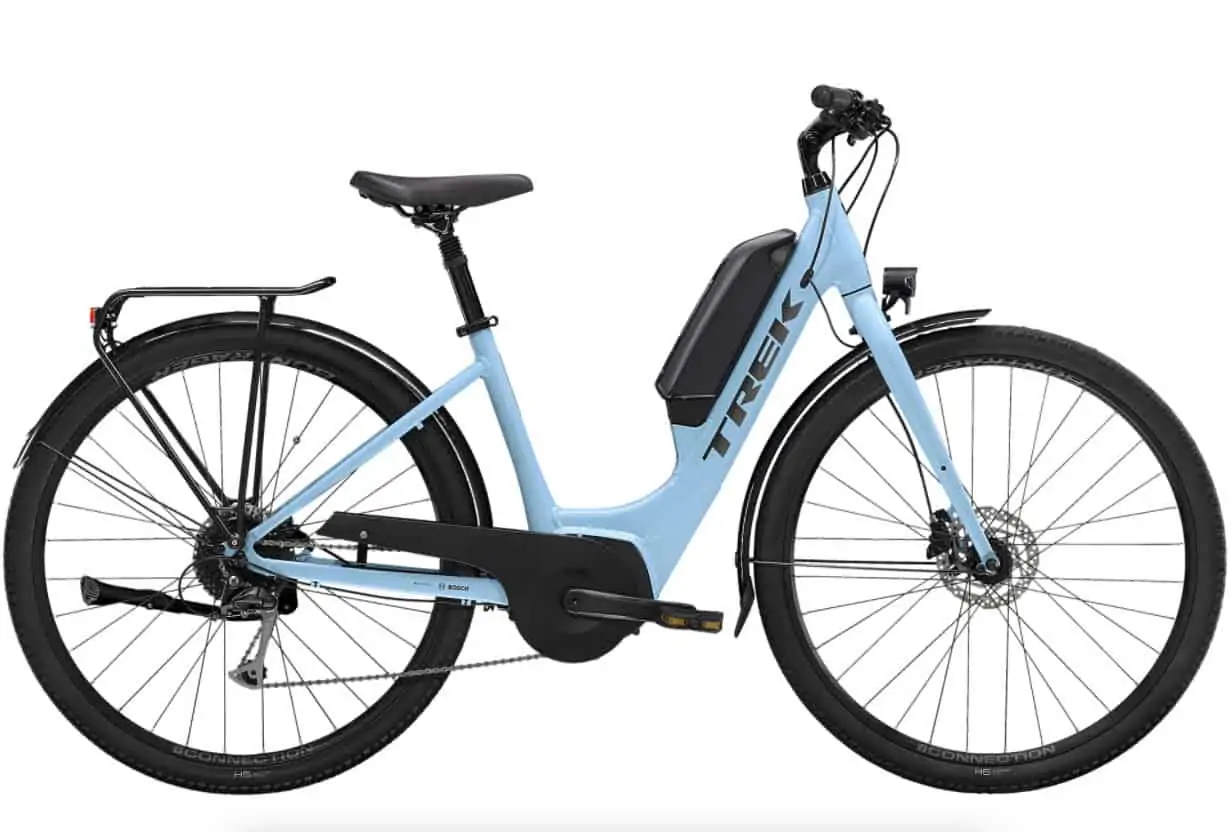 Brakes: 9.1 | Motor: 9.2 | Drivetrain: 8.5 | Range: 8.3
What's good 👍
Bosch Active, 250-Watt Motor: Features a Bosch Active motor, offering reliable and efficient power.
Shimano Alivio Drivetrain: Comes with a 9-speed Shimano Alivio drivetrain, allowing for versatile gear shifting.
Comfortable Low-Step Frame: The low-step frame design promotes easy mounting and dismounting.
Shimano MT200 Hydraulic Disc Brakes: Equipped with Shimano hydraulic disc brakes for effective stopping power.
What's not so good 👎
Plastic Fenders: The bike has plastic fenders, which might not be as durable as metal ones.
No Suspension Fork: It lacks a suspension fork, potentially reducing comfort on rough terrain.
I think you are probably shocked by my suggestion, but let me explain. Starting is tough if you are a senior and need to be in shape. The truth is electric bikes are an excellent option for seniors. That's why we recommend a lot of excellent electric bikes for seniors in our dedicated blog post. This e-bike made by Trek won't be difficult at all.
With this Trek Verve+ 2 Lowstep, your daily training or commute to the local market will be helped by the great Bosch pedal-assist system, which is one of the best on the market right now.
You can cruise on the streets or in the park with assisted speeds of up to 20 mph. The motor is a 250-watt Bosch Active Line with 40nm of torque. The ride will be more comfortable due to the suspension seat post, which is rarely included in an electric bike. It will also be safe due to the powerful Shimano MT200 hydraulic disc brakes.
The best feature of the Trek Verve+ is the geometry of the frame. It's a nice low-step frame made for comfort and is easy to hop on and go. Not many electric bikes these days come with such a nice low-step frame. The Trek Verve+ comes fully equipped with fenders, lights ( front and rear ), and a rear rack. In conclusion, Trek Verve+ 2 is an excellent bike for seniors who want to have more fun and train for their health.
---
Retrospec Critical Cycles Parker Step-Thru
Brakes: 7.1 | Handling: 8.1 | Drivetrain: 7.5
What's good 👍
Retro Aesthetics: The bike features a vintage design that's appealing to those who favor a classic look.
Leather Seat: It includes a leather seat for enhanced comfort and style.
Single-Speed Ride: The simple single-speed operation is ideal for flat terrains and uncomplicated rides.
Very Affordable: Despite its style and features, the bike comes with a very affordable price tag.
What's not so good 👎
Coaster Brake Only: The bike uses only a coaster brake, limiting braking options.
Limited Hill Performance: Not suitable for climbing hills, limiting its versatility.
I truly enjoy the look of the Parker Step-thru as it has a retro design with minimalist features that I want. This bike is an excellent option for seniors with its steel step-thru frame that offers easy mounting and dismounting. Plus, it provides a more attractive design without wires and cables running throughout the bike.
It's a single-speed bike designed for cruising the neighborhood while getting a low-impact workout, so you'll only move as fast as you can pedal.
Another reason the Parker step-thru's ideal for seniors is because of its KT Coaster brake hubs. These hubs allow you to break with your feet and have no cables or wires to get caught upon. This bike has 32mm deep-v rims, and 32 spoke front and rear wheels designed to grip the surface as you ride for better stability.
This bike has many comfort features you'll want, like leather handgrips and mustache handlebars that'll keep the strain off your wrists and put you in a natural upright position to ease back pain. With the leather-covered, padded saddle, you'll stay comfortable without painful seat sores throughout your ride.
---
-Best Electric Trike-
Brakes: 7.5 | Handling: 8.2 | Drivetrain: 7.9
What's good 👍
High-Torque Motor: The Bafang 750W Hub Motor ensures ample power, which is especially useful for hauling cargo or navigating uphills.
Long Range: With a SAMSUNG 48V 17.5Ah battery, the trike offers an impressive range of up to 50 miles, which is great for both urban and longer journeys.
Huge Storage Capacity: A waterproof basket bag with a 48L capacity is perfect for shopping trips or carrying essentials.
Generous Weight Capacity: Able to carry up to 450 lbs in total, this trike can comfortably support both the rider and cargo.
What's not so good 👎
Weight: At 90-100 lbs, the trike itself is on the heavier side, which could pose challenges in manual handling when not in use.
Saddle Comfort: The saddle is not very comfortable for a trike.
Maxfoot MF-30 Electric Trike offers an innovative combination of power, style, and utility. At its heart lies a Bafang 750W Hub Motor paired with a high-capacity SAMSUNG 48V 17.5Ah battery, ensuring a significant range of up to 50 miles per charge.
This makes it an ideal companion for those lengthy outdoor excursions or urban errands. Its unique design is characterized by a step-thru frame, crafted from resilient 6061 Aluminium-Alloy at the front and 7A19 Aluminium-Alloy at the rear. The trike's ample storage solution comes in the form of a waterproof basket bag boasting an impressive 48L capacity, making it perfect for transporting groceries or other essentials.
Safety and user experience have been given paramount importance. Dual disc brakes, including a 180mm disc at the front and two at the rear, offer optimum stopping power, while the Shimano 7-speed gear system ensures smooth transitions across terrains.
Additionally, the trike comes equipped with a user-friendly 5-inch LCD display with a USB port, allowing riders to monitor their journey and charge their devices on the go.
a total carrying capacity of 450 lbs ( 350 lbs on the trike and an additional 100 lbs on the rear rack) and a weight of 90-100 lbs, it promises durability and robustness. If you're seeking a blend of power, safety, and utility, this electric cargo trike is worth considering.
---
-Best Road Bike for Seniors-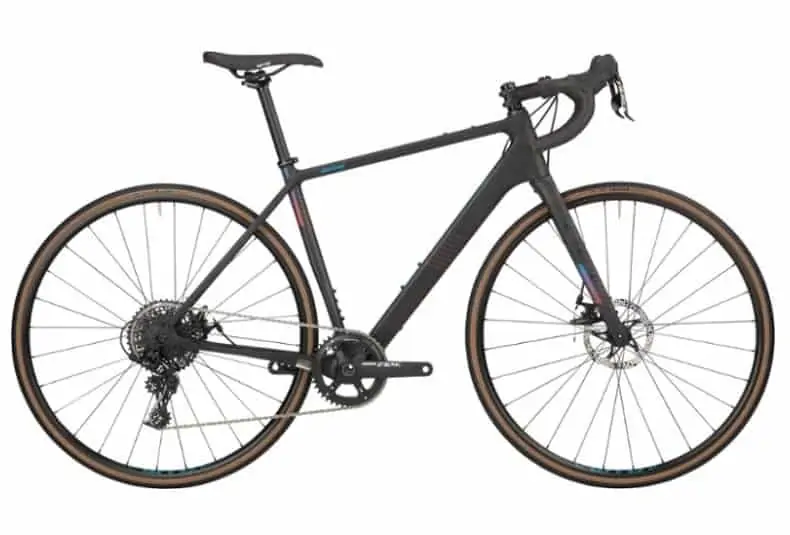 Brakes: 8.4 | Handling: 8.1 | Drivetrain: 9.3
What's good 👍
Warroad Carbon Frame: The bike features a comfortable carbon frame with endurance geometry, supporting long rides.
SRAM Apex 1 Components: Comes equipped with high-quality SRAM Apex 1 components, ensuring reliable performance.
Mechanical Disc Brakes: Includes capable mechanical disc brakes for effective stopping power.
Vibration Reduction System: The Class 5 Vibration Reduction System offers a smoother ride.
What's not so good 👎
Expensive: Despite its high-end features, the bike's cost might be prohibitive for some buyers.
Endurance road bikes are perfect for seniors because of the more relaxed riding position and comfortable wider tires. Salsa Warroad Carbon Apex 1 is a fantastic endurance road bike we like. Yes, it's expensive at around $2500, but you get a lot of high-quality components for what you pay.
The carbon frame is exceptionally light and comfortable for extra-long rides on paved roads in the countryside or gravel roads. The exceptional SRAM Apex 1 drivetrain delivers smooth and silent shifting ( 10 gears ), and the mechanical TRP Spyre-C flat-mount disc brakes are best-in-class.
Read more: Best Affordable Road Bikes
The all-day comfort in the saddle ( WTB SL8 142 Comp ) is guaranteed by the good Teravail Rampart 700c x 28 mm tires and the Class 5 Vibration Reduction System. If you're a senior looking for a fast, lightweight, and comfortable road bike, the Salsa Warroad Carbon Apex 1 is the perfect match.
---
-Best Bicycle for Senior Women-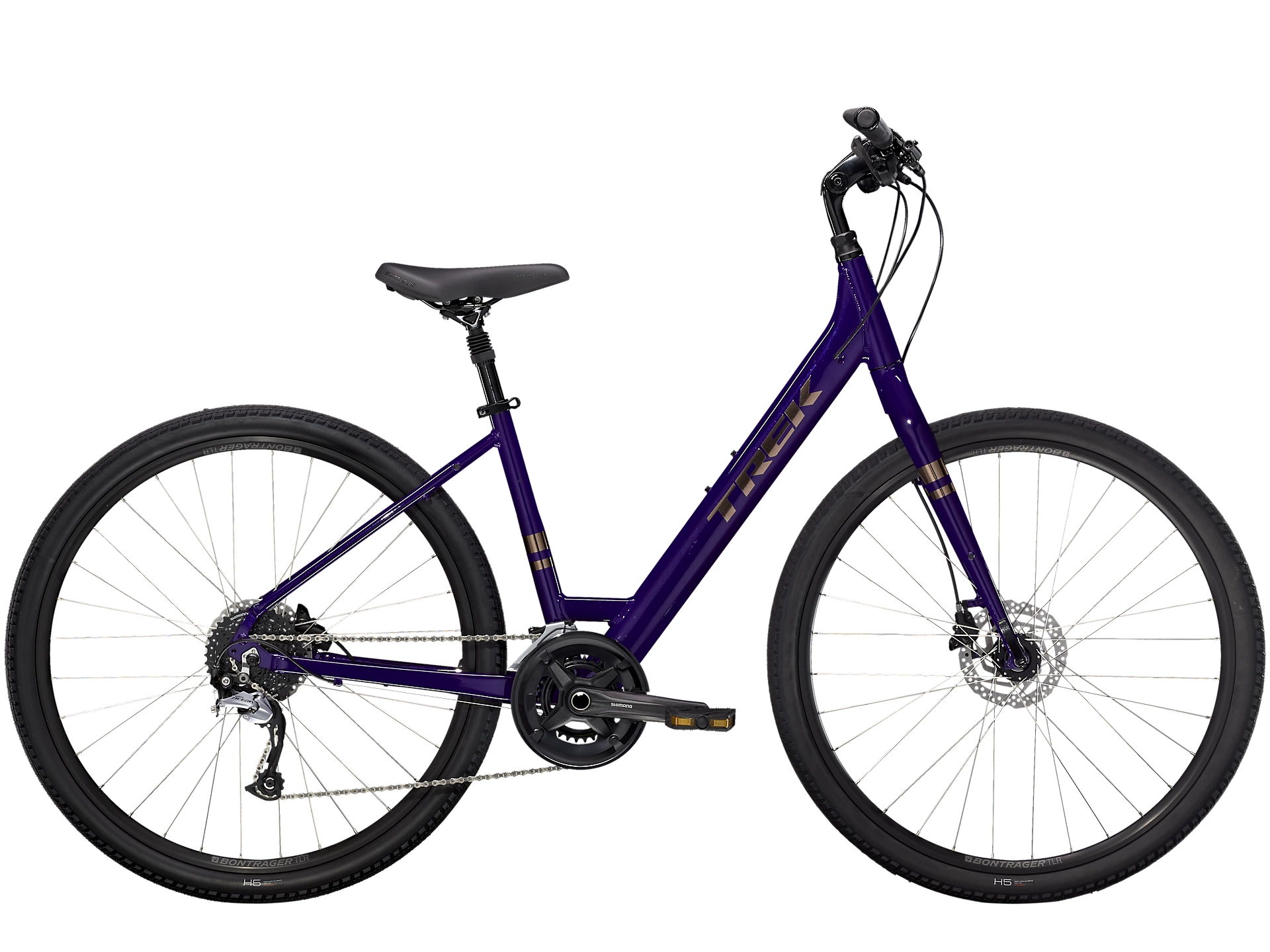 Brakes: 8.5 | Handling: 8.8 | Drivetrain: 9.1
What's good 👍
Exceptional Comfort: The bike is designed for maximum comfort, which can enhance the riding experience.
Lightweight Aluminum Frame: Features a lightweight aluminum frame that makes the bike easier to handle.
Rack and Fender Mounts: Equipped with rack and fender mounts, enhancing utility and versatility.
2×9 Shimano Drivetrain: The bike has a 2×9 Shimano drivetrain, providing a wide range of gear options for different terrains.
Wide 45c Puncture-Resistant Tires: Wide, puncture-resistant tires reduce the risk of flats and offer stability and control.
What's not so good 👎
Size/Weight: The bike may be too big or heavy for some riders, making it difficult to handle or transport.
Suspension System: The suspension system may not meet the expectations of some users, particularly those who frequently ride on rough terrains.
Not Built for Speed: This bike is not designed for high-speed performance, which may disappoint riders who prioritize speed.
Categorized as an "easy-riding hybrid," the Verve 3 is engineered to deliver a smooth ride on all terrains. While classified as Trek's highest-end model in the Verve family, there is no shortage of high-quality components. We love the fact that this ride costs less than $1000.
The upgraded drivetrain, stable puncture-resistant tires, vibration-reducing handlebars, and excellent grips all rock, but the easy mount and dismount design gets the most positive reviews. Need we repeat the word "affordability" when describing this product?
---
-Best Mountain Bike for Seniors-
Brakes: 9.2 | Handling: 8.0 | Drivetrain: 7.6
What's good 👍
Versatile 3×7 drivetrain: This offers a wide range of gear options, suitable for different riding conditions, whether on flat roads or steep hills.
2.1" wide Kenda tires on 27.5-inch wheels: These provide good traction and control on various terrains, enhancing the bike's overall performance.
Powerful Tektro hydraulic disc brakes: These provide reliable and efficient stopping power, ensuring rider safety, particularly in wet and slippery conditions.
Value for money: The bike offers a lot of features at a reasonable price, making it an excellent choice for those looking for performance without breaking the bank.
What's not so good 👎
Shimano Tourney rear derailleur is not optimal: Although functional, this type of derailleur is often considered an entry-level component and might not offer the same level of performance or durability as higher-end models.
The 60-year-old senior with the spirit of a 20-year-old boy will find his match in this mountain bike. The 3 x 7 drivetrain makes it versatile for off-road adventures, but riders enjoy hydraulic disc brakes that provide all control they need when exploring new territory!
Co-op Cycles DRT 1.1 is quick, reliable, and smooth as butter on the trails – you will love it. We also love that this mountain bike costs only $599 at REI, and if you join the Co-op club, you will get an estimated $59.90 back on this item.
---
How to choose the best bike for seniors?
Seniors spend between $500 and $800 on a new bicycle.
Seniors should get a bike with a step-through frame, padded extra-wide seat, comfortable handlebars, fenders, and puncture-resistant tires.
Hybrid bikes and beach cruisers are among the most popular choices. Electric bikes are also trendy but expect to spend at least $1200 for a decent one.
Most popular bikes have been sold out since April 2021.
---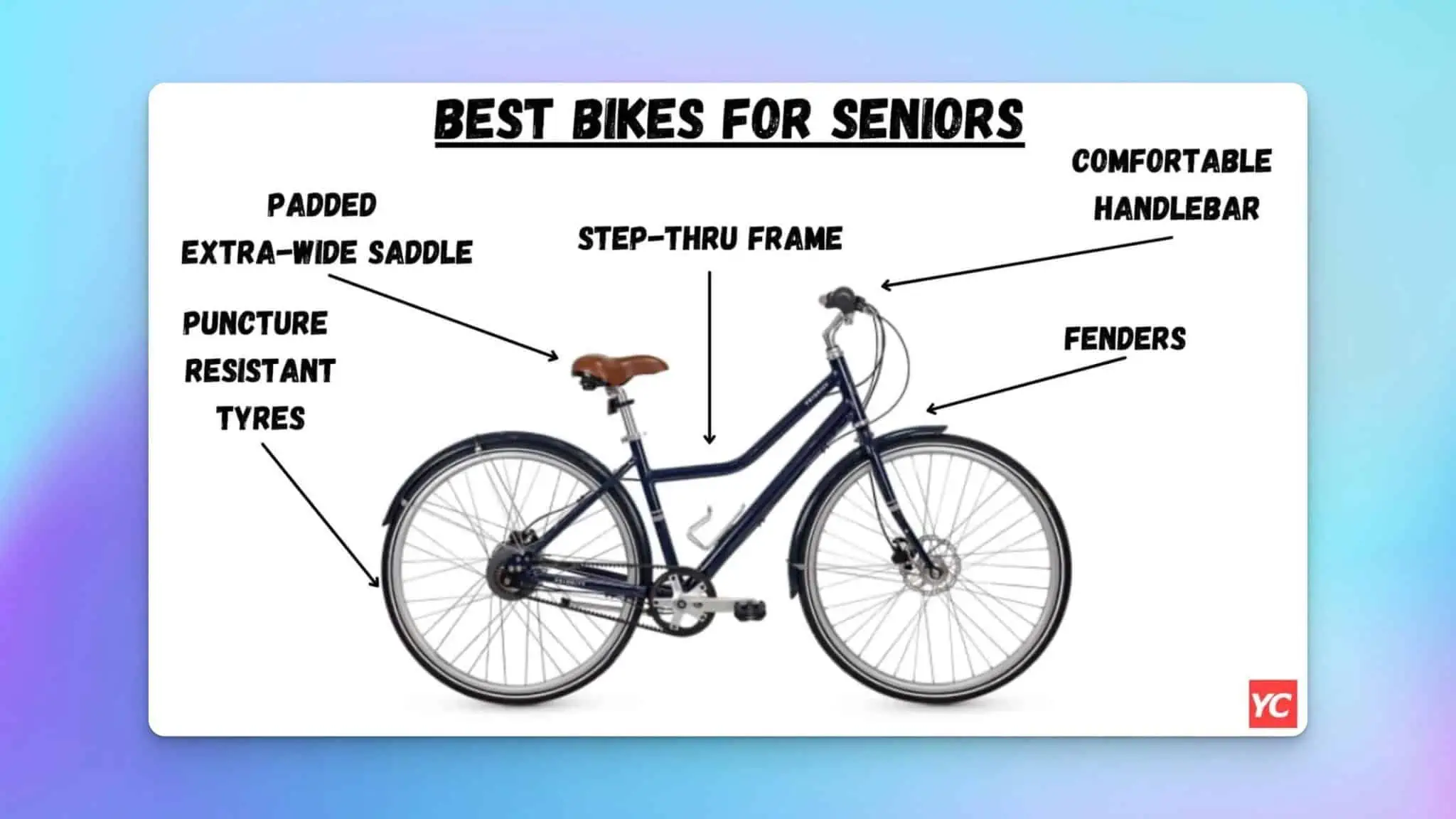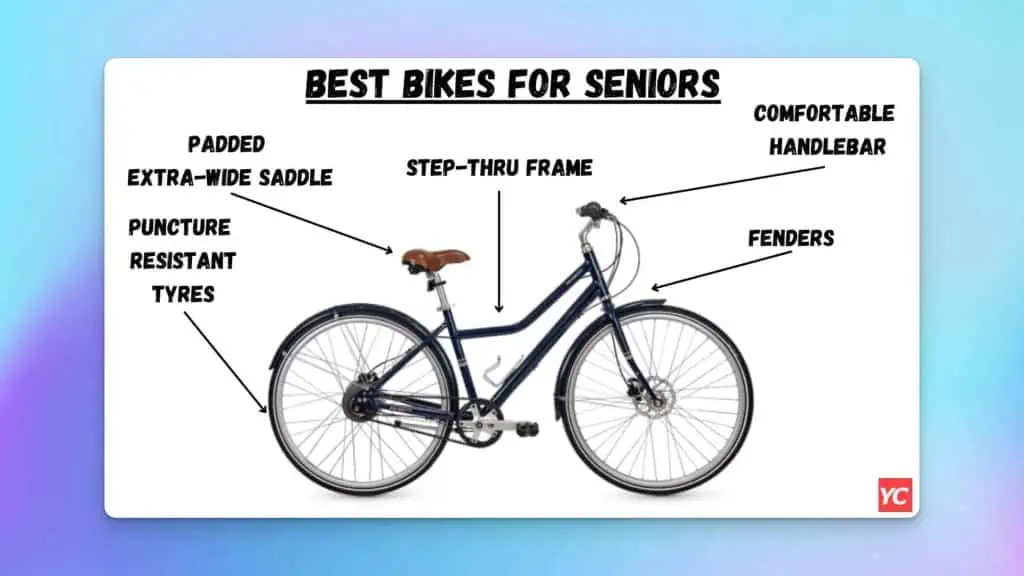 Older adults are bicycling and walking instead of driving more than ever before. [1] And that's excellent news for everyone, but how do you choose the best ride for your needs? Let's find out.
Some bikes are made for speed and performance, while others are for comfortable cruising. To find the bike suitable for you, you'll need to evaluate each component to determine if it's the right option.
Which bicycle frame is best for seniors?
It would be best to look for a bike that's easy to move around without being too bulky. The wrong frame could turn your pleasant ride into an unpleasant nightmare. Look for a bike made from lightweight materials that offer the durability you need when riding on various terrain.
Most bikes consist of steel, aluminum, or carbon fiber. The lightest materials used in bike frames are carbon fiber or aluminum. However, they tend to have a higher price tag. A steel frame packs more weight but offers a cheaper price tag if you can handle a heavier bike. An aluminum frame is the best option for most seniors.
Aside from its weight, you want to choose the proper frame design. If you have trouble lifting your leg and maintaining your balance, a standard bike frame won't work.
Read more: At What Age Should You Stop Riding a Bike?
The risk of falling due to difficult mounting or dismounting could cause severe injury and end your cycling adventure before it ever starts. Instead, you should look for a bike that features a step-thru frame.
A step-thru frame also called a low frame or open frame, doesn't have a top tube that connects the upper frame near the handlebars to the bar under the saddle. This requires you to take a small step over the frame without trying to clear the high cross-bar.
What is an upright riding position?
When searching for a bike, you should look for one with an upright position. An upright bike puts you in a natural position that keeps your body weight off your joints and evenly distributes it from the pedals to the handlebars.
Plus, with an upright position bike, you'll easily maneuver it without putting stress on your neck and back. With better weight distribution and proper positioning, these bikes offer more stability than your traditional bike.
It will tip over on you more easily on unstable terrain when moving at a relaxed pace. During your ride on an upright bike, you'll use the muscles from more body areas than on a regular bike, helping you strengthen your body and burn calories faster.
What is the most comfortable saddle for seniors?
The saddle, also known as the seat, is a rider's primary source of comfort during any ride. The right saddle helps keep pressure off your groin area and prevents painful saddle sores. You should look for a saddle compatible with your ischial tuberosities, commonly called your sit bones.
This video by Bicycle Lab explains why choosing the right saddle's important and what the wrong saddle does to your body. Another essential factor to consider on the saddle is the material it's made of. You want a moisture-wicking material or high-quality leather to prevent uncomfortable chafing. Under the material, it should have a gel pad or medium-firm padding, giving your backside cushion.
---
What type of bike is easiest to ride?
There are many different types of bikes and even more sub-types that make it hard to narrow down the best choices. We made a guide of all the different types of bikes to help riders find the right one to suit their needs.
Despite the large selection of bikes, a few offer the most benefits to seniors and baby boomers compared to other bikes: mountain bikes, hybrid/commuter bikes, recumbent bikes, and trikes.
Mountain Bikes
Mountain biking is one of the most popular outdoor activities for a reason. It's fun, good for your health, and will make you feel like a kid again. Mountain bikes come in different styles, but they all have the same concept in mind. They've all been enhanced for maximum durability and performance, allowing you to ride through rough terrain.
They're ideal if you ride through pothole-ridden streets, over curbs, or on pathways with large rocks, roots, and other obstacles. With a mountain bike, you'll have either front or front+rear ( full suspension ) to minimize the roughness of your ride and large knobby tires that firmly grin your riding surface.
Low gear ratios are typical for climbing steep hills, and the handlebars sit in a position with you leaning forward. They often offer powerful mechanical or hydraulic disc brakes and wider knobby tires.
Hybrid/Commuter Bikes
A Hybrid bike, also known as a comfort bike, takes all the best features found in mountain and road bikes to create an entirely new bike. By putting these features together, you'll create a hybrid with tons of comfort features like thickly padded seats and shock absorbers.
Related: Most Comfortable Bikes for Men and Women
They offer various handlebar options, brake and shifter levers, and up to 27-speed. The hybrid bike is suitable for casual riding around your neighborhood, back and forth to work, or a relaxing ride around town, with the chance to take it on trails or down gravel paths.
These hybrids have medium-width tires and tread that allow them to grip and cushion any surface you ride on, unlike other bikes that only perform well on specific terrain. It's designed to glide smoothly over any surface and keeps you upright for pain-free cycling.
Recumbent Bikes
A recumbent bike looks different from your traditional bicycle. These bikes sit very low to the ground, featuring a comfortable padded seat with a backrest, similar to a chair. As you sit on a recumbent bike, you are placed in a relaxed, reclined position that eliminates the aches and pains associated with riding a regular bicycle that has you hunched over the handlebars.
Several varieties of recumbent bikes allow you to choose which style offers you the most comfortable and convenient ride. Depending on the cycling you plan to do, they offer short, medium, and extended configurations and two or three-wheel versions. In addition, they provide either a handlebar in front of you or underneath you, giving you a choice of which versions are the easiest for you.
Tricycles
An adult tricycle offers a variety of styles to choose from, allowing you to pick the one that suits your needs. It's become a popular choice for many baby boomers and seniors who suffer from disabilities or balance issues.
Unlike a regular bike, you can ride as fast or slow as possible without falling over. Most tricycles have all the same components as a traditional road bike and offer a step-thru frame for quickly getting on and off your bike.
They offer an upright sitting position for less body pain and three wide wheels for better shock absorption. An adult tricycle designed for comfort with extra padded saddles, wide handlebars, leather grips, and a rear basket.
Let's chat now that we have shared our thoughts on the best rides for seniors and a few other top picks from different categories. We want to know which bikes you think are the best! Please let us know in the comments below, and after reading this blog post, you can share it with your friends who also love biking.
What is the purpose of the bike?
When choosing a bicycle for seniors, it's crucial to identify the primary purpose for which the bike will be used.
Leisure riding involves casual, shorter trips on relatively flat terrain, while fitness riding focuses on longer distances and more challenging workouts.
On the other hand, commuting requires a bike that can handle various conditions and provide a comfortable and efficient ride to and from destinations.
Identifying the main purpose of the bike will help in selecting the appropriate style, such as a cruiser, hybrid, or even an electric bike.
Gearing
Gearing options can significantly impact the ease of cycling for seniors. Bikes with a wide range of gears allow riders to tackle hills and maintain a comfortable pedaling cadence on various terrains.
Depending on individual preferences, seniors can choose between traditional derailleur systems or internally geared hubs, which offer low maintenance and clean shifting.
What breaking system to choose?
A reliable and easy-to-use braking system is essential for seniors' safety. Linear-pull (V-brakes) and disc brakes provide good stopping power and control, with disc brakes performing better in wet conditions. Seniors with limited hand strength may want to consider hydraulic disc brakes, which require less effort to apply and are considered the best option.
Do I need a suspension?
Suspension can enhance ride comfort on uneven terrain, but it may add weight and complexity to the bike.
Front suspension forks can help absorb impacts from bumps and obstacles on the road or trail, while full suspension bikes offer additional rear shock absorption.
Seniors should consider their preferred riding surfaces and whether the benefits of suspension outweigh the added weight and maintenance.
Bike Weight
A lightweight bike is easier for seniors to maneuver, lift, and carry. Aluminum and carbon fiber frames offer lower weight without sacrificing strength and durability.
However, carbon fiber bikes can be more expensive than their aluminum counterparts.
When choosing a bike, seniors should consider their strength and mobility levels about the bike's weight.
I think the best option in terms of weight is the aluminum frame.