---
Momentum Bikes is a spin-off brand owned by Giant Bicycle Company.
Momentum is offering gorgeous, feature-filled bikes that don't cost a fortune.
The prices range from $570 MSRP to $2100.
---
When companies "spin off" new brands, they don't always stick to the same industry. But when the iconic Giant Bicycle company decided to diversify to make cruisers under the Giant umbrella, product developers launched "Momentum," a brand that required the company to leap faith.
Was their mission to produce "affordable, fun, and functional urban bikes" successful? Wildly so! Momentum has earned its unique reputation – one that brand fans adore.
When asked to state the singular goal of products produced under the Momentum name, product developers said it was getting people to "move happy" on comfortable rides that came with "a few interesting touches" guaranteed to help riders move through their daily lives more effortlessly. Debut models won the hearts of urban commuters from the get-go, and the company continues to lead the market in non-motorized and motorized niches.
Called the ideal solution for riders who complain that bikes have gotten too tricked out and pricey, Giant's Momentum line has succeeded in ways few other cycle brands have by offering gorgeous, feature-filled bikes that don't cost a fortune yet accommodate everything a rider needs for efficiency and quality.
Related: Best Hybrid Bikes Under $500
---
---
New for 2021
Comes in sizes small, "regular" and large
Choose from dark red, dark gray, blue-gray, and confetti colors
Frame is crafted of ALUXX-grade aluminum.
---
Take to the streets for less money than you imagine by snagging this affordable cruiser with a high tensile steel fork, Shimano Revo Twist 7-speed shifters, and a ProWheel 42T crankset. Ride along any urban or suburban street you prefer to accomplish your commute on Kenda K1098 700x32c tires fitted with stainless 14G spokes.
Once you arrive at your destination, alloy direct-pull brakes and alloy comfort brake levers do their thing. Extras — like anti-slip pedals, a chain guard, and a cup holder — add to the appeal and charm of this classic commuter bike.
---
---
Versatile hybrid built for urban adventures
Powerful disc brakes
Available in 3 speed or 9 speed
Brand new for 2021.
---
Giant invites you to rule your city atop two new models just added to the Momentum UX library for 2021. Neither cost a fortune to own, yet design and function are world-class. Choose your terrain, and either bike will respond to your commands, whether that ride includes bumpy back alleys or bike paths winding through parks on the way to the office.
Featuring an innovative belt drive (available on the 3-speed model) and smooth-rolling 27.5 wheels that host wide 50mm tires, you get to call the financial shots because the price on either one is the same. You will have to make one final decision, and that's which color you prefer.
Read more: Best Belt-Drive Bikes
---
---
Comes in low- and high-step versions
Cool color options from which to choose
Just added to the 2021 Vida series
Priced to please today's commuter
---
This isn't the bike to choose if setting new speed records is on your to-do list, but this collection's latest two Vida models will light up your life since they offer riders a "spin with a smile." An homage to the joy of bike riding, these two bikes offer comfortable riding positions, 8-speed gearing, and wide, smooth-rolling tires that get you where you're going safely and expeditiously.
Disc brakes deliver smooth stopping power, and Momentum has yet to hear complaints about hand and derriere pain since both the seat and grips earn high marks, no matter how long you're in the saddle.
Read more: Giant Talon 3 Review ( The Verdict! )
---
---
Choose between two 2020 versions and one 2021 debut
Comes in 2 mid- and 1 low-step option
Trendy color choices
Dynamite styling and fast recharging.
---
Is this the year you invest in an eBike because you got a raise, a promotion, or just survived COVID sequestration without losing all of your marbles? The newest Vida E+ ride has you covered via the latest and greatest innovations. The SyncDrive Life motor features Smart Assist technology.
Six sensors calculate torque, cadence, slope, and speed, so pedaling is effortless. Locate the EnergyPak 375 battery in the downtube, where it takes less than 3 hours to recharge fully, so you're never late for what awaits on the job.
---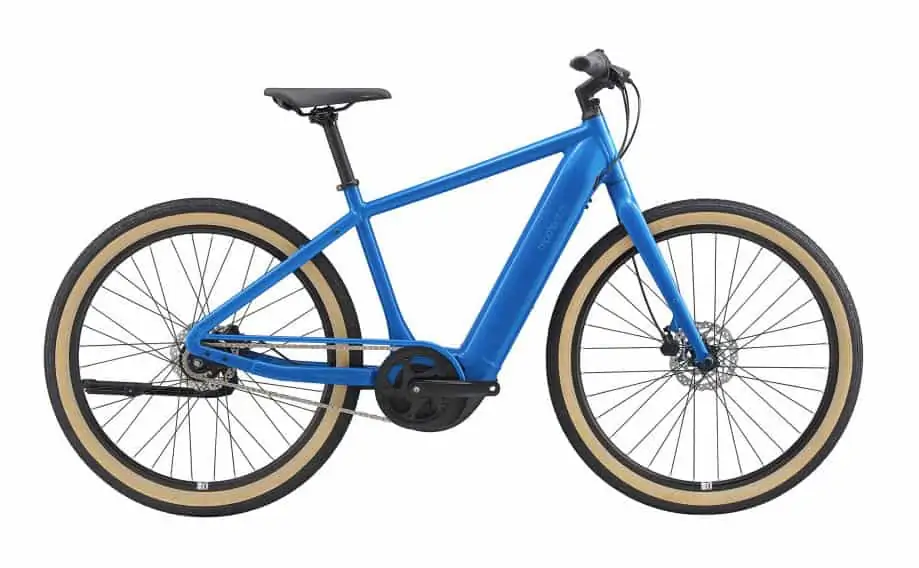 ---
High or low step options are comparably priced
Fabricated in small, medium and large sizes
Integrated gear changing for worry-free shifting
Dependable battery pack won't let you down.
---
Engineers at Momentum ask the question you've posed when considering a more sophisticated method of transport: Why take the train or bus when you can own a motorized bike that won't max out your budget or force you to deal with rising fuel prices?
Related: 8 Best Electric Bikes for Heavy Riders
Featuring the company's signature SyncDrive Life motor with Smart Assist technology, the latest member of the Transend E+ family sports six sensors that calculate torque, cadence, slope, and speed. Pedal power is so efficient you'll ride further and faster without breaking a sweat, and when the EnergyPak500 battery runs out, recharge in just hours to revive the 250W mid-frame motor for your next outing.
---
Gets 5-star ratings from early buyers
Affordable price and two color options
Comes in sizes small, medium, and large
Frame is made of ALUXX aluminum.
---
The 2021 Momentum LaFree E+ is a superstar on the eBike scene. Featuring the Momentum's double tube low step-through configuration, the 2021 version comes with serious credentials: an ALUXX-grade aluminum fork, Shimano M315 shifters, and a forged alloy, 38t crankset with chainguard. Ditching your car in favor of an eBike makes sense since it doubles as a pleasure craft on weekends.
As with this brand's eBikes, this model also features a SyncDrive Life motor with Smart Assist technology delivering calculations on torque, cadence, slope, and speed via the unit's 6 sensors. The rear rack-mounted battery takes just 5 hours to recharge, thanks to the bike's 3AMP charger, so it's ready to go the moment you are!
Full List of Momentum Bike Models
| | | |
| --- | --- | --- |
| Model | Type | MSRP |
| Momentum Street | Hybrid Bike | $570 |
| Momentum UX 3S | Hybrid Commuter | $630 |
| Momentum UX 9S | Hybrid Commuter | $630 |
| Momentum Vida | Hybrid Bike | $630 |
| Momentum Vida E+ | Electric Hybrid | $2600 |
| Momentum Transend E+ | Electric Commuter | $2850 |
| Momentum LaFree E+ | Electric Commuter | $2100 |
Read more: