---
After testing more than 20 tandem bikes, we think that the best tandem bike for 2020 is the Schwinn Twinn Tandem. It's reliable, and super fun to drive with your partner or friend. If you are looking for something very affordable, check Pacific Dualie.
---
Whether you live in a big city or in the countryside, bikes are a necessity. For city-dwellers, using a bike can help you zip through the traffic and actually be on time for school, college or work.
In the country, you're afforded numerous opportunities for fun and adventurous trails to explore. Not to mention, sometimes taking a bike over the rougher roads can spare your car the abuse.
Top 5 Best Tandem Bikes for 2020:
---
---
For those who want the best of the best tandem bikes, you can't go wrong with this Schwinn. Much like their traditional bicycles, Schwinn crafts excellent quality models of tandem bikes as well.
The frame is made of high-quality aluminum to keep the frame as low of a weight as possible. This makes for easier transport to a local park or camping ground where you can share adventures with your loved one or child. In addition, the wheels are a whopping 26 inches, so you can ride over those rough trails while you visit that campground or your local park.
One of the unique features of this bike is the extra low step-thru rear bar. This is designed for shorter riders in mind. So, if you just so happen to be short, or if you intend for your child to take the rear seat, they can use the bike in comfort with this feature from Schwinn. They go further than that, even, when it comes to comfort by installing a suspension fork.
The fork is designed to soak up shock and jolts, so you don't feel the hard bumps as you explore the nature trails or rough roads. Other features of this tandem bike include 21-speed Shimano EZ-fire trigger shifters and a reliable Shimano rear derailleur to promote maximum comfort and smooth riding during your journey. Schwinn wants to ensure you don't have a sore back or bottom by the end of your biking adventure!
Their disc brakes ensure that you are equipped with crisp stopping power, so you can maneuver around those tight ends of a trail with ease. For those who want their loved one or child on a fun adventure through a trail, this Schwinn tandem bike is an excellent option to consider.
There's more to bikes than just finding the right helmet that fits your head, however. Similar to cars or off-road vehicles, there's a bike better suited for certain activities. In this case, the tandem bike.
---
---
For those who are just starting out with a tandem bike, one of the best affordable tandem bike options out there is the Pacific Dualie tandem bicycle. This model, in particular, is best suited for trails and neighborhood riding. As such, for those interested in acquiring a bike for their family or to share with their significant other, this option is one to consider.
It comes with a 21-speed derailleur in the rear and twist shifters for easy shifting. Because of its easy construction, this bike is best suited for those who are unfamiliar with tandem bikes. You can start simply with your partner and learn how to balance and work together to power the bike appropriately.
The wheels are 26 inches, so it can be easily ridden on neighborhood streets and sidewalks as well as well-traveled trails. The material from which the wheels are crafted is alloy aluminum. This same material was used to make the linear-pull brakes and crank for gear changes. As such, the bike is lighter than other tandem models which makes transporting it easier.
In addition, the alloy material makes the equipment strong and durable. As a result, you can be sure that hitting a few trails won't break your bike on the first rough spot that you encounter. This bike was built to last both on the sidewalk and on the trail.
The back seat is easily adjustable, so if your partner is taller or shorter, accommodations can be easily made for their comfort. Because this bike is designed for the beginner, it's one of the best affordable tandem bike options that you can receive. It's an excellent model to learn on and try in order to determine if tandem biking is right for you and your family.
---
---
Another excellent and affordable option is this model from Kulana Lua. For those who are concerned about starting their kids on tandem bikes, this model is one of the best tandem bikes for families out there. It comes with a single speed, so children don't have to worry about shifting gears or keeping track of their speed.
Instead, they can just focus on working together to ride their bike together. This bike, in addition, has large cruiser handlebars as well as a cruiser stem, that allows for maximum comfort when riding. Children can easily reach and use these handlebars for balance and safety.
Too often, many riders find that bicycle seats are too hard or uncomfortable. This model comes with a cruiser seat spring seat that is designed for comfort and shock absorption. You and your children won't be left with sore bottoms after a pleasant ride through the neighborhood.
The wheels are 26 inches, which means that they could potentially be ridden on trails. However, without the extra gears and speed changes, this bike would really be best utilized for simple neighborhood rides or quick trips to town and back. Since this model of a tandem bike also has fenders, it can be used in the rain as well.
Due to its cruiser-type style of model, this bike is heavier, so you likely won't be able to easily transport this bike on the back of your car. However, the frame is made of excellent quality and its bright color is sure to delight the children. It also comes with minimal assembly, so you can quickly attach the few remaining items on the bike, and hand it off to your children.
Sturdy and durable, this bike is best suited for families with children who are seeking to learn how to ride a tandem bike for the first time. The use of this bike should be restricted mostly to just neighborhood rides instead of hitting the trail.
---
---
Another excellent option for those who particularly enjoy the cruiser-style of a tandem bike is the Kent Dual Drive. This bike offers 21-speed Shimano Tourney drivetrain and Revo twist shifters for maximum handling and a quality ride. The wheel size is 26 inches with extra-wide 2.1 inch tires.
As such, this bike was crafted for the trail. Its sturdy and durable frame allows you and your partner to ride over rough terrain with relative ease and little concern about the bumps jarring your bike too much. For those concerned with quick stops and brake handling, this bike comes equipped with reliable alloy linear pull V brakes for excellent stopping power.
The seats are spring gel-based and thus offer excellent comfort when bumping over the rougher parts of the trail. Another excellent feature of this tandem bike is that it comes with two water bottle holders. So, if you decide to take this bike on the trail or to enter a race on it, you can easily store water for both of you in a convenient location. This is especially unique in that not all of the tandem bikes come with the water bottle holders already installed.
In regards to the installation, the rear wheel comes already installed on the bike. However, you do need to install the seat, handlebars, and the front wheel onto the bike. As such, you need to ensure that you have the right tools in order to assemble the bike properly. If you are not familiar with bike assembly or installation, you can easily drop it off at your local bike store as they can likely easily assemble it professionally for you.
Whether you intend to use this bike to get around the neighborhood, explore the local hiking trails, or perhaps enter into a race, this bike from Kent is an excellent option to consider.
---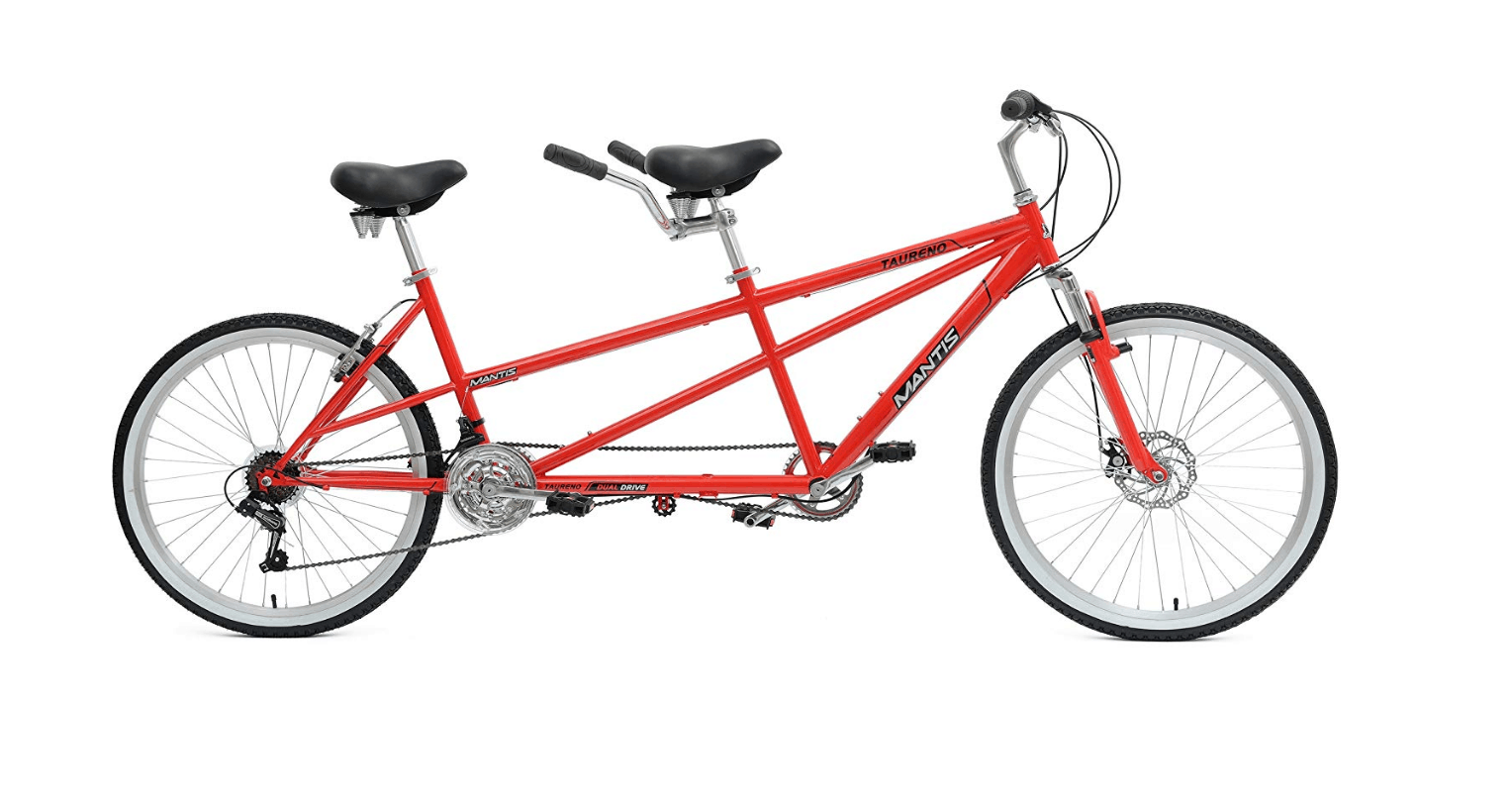 ---
Another affordable option for those looking to begin their tandem bike adventures is this model from Mantis Taureno. Its frame is a steel MTB and hybrid to ensure that the bike is durable. The suspension fork is also made of steel.
With 26 inch wheels that have a 2.125-inch width, you can be sure that this bike will do well on the nature trail of your choice. The rims of the wheel are made of aluminum to ensure the bike remains as lightweight as possible for easy transport to your riding location of choice.
For those interested in the power behind the bike, this model has an 18 speed Shimano with 3 piece crank. The platform pedals are also made of Nylon and thus give a comfortable place for your foot. You won't have to worry about ripping or shredding your shoes on these pedals.
There are two possible brake systems. A front disc, as well as a rear V-brake, are installed to ensure that both riders can brake when needed. To top off comfort and stability, the seat is has a spring saddle, so you won't be jarred over bumps on the trail. This bike is perfect for those starting out and seeking a new adventure.
---
What is a tandem bike?
As its name might suggest, the tandem bike is a certain model of a bicycle that is built for two people to operate. Tandem, itself, means aligned from the front to the back, rather than side-to-side, as you might think of a motorcycle coach. Besides just how its appearance, the tandem bike differs from the traditional bicycle in a few ways.
For one, the tandem bike actually has more pedaling power than the standard bike. Clearly, this is due to the fact that you have two people pedaling at the same time. As a result, the tandem bike can actually reach higher speeds than the standard version when it comes to off-roading or trail riding.
Higher quality tandem bikes are lighter than low-quality tandems. The design of the frame allows it to maintain the same amount of wind resistance as a traditional, non-tandem, bike as well. As such, tandem bikes are often used for special races that feature this design of a bike.
Typically, the rider in the front is the one that steers the bike as well as pedals. The rider in the back sole's concern is pedaling. Since tandem bikes can encompass anything from a two-seater to a three, four, and so on, all the riders who sit in the back are responsible solely for pedaling.
As such, some of the best tandem bikes for families can be bikes in which there are numerous seats instead of just two. The entire family can sit on one bike, and you can all work together through the rough turns and bends of the forest trail. There are sports, as well, focused solely on the tandem bike.
In some cases, the tandem bike is used in the Special Olympics in which a blind or visually impaired rider is placed in the rear and someone who is able to see pilots the bike in the front. Tandem bike races can frequently be found throughout the country and the world in which passionate athletes compete together in a gripping display of strength, endurance, and teamwork.
Tandem bikes are fantastic for social outings as well. So, if you're not interested in racing or having the entire family jump on a single bike, you can use your bike with your loved one or someone special. Whether you intend to use it professionally in a race, or not, the message behind using a tandem bike is socializing and teamwork.
In this regard, for those who just want to use it to take a romantic ride with their sweetheart, you can do no better than the tandem bike. Not only does it promote working together and strengthening teamwork, but it's also built for socialization. You and your loved one can bike together leisurely through a trail or down a sidewalk and use the atmosphere and activity as a jumping point to talk and connect with one another.
---
How to choose the best tandem bike.
As usual finding a good, high-quality, reliable bike is not an easy task. Especially if you have a limited budget it will get even more complicated. You should definitely think a little bit on the materials used on the frame. I would recommend an aluminum frame because of its lightweight in comparison to the steel frame.
Also, you should consider the terrains in your favorite location when you will ride. If the place is hilly you should aim to buy a tandem bike with more gears. A tandem bike with 21-speed rear derailleur should be perfect in this case.
In my humble opinion, you should look for a reputable brand when you buy a tandem bike. In my experience, the best manufacturers of tandem bikes are Schwinn, Pacific Dualie, and Kent. Of course, the other best tandem bikes on our list are also excellent.
---
What are the benefits of a tandem bike?
Social benefits of riding it with your partner.
As the title of this article suggests, riding a tandem bike is a super fun thing to do.
Tandem bikes could be very quick because of the pedaling power of two.
The best way to make a new friendship – just invite someone to ride with you.
The tandem bike is an excellent team-building tool as well.
If any of these activities appeal to you, then you should read on to discover some of the best tandem bikes available for your selection.