10 Best Tandem Bikes in 2023
ALSO CONSIDER: Best bikes for seniors || Best bikes for heavy riders || Best bikes for back pain || Best bikes for food delivery
Remember the sheer joy of cycling with the wind in your hair and the world zipping by?
Now, imagine sharing that thrill side by side with a partner, synchronizing your pedal strokes, and conquering terrains together. As we dive into 2023, the resurgence of tandem biking has made it not just an activity for nostalgic duos but also a beacon for modern adventurers, fitness enthusiasts, and sustainable commuters.
Whether it's the allure of enhanced teamwork, the challenge of coordinated cycling, or the simple joy of shared experiences, tandem bikes are back in the spotlight.
So if you're seeking a shared journey on the road less traveled or just aiming for twice the fun in half the time, you've landed in the right place. Buckle up (or should I say, strap on those helmets?) as I guide you through the Best Tandem Bikes in 2023 that will redefine your two-wheeled adventures!
The Best Tandem Bikes
What makes an excellent tandem bike?
Shared Comfort: An ideal tandem bike ensures comfort for both riders. Whether it's the seating arrangement or the positioning of pedals, both riders should feel equally at ease, even on longer journeys.
Synchronized Functionality: A tandem is all about teamwork. The bike should allow for smooth pedaling synchronization, ensuring both riders can work together efficiently without one overpowering the other.
Sturdiness: Tandem bikes, by design, have to bear the weight of two individuals. It's essential that the frame is robust and resilient, offering support without any wobble or instability.
Responsive Handling: Steering a tandem is different than a regular bike, primarily because of its length and the weight of two riders. An excellent tandem bike should offer precise and responsive handling, ensuring both safety and an enjoyable ride.
Safety Features: Last but not least, safety is paramount. A top-notch tandem bike should come equipped with reliable brakes, clear signaling mechanisms, and other safety features to ensure a secure ride for both participants.
---
Frame Material: Steel | Brakes: Mechanical Disc | Weight: 45 lb. | Gears: 7-Speed
---
What's good 👍
Great build quality: Ensures durability and longevity.
Schwinn steel low-step tandem frame: A trusted brand and frame design that makes mounting and dismounting easier for both riders.
Precise and easy gear shifting: Enhances the riding experience by allowing for smooth transitions across terrains.
Plush fitness comfortable seats: Ensures a comfortable ride even over long distances.
What's not so good 👎
The suspension fork is too soft: This can lead to reduced handling precision, especially on rough terrains.
Cruiser-style tires are a bit slow: Might not offer the speed some riders are seeking, especially on straightaways.
---
For those who want the best riding experience, you can't go wrong with this Schwinn tandem. Like their traditional bicycles, Schwinn also crafts excellent models of tandem bikes.
The frame is made of high-quality aluminum to keep the frame as low a weight as possible. This makes for more accessible transport to a local park or camping ground where you can share adventures with your loved one or child.
Also, the wheels are a whopping 26 inches, so you can ride over those rough trails while you visit that campground or your local park.
One of the unique features of this bike is the extra low step-thru rear bar, designed with shorter riders in mind.
So, if you happen to be short or intend for your child to take the rear seat, they can use the bike comfortably with Schwinn's feature.
They go further than that, even when it comes to comfort, by installing a suspension fork. The fork is designed to soak up shock and jolts, so you don't feel the hard bumps as you explore nature trails or rough roads.
The bike is competent because of the 21-speed Shimano EZ-fire trigger shifters and a reliable Shimano rear derailleur to promote maximum comfort and smooth riding during your journey.
Mechanical disc brakes ensure that you are equipped with crisp stopping power to maneuver around those tight ends of a trail easily.
This Schwinn tandem bike is an excellent option for those who want their loved one or child on a fun adventure through a trail.
---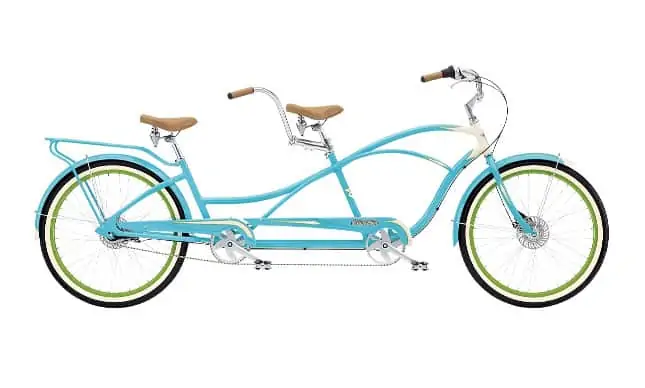 Frame Material: Aluminum | Brakes: Front and rear roller brakes | Weight: 58 lb. | Gears: 7-Speed
---
What's good 👍
Delivers on both style and performance: Combines aesthetics with functionality.
Superior comfort and control: Offers an enjoyable riding experience with optimal handling.
High-quality internal gear system: Ensures smooth transitions and reduces maintenance needs.
What's not so good 👎
Not suitable for long rides: Might cause discomfort or challenges on extended journeys.
A bit heavy: Can be challenging to transport or handle for some riders.
---
According to our latest research, Electra is one of the best bike brands.
This cool-looking tandem bike could have been plucked from a historic ride down a 19th-century boardwalk. It's just that charming and attractive.
The price is moderate despite its good looks, and according to Electra (a company not known for modesty), "The Super Deluxe Tandem 7i lives up to its name." It's super.
This upscale design, paired with the fantastic amount of fun riders enjoy when they pair up on either comfy saddle.
It also features a lightweight aluminum frame equipped with its Flat Foot Technology, so it's easier to steer than older tandem designs.
No awkward mounts either since the front rider steps over and the rear rider steps thru to assume saddle positions.
Notable parts include a Chromoly fork, Shimano Nexus Internal 7-speed drivetrain, and front and rear roller brakes. Still, it's the fun you'll have riding with a pal who, both literally and figuratively, has your back that turns this ride into a shared journey.
Apply front and rear Shimano BR-C6001 roller brake with confidence, and what's not to love about a tandem equipped with painted fenders, an integrated kickstand, stainless steel, and anti-rust hardware?
---
Best for the road: Giordano Viaggio Tandem Road Bike
Frame Material: Aluminum | Brakes: Calliper | Weight: 43 lb. | Gears: 8-Speed
---
What's good 👍
Sleek white pearl finish over 7005 aluminum frame: Offers a visually appealing design combined with sturdy frame material.
Shimano STI integrated brake levers/shifters/alloy brake: Incorporates a trusted brand for seamless shifting and braking.
Weighs just 42.5 pounds: Lightweight design makes it more manageable and efficient.
Easily upgradable machine: Allows riders to customize and enhance the bike over time.
What's not so good 👎
Only available in one frame size: Limits adaptability for different rider sizes.
Weak brakes with inadequate stopping-power: Could pose safety concerns, especially at higher speeds or in emergency braking scenarios.
---
There's a reason you'll need to clear your calendar to search for this sexy Italian machine.
Stock depletes faster than a plate of pasta. Still, if you're hungry for a satisfying tandem ride, you'll prioritize this mission – especially when you spot the budget-friendly price tag likely responsible for the lack of inventory.
Despite its affordability and European pedigree, expect plenty of high-quality parts, including better-than-average tires (Touring 700c x 32). The white frame paint is crafted with sparkling metal flakes to increase your visibility if you ride at night.
While this tandem bicycle arrives at your doorstep disassembled, owners say it's not hard to put together. However, given the price, you could easily afford to have someone else handle the assembly.
---
Best for Beginners: Pacific Dualie
Frame Material: Steel | Brakes: Calliper | Weight: 59 lb. | Gears: 21-Speed
---
What's good 👍
Affordable ride for beginners: Makes it accessible for those new to cycling.
21-speed with twist shifters: Offers a versatile range of speeds suitable for various terrains.
Handles well: Ensures a stable and responsive ride experience.
What's not so good 👎
Heavy to carry and climb hills: Can be challenging for transportation and uphill rides.
Low-quality parts: Might require more frequent repairs or replacements.
---
For those just starting with a tandem bike, one of the best affordable bike options is the Pacific Dualie tandem bike. This model, in particular, is best suited for trails and neighborhood riding.
As such, this option is one to consider for those interested in acquiring a bike for their family or sharing it with their significant other.
It has a 21-speed derailleur in the rear and twist shifters for easy shifting. Because of its easy construction, this bike is perfect for beginners.
You can start with your partner and learn how to balance and work together to power the bike appropriately.
The wheels are 26 inches, so they can be easily ridden on neighborhood streets, sidewalks, and well-traveled trails. The material from which the wheels are crafted is alloy aluminum.
This same material was used to make the linear-pull brakes and crank for gear changes. As such, the bike is lighter than other tandem models, which makes transporting it more accessible.
Also, the alloy material makes the equipment solid and durable. As a result, you can be sure that hitting a few trails won't break your bike on the first rough spot you encounter. This bike was built to last both on the sidewalk and on the trail.
---
Best Cruiser Style Tandem: Kulana Lua
Frame Material: Steel | Brakes: Coaster Brakes | Weight: 62 lb. | Gears: Single-Speed
---
What's good 👍
Hi-Ten steel Kulana tandem frame: Provides a robust and durable frame construction.
Extra-large cruiser spring saddles: Ensures a comfortable ride even on longer journeys.
Very affordable entry-level tandem: Makes tandem cycling accessible to beginners or those on a budget.
What's not so good 👎
Only single-speed: Limits versatility for varying terrains and speeds.
Weighing 62 lb.: Its heavier weight can make handling and transportation more challenging.
---
Another excellent and affordable option is this model from Kulana Lua. This model is one of the best tandem bikes for families concerned about starting their kids on tandem bikes.
It comes with a single speed, so children don't have to worry about shifting gears or keeping track of their speed.
Instead, they can focus on working together to ride their bike together. This bike also has large handlebars and a cruiser stem, allowing maximum riding comfort.
Children can easily reach and use these handlebars for balance and safety.
Too often, many riders find that bicycle seats are too complex or uncomfortable.
This model comes with a spring cruiser seat for comfort and shock absorption. You and your children won't be left with sore bottoms after a pleasant ride through the neighborhood.
The wheels are 26 inches, meaning they could be ridden on trails.
However, this bike would be best utilized for simple neighborhood rides or quick trips to town and back without the extra gears and speed changes. Since this model also has fenders, it can be used in the rain.
Due to its cruiser-style frame and handlebars, this bike is heavier, so you likely won't be able to transport it in the back of your car quickly.
However, the frame is of excellent quality, and its bright color will surely delight the children. It also has minimal assembly, so you can quickly attach the remaining items on the bike and hand them off to your children.
---
Best Budget Pick: Mantis Taureno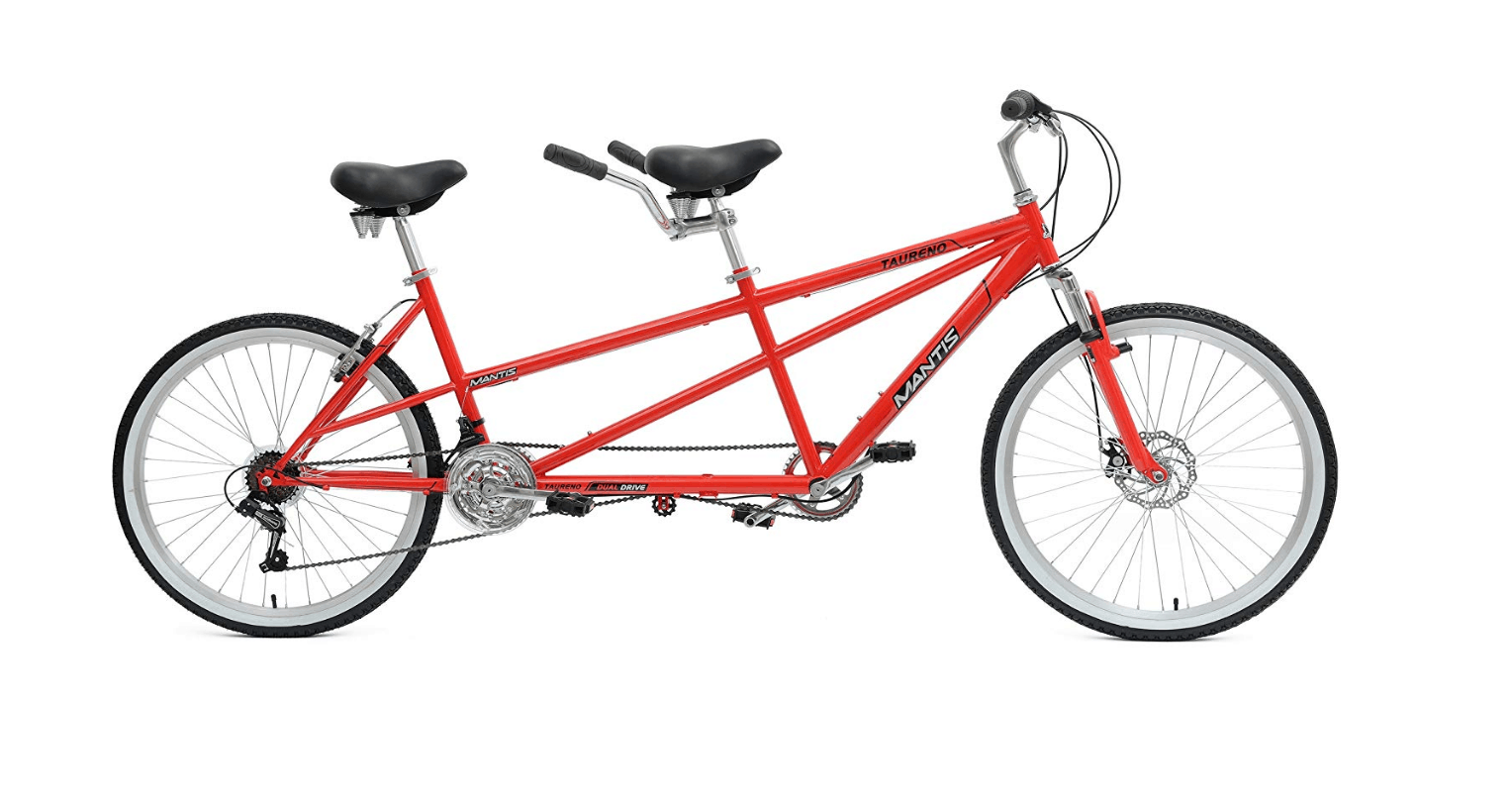 Frame Material: Steel | Brakes: Front disc and rear V-Brake | Weight: 60 lb. | Gears: 18-Speed
---
What's good 👍
18-speed Shimano drivetrain with a 3-piece crank: Provides versatility and reliability in shifting gears.
Decent steel MTB/Hybrid Frame: Combines the benefits of mountain and hybrid bikes for a versatile ride.
Twist shifters are good: Allows for smooth and intuitive gear transitions.
Adequate stopping power: Ensures safety with responsive braking.
What's not so good 👎
Some low-quality parts: Might compromise longevity or performance and may require replacements.
Difficult to assemble: Can be a challenge for those unfamiliar with bike assembly, potentially needing professional help.
Too heavy for most people: Can make transportation, maneuvering, and uphill rides challenging.
---
Another affordable option for those looking to begin their tandem bike adventures is this model from Mantis Taureno.
Its frame is a steel MTB and hybrid to ensure the bike is durable. The suspension fork is also made of steel.
With 26-inch wheels with a 2.125-inch width, you can be sure that this bike will do well on the nature trail of your choice.
The wheel's rims are aluminum to ensure the bike remains as lightweight as possible for easy transport to your riding location.
For those interested in the power behind the bike, this model has an 18-speed Shimano with 3 piece crank. The platform pedals are also made of Nylon and thus give a comfortable place for your foot.
You won't have to worry about ripping or shredding your shoes on these pedals.
There are two possible brake systems. A front disc and a rear V-brake are installed to ensure that both riders can brake when needed.
The seat has a spring saddle to top off comfort and stability, so you won't be jarred over bumps on the trail. This bike is perfect for those starting and seeking a new adventure.
---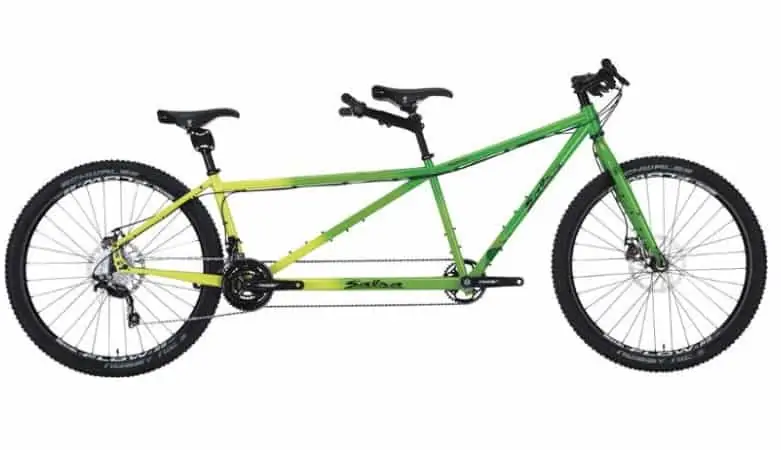 Frame Material: Steel | Brakes: Hydraulic disc brakes | Weight: 42 lb. | Gears: 10-Speed
---
What's good 👍
Available in sizes M/S, L/S, and L/M: Offers adaptability for different rider sizes and preferences.
Lightest model is the M/S at 42-pounds; 2-ounces: Provides a relatively lightweight option for efficiency and ease of handling.
Powerful SRAM BB7 hydraulic disc brakes: Ensures optimal stopping power and safety.
Premium ride and feel: Delivers a top-notch cycling experience in terms of comfort and performance.
What's not so good 👎
Eye-watering price tag: Could be a significant investment for many potential buyers, limiting its accessibility.
---
It's anybody's guess why Salsa product developers named this tandem bike Powderkeg in light of the word's explosive definition, but perhaps the rationale can be found in the niche.
Tandem bikes have never been described as rides that take off like rockets due to the burden of two riders.
This one is the exception.
This tandem mountain/gravel bike's frame is manufactured of Cobra Kai CroMoly™; the top tube is massive, while the down tube's responsibility to deliver precise tracking on the roughest terrain won't disappoint.
The Powderkeg is single track-ready, though less adventurous couples are invited to pilot this ride anywhere smooth surfaces dominate.
The Powderkeg fork is constructed with the heftiest tubing this manufacturer has ever employed. This Salsa model features a 44mm headtube that can be substituted with a tandem-rated suspension fork if desired.
The Powderkeg provides clearance for 29- x 2.4-inch tires, and Salsa didn't skimp on accessories. This ride comes with 7 bottle mounts, rack mounts, and 3 pack fork mounts.
The price? It's explosive, too!
Read more: 9 Best Gravel Bikes Under $1500
---
Best for Touring: PFIFF Collecttivo 24 Tandem Bicycle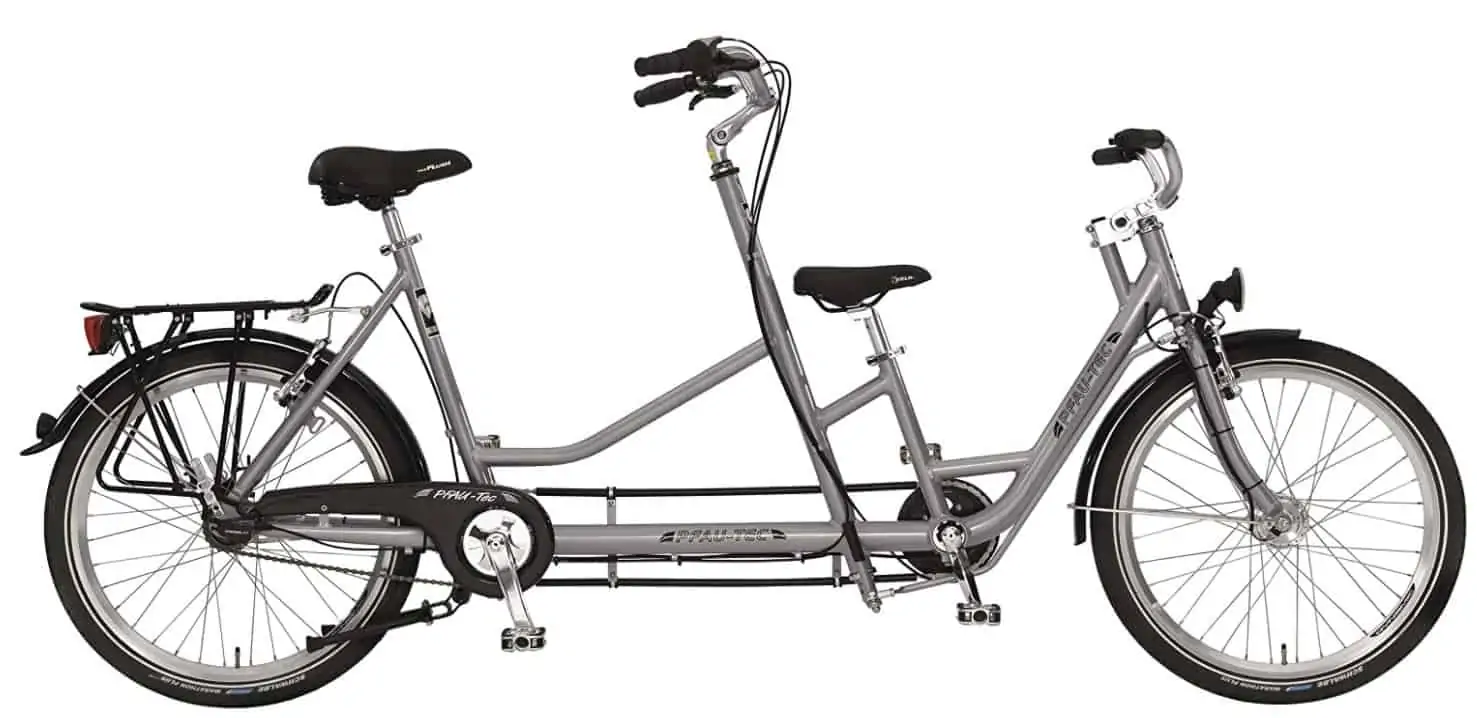 Frame Material: Aluminum | Brakes: Calliper brakes | Weight: 53 lb. | Gears: 7-Speed
---
What's good 👍
Low instep for mount and dismount ease of both riders: Enhances convenience and safety for getting on and off the bike.
Double-wall rims and Schwalbe Marathon Plus reflective tires: Provides durability and increased visibility for safer rides.
Shimano 7-speed drivetrain with coaster brake: Ensures a smooth and reliable gear transition with added braking simplicity.
Velo comfort saddles plus front light and bell: Enhances ride comfort and safety with built-in illumination and alert system.
What's not so good 👎
There is no separate freewheeling for the front and rear: This means both riders have to pedal simultaneously, which can be a constraint for some pairs.
Difficult for beginners: Might pose challenges in terms of handling and coordination for those new to tandem cycling.
---
Hefty best describes this tandem's weight at 53 pounds, so you and your riding partner get plenty of heft beneath your collective bums.
PFIFF makes a companion model called the Campagno with upgrades, but why go into more debt when you can enjoy matching features found on the Collecttivo 24, which offers a sleeker, more extended profile, and extra features are bountiful?
The list includes a rear rack, quick-release seat post clamps, a freewheel in the front, mudguards, a double-leg kickstand, and fenders – all reasonably priced.
If touring is your ultimate objective, the Collecttivo 24 will put many miles on your journal.
It performs like a pro, and you stay safer in the saddle because the front handlebar is locked in a fixed position, so control is undertaken from the rear rather than the front.
Made in Germany, this bike is in it for the long haul, even if you can't pronounce the brand name correctly.
---
Frame Material: Steel | Brakes: Hydraulic disc | Weight: n/a | Gears: 22-Speed
---
What's good 👍
Seats 3 riders on the beefy frame: Unique design accommodates trios for a shared cycling experience.
Stainless steel dropouts eliminate paint chipping: Enhances durability and maintains the bike's aesthetic appeal.
Co-motion Max Adjust Stoker Stem maximizes fit range: Allows for customization to fit riders of varying sizes comfortably.
Powerful hydraulic disc brakes: Ensures optimal stopping power for safety.
Comfortable ride: Provides a pleasant cycling experience even on longer journeys.
What's not so good 👎
Extremely expensive: The high price point might be prohibitive for many potential buyers. After all, you're buying 3 high-quality bikes in one.
---
It's the ultimate family-friendly bike, though you're invited to onboard a couple of friends instead. The Trident's PeriScope design delivers steady handling and long-lasting quality.
Despite its ability to transport a crowd, owners find this design easy and quick adjustments that accommodate the broadest range of riders. Rack and fender mounts with excellent load handling make this versatile family tandem.
Co-Motion didn't skimp on the details. The Trident is optimized for 26-inch wheels and is available with 30mm to 40mm tires.
Tubing is superior; zonally-butted Chromoly construction and the oversized 44mm head-tube and uni-crown touring fork produce reliable, steady handling for all three riders.
Proven Co-Motion touring geometry includes rack and fender mounts, dual disc brakes, Shimano 105 Kit, and hand-built touring wheels that make this dynamic ride for three outstanding in its class.
This one will do the job when an ordinary tandem bike for 3 won't cut it.
Related: Hydraulic vs. Mechanical Disc Brakes
---
Electric Motor: 500W | Brakes: Hydraulic disc | Range: 60 miles | Gears: 7-Speed
---
What's good 👍
Powerful hub motor: Ensures strong propulsion and consistent performance.
Excellent hydraulic disc brakes: Provides optimal stopping power for enhanced safety.
60-mile range on battery: Allows for long rides without the need for frequent recharging.
Comfortable seats and handlebars: Enhances the riding experience, especially on longer journeys.
Quick and silent on the road: Delivers a smooth and noiseless ride, making it more enjoyable and less disruptive.
What's not so good 👎
Expensive: The high price might be a consideration for potential buyers, limiting its accessibility.
---
Pedego Tandem is the most popular electric tandem bike because it nails the essentials. It's comfortable, quick, and fun to ride.
A proprietary Pedego 500W hub electric motor with excellent acceleration for climbing hills powers the bike.
The motor is combined with a massive 48V lithium-ion battery that provides around 60 miles of range. Indeed, impressive for a tandem bike.
We also love the comfortable cushioned seats, which are some of the best on any tandem bike. On top of that, the comfortable handlebars help maintain an upright posture and allow you to sit back and relax.
What about the components of the tandem bike? Pedego fitted this bike with SHIMANO ACERA RD-M360 rear derailleur with 7 speeds and Shimano Tourney thumb shifters.
You also get a Shimano cassette and chain for an entire Shimano drivetrain.
The braking system on the Pedego Tandem is a Tektro hydraulic system with 180mm discs that stops the bikes safely and with just two fingers on the Tektro levers. What's more, the levers have this special motor cutoff switch for additional safety.
In conclusion, Pedego Tandem is a capable electric tandem bike for riders who want to explore further with their significant ones.
---
How to Choose the Best Tandem Bike ( Buying Guide )
Prepare to spend between $350 and $4000 for a decent two-seater. Entry-level models are priced between $350 and $800.
The experience of the stoker (the rider in the back) and pilot (the rider upfront) is crucial.
A tandem bike with two riders on the flat is up to 50% faster than solo bikes.
If you're going to ride with your kid, choose a low-step frame or the so-called family tandem. If you and your partner have a lot of experience with road and tandem bikes, you can opt for a high-end road tandem bike.
Tandem Bike Frame
In most sizes, you can find tandem bikes with aluminum, steel, or carbon frames.
Most of the cheapest tandems come with aluminum or steel frame, though. Remember that aluminum is probably the best choice for most people because it's lightweight and durable enough.
Riders' Experience
The experience of the stoker (the rider in the back) and the pilot (the rider upfront) is crucial.
Note that a tandem bike with two riders on the flat is up to 50% faster than on solo bikes.
If you're going to ride with your kid, choose a low-step frame or the so-called family tandem.
If you and your partner have a lot of experience with road and tandem bikes, you can opt for a high-end road tandem bike.
Tandem Bike Budget
Prepare to spend between $350 and $4000 for a decent two-seater and more than $6000 for a high-end three-seater like the Co-Motion Periscope.
In the first category of tandems that cost between $350 and $600, you get an excellent entry-level tandem for most people, but if you need something for touring or a more rigid tandem for mountain biking, prepare to pay at least $1500.
Read more: How Much Should You Spend on Your First Bike
Can one person ride a tandem bike?
Yes, one person can ride a tandem bike.
You will need to push harder because the bike is heavier than a regular bike, but it's doable for an experienced tandem bike rider; it is not a problem to ride alone sometimes.
You'll be fine if you need to pick up your tandem bike partner from another location within a few miles.
Are tandem bikes dangerous?
Generally speaking, tandem bikes are not more dangerous than standard bikes.
They are tough to ride uphill, especially if your partner is not pushing as hard as you.
You can put a lot of pressure on your knees, thus getting injured.
Communication with your partner is crucial here. To avoid injuries and muscle strain, you should always be at the same pace when riding uphill.
---
What is the best tandem bike?
Our recommendation for most people is the
Schwinn Twinn Tandem
– a comfortable low-step tandem with great urban tires and plush fitness seats.