5 Best Full Suspension Mountain Bikes Under $2000
We all know that mountain biking is a great form of exercise and provides hours of enjoyment.
But you may not realize how much variety there is in the sport, with many different types of bikes to choose from depending on your terrain preference.
The full-suspension mountain bikes are those which offer the most versatility without sacrificing performance or durability.
Image
Bike
Our Rating
Price

Best Overall

Refined single-pivot full-suspension design

Great aggressive geometry

Best-in-class hydraulic disc brakes

Check PriceDetails

Runner Up

Speed-oriented trail bike

Internal cable routing

Tubeless-ready rims and tires

Check PriceDetails

Runner Up 2

Stiff and lightweight aluminum frame

Great rocker link suspension

Internal cable routing

Check PriceDetails

Great for challenging trails and downhill

Excellent durability and traction

Best-in-class RockShox Recon RL 130mm fork

Check PriceDetails

Available in four sizes

Comfortable plus-size tires

Decent components

Check PriceDetails
We may receive compensation when you click on external links on this table.
---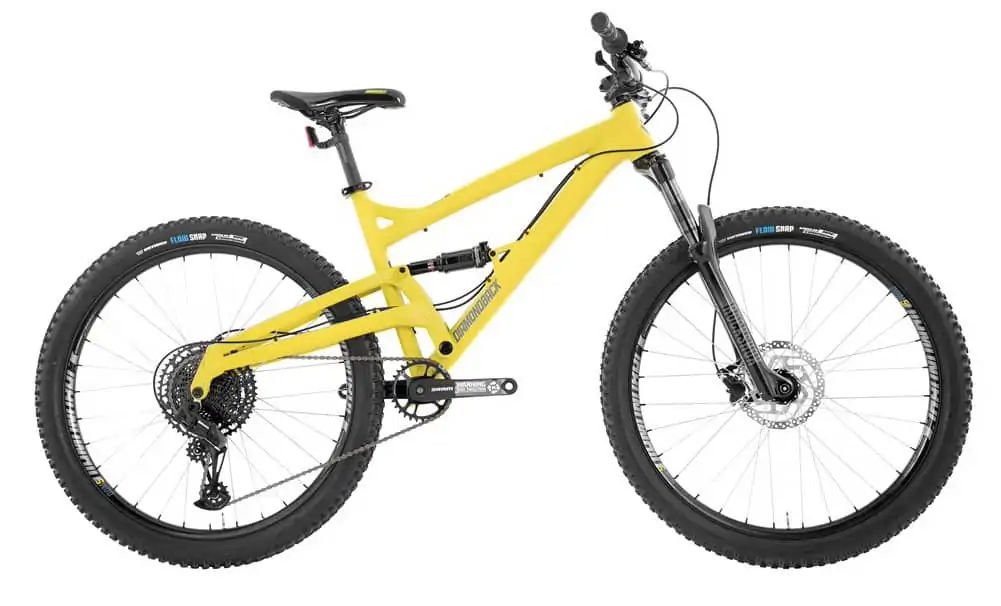 ---
+ Refined single-pivot full-suspension design
+ Great aggressive geometry
+ Best-in-class hydraulic disc brakes
+ Wide 11-50T gear range
– Does not come with a dropper post
– Average quality tires
---
Looking for a trail bike that will neither clean out your bank account nor disappoint you in the thrills department during a climb?
The Atroz 3 offers you more aggressive geometry, refined single-pivot full-suspension engineering and a 6061-aluminum frame with 130mm of travel on the front and 100mm of travel on the rear plus an internal dropper post routing ( does not come with a dropper post).
The SRAM SX Eagle 12-speed drivetrain with cassette offers effortless pedaling over any terrain you prefer, and Diamondback engineers call the 11-50T gear range "hill-crushing."
Shimano MT200 hydraulic disc brakes are not just reliable and state-of-the-art but if you're a control freak, you'll love the way they perform during descends. Double-wall aluminum wheels and Vee Rubber Mission tires come standard.
Take trails by storm in complete control thanks to the Race Face Chester, 780mm Wide, 35mm Bore handlebar and Race Face Chester, 40mm Reach stem and count on the Race Face Aeffect Cinch, 30T crankset to perform like a champ.
The Atroz 3 sports a RockShox Recon RL Solo Air, 130mm Travel fork and RockShox Monarch R, 184 x 44mm rear shock. Ride confidently atop the DB Sync'r saddle hosted by the 30.9mm aluminum micro adjust seat post with quick-release seat clamp.
You, of course, won't want to jump off!
Read more about Diamondback Atroz 3 on The Loam Woof.
Diamondback is a bike brand that we love. If you want to read more about it, click here.
---
---
+ Speed-oriented trail bike
+ Internal cable routing
+ Tubeless-ready rims and tires
+ Shimano Deore drivetrain
– Lack of a dropper post
– Tires might need upgrading
---

Love the color mix?
Act fast.
Marin Rift Tone 1 inventory is low as a result of supply chain issues and this product's affordable price. The brand also claims that this is the first dual suspension bike designed for trails.
Choose the size that fits your body (XS, S, M, L, XL) for a comfortable ride and enjoy efficient climbs, easy descends and admiring looks when this cool ride is spotted between your legs.
The Series 3 6061 aluminum frame with 120mm of travel on the rear and 130mm on the front features Boost spacing and internal cable routing for rattle-free performance.
Driven by a Shimano Deore 11-speed drivetrain with a cassette that never met a hill it couldn't conquer; cyclists call the 11-51T gear range impressive. When paired with Shimano BR-MT200 hydraulic disc brakes, superior control boosts rider confidence.
The Rift Zone 1 is manufactured with Marin aluminum double-wall rims paired with Vee Tire Crown Gem tires that give you the option of going tubeless and dropping tire pressure for a smoother ride, tighter traction, and fewer flats when you can least afford them.
Find the brand logo on these components: wheelset, handlebar, stem, grips, seat post, and saddle with a quick release mechanism. No wonder this ride sells out fast!
If you're interested in other budget mountain bikes for beginners, check our dedicated article here.
Read more: 6 Best Fat Bike Mudguards and Fenders in 2022
---
Runner Up 2: Mongoose Salvo Comp
---
+ Stiff and lightweight aluminum frame
+ Great rocker link suspension
+ Internal cable routing
+ Perfect ride for technical terrain
– Hard work uphill because of its weight
– A low budget SR Suntour crankset
---
This sexy black ride competes on myriad levels offering S, M, and L models to suit cyclist heights, a full suspension MTB perfect for smooth XC trail riding, and a stiff, lightweight Tectonic T2 aluminum frame with a tapered headtube, 110 mm travel, rocker link suspension, internal cable routing, replaceable hanger, and adaptable dropouts.
Count on the SRAM SX Eagle 1 x 12 drivetrain with 3-piece SRAM SX Powerspline aluminum cranks for optimal performance and experience Mongoose's Free-Floating Technology™ suspension featuring SR Suntour® XCM 100 mm travel fork and X-Fusion 02 Pro RXL shock (190 mm length x 40 mm stroke.
Below your seat, ride like the wind atop 29″ x 2.25″ Kenda Nevegal tires on WTB-i35 aluminum double wall, tubeless compatible rims knowing that you can count on excellent stopping power, courtesy of Shimano® BR-M201 hydraulic disc brakes.
Referred by product engineers as "a lightweight, forgiving ride to help you plow through technical terrain without giving up climbing performance," owners need not compromise on comfort to tackle rugged XC trails because this bike's adapted free-floating Horst-Link suspension system limits pedal feedback, so cyclists conserve enough energy to add miles of distance without breaking a sweat.
Read more: What Makes Full Suspension MTB's So Expensive
---
---
+ Great for challenging trails and downhill
+ Excellent durability and traction
+ Best-in-class RockShox Recon RL 130mm fork
+ Proportional response suspension design
– No dropper post
– Not great for climbing
---
It's easy to get into the habit of trailblazing on this sleek black ride. Choose from 4 sizes (S, M, L, XL) to tool around your favorite trail while experiencing unprecedented durability, agility, traction, and handling.
Cannondale says the Habit 6 has "killer capacity in the name of fun," and design wasn't forgotten when this SmartForm C1 Alloy frame and RockShox Recon RL 130mm fork were added to the product specs.
Other bikes feature "one size fits all" suspension systems, but the Habit 6 is the exception, offering a Proportional Response component that differs by bike size for tailored traction, suppleness, and control.
Other notable features include a KMC X11, 11-speed chain, Race Face Ride Cinch, 30T crank and Shimano SLX GS rear derailleur plus Shimano SLX, 11-speed shifters, front, and rear hubs.
Designers did not ignore the frame.
The Habit 6 features a RockShox Recon RL, 130mm, DebonAir, 51mm offset fork, 130mm travel, SmartForm C1 Alloy frame, Ai offset drivetrain, Post mount brake and RockShox Deluxe Select, DebonAir rear shock delivering fast, safe stops courtesy of Shimano MT200 hydro disc, 180/180mm RT10 rotors brakes.
There's lots more to discover about this ride in this Outdoorgearlab article.
---
---
+ Available in four sizes
+ Comfortable plus-size tires
+ Decent components
+ Level links suspension
– No dropper post
– Not very good looking
---
This product costs a little more but it's a true adventure bike that isn't weighed down by hefty components and materials. The frame is crafted of 6061 T-6 Aluminum and the Suntour Edge R, 200x57mm, Rebound Adjust, 22.2mm Eyelet Width rear shock absorbs bumps like a pro.
Lithe, stable, and eager to master the toughest terrain while making sure the rider maintains optimal control, purchasers rave about the 2.8" wide, plus-size tires, Level Link suspension, and control usually found only in plus-size bikes.
Powered by a wealth of Sram components — SX Eagle 12 speed drivetrain, SX w/Steel 32T Direct Mount cranks and chain — stopping power is no less dynamic thanks to brakes featuring TRP Slate X2, with 180mm Front and Rear Rotors.
While there's an occasional complaint about the way this bike's product manual and set-up guide are written, this factor isn't dampening sales for shoppers who can navigate the printed material and check out online videos.
Further, tall cyclists benefit from owning the XL model since it is designed to accommodate riders up to 6'6". If you crave extras, the Catch 1 delivers: Included with the bike are a tool kit, DB shock pump, DB mudguard, and spare RD hanger.
Now that's value you can take to the bank.
---
How to choose the best full suspension MTB under $2000

Having already determined that your budget maxes out at $2K, you will have eliminated many models on the market so winnow your shortlist down to style, features, and ideal fit so you don't waste time or money.
Style. What's yours? Where and how will you ride?
Trail bikes: As the most common type of MTB on the market, a generic trail bike works in myriad environments. Look for 120–140mm of suspension travel plus 67–69° head-tube angle to find the product that turns faster and climbs better.
Cross-country bikes: Choose this bike type if you have need for speed and climbing power and intend to ride a few miles up to 25+. These bikes offer low weight and efficiency and if you intend to enter competitions, you'll appreciate this ride's 80–100mm of suspension travel and 70–71° head-tube angle.
Fat tire bikes: Whether you're a beginner or just seeking the ultimate in traction, this type makes a great choice thanks to oversize tires that measure between 3.7- and 5+-inches wide.
All-mountain bikes: Looking for 140–170mm of suspension travel and 65–68° head-tube angle? This is your best option. Light and nimble, you'll achieve goals that range from thrilling descents to harrowing climbs.
Downhill bikes: Big, tough, but not especially sleek, this style bike is only carried by select retailers who recommend both full-face helmets and body protection be worn during adventures on trails courtesy of 170–200+mm of suspension travel and a 63–65° head-tube angle that won't disappoint.
Comfort and Fit
In general, you'll find models that come in standard sizes S, M and L, each of which corresponds to rider height.
Experts recommend cycles with body types that don't fit into these categories choose a smaller rather than bigger size if the manufacturer doesn't publish a sizing chart.
How to get the best fit? Ask an expert at your local bike shop and test drive recommended bikes for up to 10 miles on surfaces like the ones you intend to use. 
Recommended Reads on Mountain Biking
Best Affordable Mountain Bikes – Find out which our favorite budget picks are in all of the mountain bike categories.
Giant Talon 3 Review – If you are looking for an entry-level mountain bike from a great brand, check out this excellent model from Giant.
How To Bunny Hop On A Mountain Bike – Yes, you can bunny hop on an MTB. Learn all the details and become a master bunny hopper.
Best Fat Bikes Under $1000 – Learn how to find a decent fat bike under $1000 and which is the best model right now.