6 Affordable Fat Bikes Under $1000 for 2023
---
You can buy a decent fat bike for less than $1000, but you'll make a few compromises here and there.
Seat, pedals, and tires are among the most neglected components in a budget fat bike. You might need to upgrade those at a later stage.
Most budget fat bikes come with mechanical disc brakes, entry-level 2x SRAM or Shimano drivetrains, and aluminum or steel frames.
---
Mongoose Argus – Our Pick!
-Best Budget Pick Under $1000-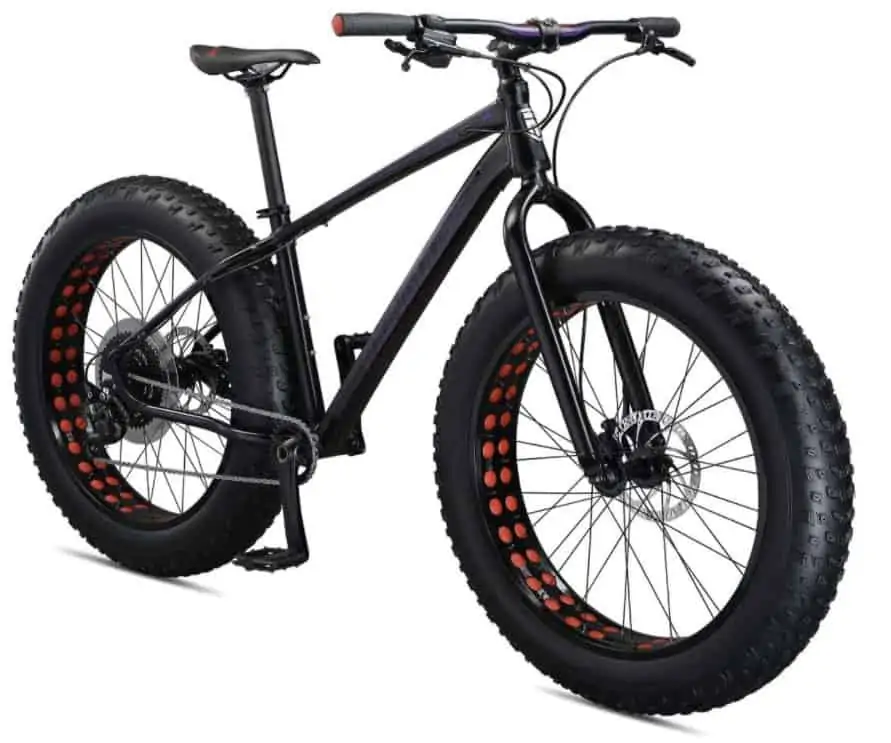 ---
+ Comes in three sizes: S, M, and L
+ Tackles every terrain from snow to sand
+ Pairs high quality with an affordable price tag
+ Racy green color appeals to riders of both sexes
– No hydraulic disc brakes
– Cheap flat pedals
---
The Argus Trail belongs in the hardtail category, so it's not just fun but also engineered to tackle daunting challenges. This bike's frame is crafted of lightweight tectonic T1 aluminum, and the super-rigid fork pairs strength with high performance. Prepare to undertake a search for this hot bike because it sells out fast – likely thanks to the great price on top of supply chain issues brought on by Covid.
Read more: Best Bikes for Heavy Riders
Riders enjoy formidable traction when it's needed most. Shimano Rapid Fire 2 x 8 shifters and derailleurs won't disappoint riders seeking a wide gear range that eats obstacles, oversized (4-inch) knobby MTB tires on 26-inch wheels, and mechanical disc brakes excel at stopping power. The brand is legendary, and multiple sizes offer a better fit and ride, so if you find one of these gems, grab it.
---
Mongoose Juneau
-The Runner-Up-
---
+ One size fits all riders
+ Sturdy mountain-style aluminum frame
+ Comes with a rigid suspension system
+ Sturdy disc brakes are intuitive
– No kickstand included
– Uncomfortable seat
---
Priced to compete with the Mongoose Argus, the Juneau weighs less than 20 pounds, yet it stands up to all types of riding challenges, and since riders between 5 feet have test-driven it; 4-inches and 6 feet; 2-inches tall, you are likely to get a good fit. Engineered to be a comfortable and elegant ride, Juneau's hydro-formed tubing adds to the sleek look and responsiveness.
Read more: Mongoose Dolomite Review – Is It Worth It?
Expect precise gear changes courtesy of 16-speed Shimano shifters and drivetrain. The Juneau's rigid suspension system and front and rear brakes won't disappoint since they also assist with speed control. Fat bike fans respect the 26×4-inch all-terrain fat tires mounted on 3-inch-wide drilled alloy rims. Settling for the Juneau won't be a hardship if you're a brand fan and can't get your hands on an Argus due to depleted stock issues.
---
Raleigh Pardner
-Amazing look, Great Parts-
---
+ Shimano Alivio 3×9 drivetrain
+ Decent Tektro mechanical disc brakes
+ The color is quite unique
+ Steel frame has great lines
– Wheels are heavy
---
You'll spend a little more on this Raleigh product than you would on the Mongoose products, but if you love the brand, you might not hesitate. Reviewers complain about the weight of the wheels, but they love the color! Of course, availability could be an issue, so you'll do some leg work to get your hands on one. Weighing in at 45-pounds (courtesy of steel construction), riders can zip through 27 speeds, and the 16-inch wheel size nicely accommodates this fat bike's 26X4-inch tires that ably handle all weather conditions.
Read more: Best Kids Fat Bikes
While some riders say that this bike's mechanical disc brakes offer serious stopping power, others call it mediocre, but at least you can choose from 4 sizes to suit your height and weight (S, M, L, and XL) if you have experienced sizing problems in the past. This Raleigh fat bike comes with rack mounts and stands up to anything a trail, snowfall, or sandy surface throws its way.
---
Gravity Bullseye Monster
-Jack of all trades-
---
+ Features a lithe aluminum frame
+ Delivers on 16 speeds
+ Weighs in at 40 pounds for stability
+ Bang for the bucks
+ SRAM 2×8 drivetrain shifts smoothly and silently
– Wheels are weighty
– Tires and rims are not tubeless-ready
---
The Gravity Bullseye Monster could also set you off on a search for this bike, but as with the others on our list, this void has everything to do with Covid-related material and labor issues and nothing to do with heavy sales. If you thought aluminum, solid and hefty, couldn't be used in the same sentence, the Monster would prove you wrong because the quality of this aluminum is fantastic.
Read more: Hydraulic vs. Mechanical Disc Brakes
Fat bike fans rave about this machine's powerful Tektro front and rear brakes, superior 16-speed SRAM drivetrain components, and the high-traction super-wide tires measuring 26×4, essentials for fat bikes styles. This Bullseye Monster outweighs wimpy competitors yet is just as nimble when called upon to float over snow, plow deep sand and plunder surfaces an ordinary mountain bike wouldn't survive.
---
Kawasaki Sumo 4.0
-Fast and Nimble Ride-
---
+ Aluminum frame and u-bridge front fork
+ Comes with massive 26×4" hardpack tires
+ Features Shimano Altus shifters and derailleurs
+ Sturdy front and rear ProMax disc brakes
– Heavy tires
---
Try your hand at plowing through snow, sand, trail, and riverbeds atop this Kawasaki Sumo 4.0 in a choice of three color options and at a price that won't be a hardship for riders who seek a solid brand name plus quality construction. Kawasaki goes the distance in terms of high-quality features that stand out, like the WTB Rocket V saddle, 600mm aluminum handlebar. Sumo's drivetrain features 21-speed Shimano ef-51 trigger shifters and derailleurs and cassette, 170mm aluminum crank arms, nylon pedals, and a good kmc z50 chain.
Read more: Best Fat Bikes Overall
Cockpit extras include Promax alloy brake levers, seat posts, and the alloy stem. The bonuses keep coming, and you have a Neco headset, ProMax quick-release seat post clamp, and bolt-on krypton grips. Designed for guys and weighing in at an impressive 47 pounds, pricing options are all over the map, but you'll encounter the same shortages related to Covid on all of these bikes, so patience, Grasshopper.
---
-Great Fat Bike for Beginners-
---
+ Comes in 15-, 17-, 19- and 21-inch sizes
+ 6061 alloy frame with disc-mount fork
+ SRAM FD-X7 2×10/SRAM RD-X9 derailleurs
+ SRAM 10-speed shifters, cassette and crank
– Stock tires and wheels are bad
---
In addition to the features above found on this Motobecane Boris X5, you could find a highly-inflated price tag associated with this 35-pound fat bike as well as a difficult time finding reviews by riders, so while there are plenty of statistics detailing this ride's geometry, it's the feedback that describes this product's ability to dominate trails that is likely to get shopper attention most of all.
Read more: 30 Best Mountain Bike Brands
This ride's precision hydro-formed aluminum frame is designed with a lowered top tube for excellent trail clearance; it's durable and responsive. The 170mm rear QR-axle accommodates tires measuring up to 4.5 inches, and testers insist that the Boris brand handling stands out when measured against competitor bikes. From the KMC X-10 steel chain to beefy 26-inch Weinmann wheels and 26×4-inch Vee rubber tires, the Boris X5 deserves a test drive.
---
How to choose the best fat bikes under $1,000
Fat Bike Frames
According to fat bike lover Michael Paul, rider proclivities are more concerned with frame material choice than pricing. Steel costs less, it's strong, heavy, and rigid, and if you prefer steel, there's good news in the maintenance area: new steel finishes can stand up to rust. Aluminum is currently considered the industry standard among fat bike makers because it won't rust and it's light. Still, due to larger tube diameters, aluminum can feel more rigid than steel.
Carbon frames are especially desirable. They're light, stiff, quiet, and flexible, but the trade-off is high pricing. In return for emptying a bank account, owners prize the strength-to-weight ratio, and for those who like to ride in frigid temperatures, the frame won't freeze your skin. Best of all, carbon offers superior impact absorption.
Read more: Best Mountain Bike Tailgate Pads
Fat Bike Tires
The essential function of a fat bike tire type is its ability to handle traction in some of the worst terrain and weather circumstances, but shoppers must make six decisions to determine the fat tire that best fits their needs. Factor one is tire diameter. As a rule, fat tires range between 26- and 27.5 inches, but it's easy to find 20 inches, too. Width is critical to performance, and 4 inches are considered the most common. Going wider requires more front and rear fork and frame room.
Tread patterns, a personal choice, include plenty of options. Fat bikers intending to ride over smooth surfaces are better served by smooth tires, while rubber studs and lugs excel at conquering loose dirt, mud, snow, and sand. Experts recommend looking for lugs just above the tire sidewall to avoid sliding out during turns.
Puncture-resistant tires are top-rated, but to make a buying decision, study TPI (threads per inch). The higher the count, the more supple the fat tire. Reinforced sidewalls add to the life of fat tires, and when it comes to tire pressure, stick to the manufacturer's recommended number, adjusting to match the terrain.
Professionals say that fat tires are best kept within the 5-8 PSI range when the terrain is rugged and between 8-12 PSI on dirt and trail rides. For street riding, 20 PSI will do. As a final thought, fat tubeless tires offer cyclists opportunities to lower tire pressure without risking punctures.
Fat Bike Drivetrain
Fat bike experts at Olympia Cycle agree that "drivetrain and gearing selection is even more important with fat bikes than other bike types." Folks who know the turf recommend a wider range of gears to tackle complex surfaces, at least 10 gears, and probably more. Additionally, chainline clearance can dramatically impact a ride if the chain moves too far inboard, but that presents another dilemma: this configuration eliminates the most accessible gears
The Olympia pros urge fat bike riders to install smaller middle and outer chainrings, which sacrifices one's ability to achieve top speeds. To mitigate these issues, look into newer 1×10 or 1×11 setups from SRAM. "The shifting isn't quite as crisp with this 1×10 set up compared to the stock 1×11, but it's close, and it works well," they add.
Overall Bike Quality
Not every fat bike rider seeks the same attributes, nor do they define quality in the same way. That said, the fat bike you pick may break a few standard rules, but you will have a blast every time you ride it.
-Just because it's expensive, that doesn't mean you'll get the experience you expect from a fat bike since the models on our list all shine in the quality department.
-Should you factor in weight when evaluating quality standards? As a rule, base models weigh between 33 and 36 pounds, premium fat bikes tend to weigh less than 30 pounds, and custom models could weigh as little as 22 pounds.
-Even the highest-quality fat bike on the market will be slower than its non-fat counterparts. Increase the weight of your ride with extra gear, and it will move slower.
-While known for their ability to conquer tricky surfaces, fat bike tires can be unsafe on gravel, though a better quality tire means better traction.
-Don't expect easy pedaling. Yes, fat bikes are known to float over complex surfaces, but weight can compromise pedaling power, especially on pavement. The wider the tire, the more difficulty you may have pedaling on technical tracks.
-No matter the quality of your pick, you may still need help finding replacement parts, winding up on a perpetual search for rear hubs, cranks, rims, and tires. Upgrades tend to be expensive, a factor that may not bother you since you've spent less than the $1000 you budgeted if you choose one of our recommendations.
Read more: 6 Best Fat Bike Mudguards and Fenders in 2022