9 Best Electric Bikes to Take on Your Next Hunt in 2023
---
Most common e-bikes in this niche range between 500 and 1000 watts of power.
On average, a hunting eBike can keep going for 30+ miles on a single charge.
Look for a bike with wide tires, a powerful motor, mud fenders, and a durable rear rack.
Expect to spend between $1700 and $4000 for a good electric bike for hunting.
---
Hunting can be physically demanding, especially when you have to cover a lot of ground to get to your hunting spot. But with an electric bike, you can make the journey much easier and more enjoyable. In this post, we'll be exploring the best electric bikes for hunting.
Whether you're a seasoned hunter or just starting, we've covered you with a selection of electric bikes that are perfect for hunting trips. We'll cover everything from their features and performance to their durability and value for money. So if you're looking to make your hunting trips a little easier, keep reading to find the perfect electric bike.
Best Electric Bikes for Hunting
---
-Best Electric Bike for Hunting-
---
Powerful and quiet 750W geared hub motor
Twist-grip throttle with on-demand power
4″ Wide Tires & Front suspension
Up to 45+ miles range
---
This RadRover 5 was named "Best Electric Fat Bike of 2021" by BikeReview.com editors, who say that "comfort" and "fun" are rarely used in the same sentence. Add to this bike's credentials the fact that it is one of the least expensive but cleverly engineered models in this review.
Riders enjoy superior performance, and features like puncture-resistant tires that rebuff surface assaults, seven speeds that deliver more torque during uphill climbs, durable PVC front and rear fenders, plus stainless steel hardware complete this package.
Hit the brakes, the main battery pack juices up brake lights, and the 750W Bafang Geared Hub Motor laughs at loose terrain.
Fitted with signature custom Rad Power Bikes, this eBike has a twist-grip throttle that delivers 750 watts of power courtesy of the 48V lithium battery that goes up to an estimated 45 miles on a single charge.
Get where you're going on 4-inch fat tires that add comfort to the ride of anyone weighing up to 275 pounds.
Also check our RadRover 6 Plus individual bike review.
---
Bakcou Mule Elite
-Power, Performance, and Extra Features-
---
Bafang Ultra M620 750w/1000w mid-drive Motor
40+ Miles of range
Tektro Dual Piston Hydraulic
Headlight, mud-fenders, and rear pannier rack
---

If your favorite uncle left his fortune to you, this eBike's price wouldn't be a problem — especially when you learn that so many freebies are included: Rear pannier rack; 2amp charger; mud fenders, and a 400-lumen headlight.
Bafang's ULTRA mid-drive motor drives this beast's performance; you get all-metal, heavy-duty gearing plus an integrated torque sensor, all driven by a "smart motor" that reports speed and cadence in real-time.
Powered by a lithium-ion battery estimating 40+ miles per charge, track everything you're doing via the full-color LCD digital display. When the time comes to a stop, powerful Tektro Dual Piston Hydraulic front and rear brakes do the job.
Crafted of high-grade aluminum alloy and featuring a left thumb throttle, expect unparalleled traction and control atop Maxxis Minion 26-inch X 4.0 tires.
Weighing in at 68 pounds and featuring wide handlebars, a shock-absorbing seat post, and a saddle, a Lifetime Customer Support promise from Bakcou may be all you need to justify your expenditure.
Read more: How Fast Does an Electric Bike Go
---
-Best Low-Step E-Bike for Hunting-
---
Affordable yet highly customizable electric bike
750W brushless Rad Power Bikes geared hub motor
25-45+ miles per charge
Half twist throttle
---
An award-winning eBike without a heart-stopping price tag? Yes, please.
This RadRunner 1 not only comes from the industry's top brand but also suits riders weighing up to 300 pounds. The 750W geared hub motor is this ride's nerve center; it travels an estimated 45+ miles on one charge powered by the 48V, 14 Ah Lithium-Ion Battery.
If previous hunting vehicles came up short on comfort, this alone could convince you of this eBike's merits: It's the first eBike or scooter offering an adjustable driver's seat.
For hunters whose backs always ache after a day in the woods, the ability to adjust that seat to achieve a proper leg extension while pedaling can't be dismissed – and in case you never met an accessory you couldn't covet, you may be surprised to learn that the RadRunner 1 allows you to choose from 330 accessory combinations despite the bike's affordability.
Read more: Best Electric Bikes under $1000
By the time you customize your ride with everything you need and want, you can own a one-of-a-kind eBike that will be the envy of your hunting pals.
---
Most Stable Electric Bike: Rungu Dualie
-Best for Mud, Snow, and Soft Sand-
---
Super-stable double-wheel e-bike
Powerful 1120W mid-drive motor
Ready for hunting on slimy mud, soft sand, and snow
---
The price tag is a bit higher than the one hanging from the Bakcou Mule Elite, but among the merits of this high-performance toy are reduced wheel weight due to lightweight bearing hubs, stainless steel spokes, plus aluminum alloy rims.
Components are so artfully crafted even the complexity of a tire and tube change is minimized. Rungu's proprietary Safety e-Brake relies upon Tektro Auriga e-twin hydraulics that works in synch with 2 electronic brake leavers and the motor. Use either to stop fast while staying in control.
Here's where the rubber grips the road: this eBike has three beefy puncture-proof tires instead of two, so you can easily conquer the most complex terrain.
Accessories? Lots. Included are a durable rear rack, fenders, E-light, hard battery casing to keep workings safe, and an LCD multi-dashboard display loaded with gauges that could remind you of an airplane cockpit.
Anticipate durability that comes from high-quality parts, solid engineering, and innovation. Yes, you'll spend a bundle, but in return for this much quality, you may not mind.
Related: How to Choose an Electric Bike – Complete Buying Guide
---
-Premium Components, Comfortable Ride-
---
Bosch Performance CX 250W
SR Suntour Zeron 35 front fork
Bontrager LT4 Expert tires
RockShox SIDLuxe Select+ shock
---
This beauty also belongs within the high-price category alongside the aforementioned Bakcou and Rangu models. Choose between 5 sizes for a perfect fit. This Powerfly FS 9 EQ is a full-suspension electric mountain bike specifically built for rugged terrain encountered during a typical hunting trip.
Read more: Electric Bike vs. Car – Can an E-Bike Replace Your Car?
Crafted with high-end parts and a powerful drive system, the suspension tackles the roughest trails. There is no shortage of standard accessories, including fenders, battery-powered lights, and a rear rack.
Download the COBI. Bike app and your phone morph into an onboard computer that keeps you in touch while you move around. Tap the GPS system, make and receive phone calls and listen to music if you're not in hot pursuit of the game at the moment.
The tires are chubby and offer excellent control and traction, and the Trek's Removable Integrated Battery (RIB) " is super user-friendly." In fact, the battery hides within the frame, and you don't need tools to remove it for safekeeping.
---
-Great All-Rounder-
---
6061 Aluminum Fat E-Bike
Manitou Mastodon Pro suspension fork
Shimano STEPS E8000 motor
Terrene Cake Eater 4.6″ Studdable tires
---
Expect powerful climbing and modern handling, a rider cockpit optimized for speed, steep seat angle, and front-center design for proper riding position if you're considering this pricey Bigfoot. The latest version is filled with intelligent refinements and innovations.
The aluminum frame has a fully-integrated, downtube-mounted battery, and internally-routed cables and components are cold-weather optimized, including the Manitou fork, hydraulic disc brakes that use DOT fluid for extreme temperatures, and a dropper post that met frigid temperature tests.
How can one bike do all of this? It's made with best-in-class Shimano STEPS E8000 and E7000 drive units that push a rider to the max. The protected seat tube's charging port offers easy access, and quick charging of the cold-water tested 500 to 630Wh batteries that are cleverly hidden within the frame.
Fat 4.6-inch tires put more rubber on extreme terrain. If you must stop during your travel, count on the Bigfoot VLT features hydraulic disc brakes and oversized rotors to do the job with aplomb as you go about your winter hunting excursions.
Read more: How to de-restrict an e-bike's speed limit
---
Rambo Roamer 750W XC
-Zippy and Nimble-
---
Bafang 750W BBS02 High Torque Mid Drive
TrueTimber Viper Woodland Camo Paint
Kenda Krusade 26″ x 4.0″ Fat Tire
LCD: Trip Distance, battery level, power, and speed.
---

If the pricey models featured in this list are all out of reach for you, how about a mid-priced eBike built exclusively for avid hunters?
The Rambo Roamer 750W XC electric bike comes with a 48-volt 14AH Samsung battery that provides up to 35 miles of travel on a single charge. The Roamer features a Sturmey Archer 5-speed internal-geared hub, so it operates the same way as a bike with a traditional derailleur system.
Choose between pedal-assist mode, full-throttle, or shut down the motor and pedal manually to suit the occasion and terrain, since this ride is fitted with 4-inch Kenda Krusade tires manufactured with Kevlar, anti-puncture lining, flat tires while riding off-road won't happen.
These solid double-wall tires have no rim holes, so they don't retain mud, water, and debris. Another clever feature of the Rambo Roamer is the front GT-MRK suspension fork that allows for a smoother ride, even if that road is Rambo-tough!
---
QUIETKAT Ranger
-From Hunters to Hunters-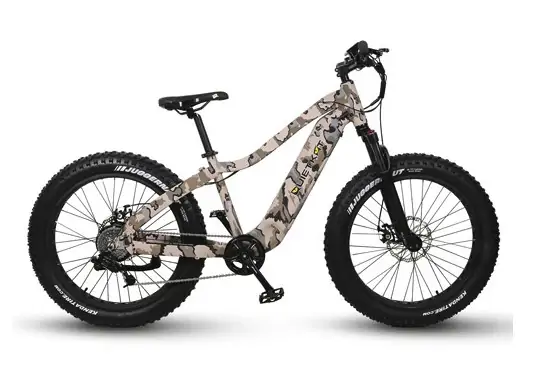 ---
1000W/750W class 2 hub-drive
Tektro two-piston mechanical disc brakes
Available in two sizes: 17-inch and 19-inch
Digital LCD display
---
The QUIETKAT Ranger has quite the personality, say designers who call it a protector of lands, mountains, and forests.
Quiet is the operative word here, thanks to a redesign that includes an all-new integrated battery and motor system and updated frame geometry paired with focused weight distribution to optimize ride quality.
Read more: Best Electric Bikes for Seniors
Handling and dropouts make it easy to adjust the wheelbase and handle the single-speed drivetrain.
The adjustable coil-suspension system, mechanical disc brakes, and 8-speed drivetrain plus hub-drive motor provide direct power to the rear wheel, which is independent of the chain. Further, shoppers can choose between a 750- or 1000-watt battery when they order their eBike.
SRAM drivetrain components can be swapped between geared and single-speed, and when it's time to stop, Tektro two-piston mechanical disc brakes spring into action. This medium-priced eBike includes a camo version if you want to be super stealthy when you hunt.
---
According to a recent study published by eBikeGeneration.com, the rate of hunting bike sales has increased steadily since 2015. They report that "14 hunters out of every 10,000" bought eBikes expressly for hunting.
That number is heavily weighted toward hunters outside the U.S., but trend trackers say that the U.S. is playing catch-up, so if you're one of them, eBikes in this review can help you make a buying decision.
---
JEEP ELECTRIC HUNTING BIKE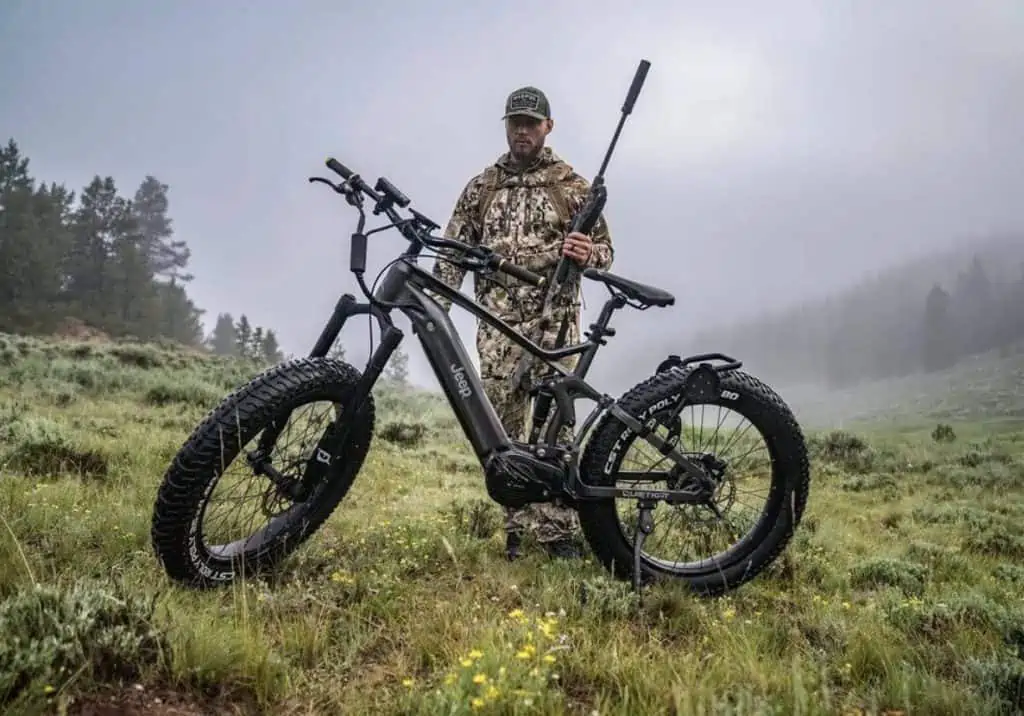 ---
Powerful Bafang Ultra motor with 160Nm of torque
Very capable 4.8″ fat tires
40-50 miles range on pedal assist
30 miles range on full throttle
---
The JEEP ELECTRIC HUNTING BIKE POWERED BY QUIETKAT is a top-of-the-line electric bike designed specifically for hunting. Its sturdy frame and powerful Bafang Ultra motor with 160Nm of torque allow it to handle rough terrain easily, and its stealthy design makes it perfect for quiet, stealthy hunting trips.
The bike's high-capacity battery allows for long rides ( 40-50 miles ) without requiring frequent recharging. Its comfortable saddle makes it a comfortable ride for extended hunting trips. The JEEP ELECTRIC HUNTING BIKE is a reliable and versatile electric bike that can enhance your hunting experiences.
---
Advantages of e-Bikes for Hunting
E-bikes save hunters time by getting them to sites and moving them around in search of prey faster and more efficiently.
Electric bikes are extremely quiet and stealthy while being operated; many are 10 times quieter than other hunting vehicles.
It is easier to store an electric bike than to house an ATV simply because it takes up less room.
The ability to haul equipment should be a major factor when choosing an eBike.
Affordability is another reason eBike products are superior to larger, bulkier transport.
Enthusiasts can cover more territory, no matter how challenging, on an eBike.
Low maintenance makes hunting-specific eBikes more reasonable options.
When weighing electricity versus gas required to power other hunting vehicles, eBikes come out ahead.
Hunt-specific eBikes are designed for obscurity. Many frames are painted in camouflage patterns.
Hunters can choose from brand preferences, so they can acquire a product with which they are familiar
---
What to keep in mind when buying an e-bike for hunting
Size
Make this your first consideration, especially if you are short, tall, or heavy. Hunting eBikes come in different sizes, just like ordinary bikes, so choose a frame size that suits your body. If you're hesitant about whether a fit is right for you, consult a bike expert.
Power
Today's hunting eBikes come in a dizzying array of power choices, and the most common products in this niche range between 500 and 1000 watts; this market is moving fast, and if you're willing to pay top dollar to satisfy your need for power, keep an eye out for cutting-edge product introductions.
Read more: Review of Super 73 Brand
Speed
Top speeds tend to max out at between 20 and 25 mph, but if you purchase a hunting eBike that boosts your capacity courtesy of a pedal-assist feature, you can up your speed impressively. Because you'll find a wide range of pedal-assist levels, look for a product that gives you the best mix of motor output and pedaling.
Tires
Because there are dozens of fat tires on today's market, it's easy to assume that none will do. But take the advice of professionals: Ask whether the eBike you're considering has tires specifically made for hunting.
Cargo capacity
There's no denying that most ATVs carry more cargo, but for newbies eager to own a hunting vehicle that doesn't look like a Sherman tank, today's eBikes are made with heavy-duty racks soldered to frames for secure transport.
Long-life battery
On average, a hunting eBike can keep going for 30+ miles on a single charge. That stated, this figure is not set in stone. Your bike's size should be factored into the equation because it can impact battery life.
Accessories
Fenders, racks, and extras expand a bike's capacity without compromising style and efficiency. This market is expanding from innovative new helmets to mirrors, lighting, and trailers, much to the delight of avid hunters.
---
Electric Bikes for Hunting FAQ:

Which is better for hunting, an eBike or ATV?
eBikes weigh less, cost less, are more fun, and deliver a bold adrenalin rush. ATVs crash less than bikes, but surprisingly, death rates from ATV riding are higher. Only 15 percent of ATV-related deaths are reported during forest rides, so you've got lots to consider when you choose.
Do eBikes need service?
Your eBike may need servicing if the chain has surpassed 800 miles, and keeping tabs on brake pad thickness regularly is another wise move. Experts suggest performing a drop test to see if something isn't right. Lift the bike an inch off the ground and drop it. If anything rattles, check it out.
Are fat eBikes slower than electric MTBs?
Mountain bikes have a slight edge when conditions are equal, say experts, but factors that include engineering, components, and weight can make a difference. A lack of gears can also impact speed differences that could come down to as little as a 1 MPH differential, say folks who question whether hunters have a need for speed in the first place.
Conclusion
In conclusion, the Rad Power Bikes RadRover 5 is our top pick for the best electric bike for hunting. Its strong frame and powerful motor make it capable of tackling rough terrain, and its high-capacity battery allows for long rides without requiring frequent recharging.
Its comfortable saddle and adjustable handlebars make it a comfortable ride for extended hunting trips. The RadRover 5 is a reliable and versatile electric bike that can enhance your hunting experiences.
---
What is the best e-bike for hunting?
Read more: