7 Best Cycling Sunglasses Under $50 in 2022
It can be hard to find good cycling sunglasses that don't break the bank.
A lot of cycling sunglasses cost a fortune, but they don't have to. You can get great protection for your eyes without spending a lot of money.
YesCycling has the perfect solution–our selection of cycling sunglasses are durable, provide great protection for your eyes, and look stylish too. Plus, they're under $50!
Let's dive in.
X-TIGER Polarized Sports Sunglasses
---
PROS:
High-quality construction and material
8 lens color combinations
Comes with an EVA case, bag, lens cloth, test card
Excellent after-sale customer service
Highly-recommended by cyclists.
CONS:
Polarization could disappoint
You may find the plastic cheap and flimsy
---
These jazzy-looking sunglasses are not designed for the shy, retiring cyclist, but at around $20, they're an amazing value. The ultralight frame weighs in at just 19.2g, they're polarized, and the inner frame is designed to be used by cyclists who wear corrective lenses and need sunglasses capable of hosting a pair.
These sunglasses are made for the long haul and they're hard to destroy, offering impact resistance properties, clarity, elasticity, stability, and riders needn't worry about UVA or UVB rays so your eyes don't wind up tired and sore long before you reach the finish line.
X-TIGER's proprietary Stress Resistant TR90 frame is made to be abused and tortured so if that tends to the way you treat your glasses, these are for you. It comes with clear, polarized and Revo lenses and can't beat the price or the look.
Read more: 10 Amazing Entry-Level Road Bikes for Beginners in 2022
---
TOREGE Polarized Sports Sunglasses
---
PROS:
Color combinations are striking
Get 5 specialized polycarbonate lenses
Frames are scratch-resistant and unbreakable
The rubber nose pad is soft and comfortable
Get a lifetime breakage warranty on the frame.
CONS:
Can't be worn over prescription glasses
Frames don't fit every face
Frequent quality control complaints.
---
Depending upon the color selection you prefer (there are 8 lens choices), you'll fork over anywhere from $20 to $30, but in exchange for that price, you'll get 5 interchangeable lenses, so even at top dollar, that's about 5 bucks per lens.
Each lens promises 100-percent UV400 protective coating so when you wear them, both UVA and UVB rays are blocked. Due to the tints and shape of these sunglasses, cyclists experience true color, scattered light and since pesky reflected light is eliminated, the scenery remains crisp, vivid and authentic.
The main lens offers the most amount of color, the yellow one is recommended for nighttime rides and the black version is ideal for cycling when your eyes need protection. The rimless jacket frame is not only sexy, but it gives a wearer more clarity when scanning the horizon. The result is a clear lower vision field. So light, you might not realize you're wearing them, they're fashion-forward, so if you like to see and be seen, snag a pair.
Read more: 16 Best Road Bikes Under $1000
---
RIVBOS Polarized Sports Sunglasses
---
PROS:
Lifetime breakage warranty on frames/lenses
Lifetime after-sale service if they break
Lens and frame are on-trend for men and women
Wrap design repels soil and bugs
A lot of accessories included
CONS:
Fit may be off
Degree of polarization may not be enough
Some cleaning solutions could remove the lens finish!
---
These popular sports sunglasses don't have as many bells and whistles as others on this list, but you may not care once you see how versatile these RIVBOS happen to be. Designed to look awesome on men and women, the price is comparable at the other options and no matter which of the 10 color options you pick.
Fabricated in Switzerland where cyclists know a thing or two about optimal vision while climbing alps and navigating country roads, the Swiss are so upfront when it comes to sizing, RIVBOS makes a big deal out of providing every length and width measurement in both inches and millimeters.
These streamlined specs are fitted with TAC polarized and mirror-coated lenses that deliver 100-percent protection against every ray on the planet: UVA, UVB, UBC, and even harmful blue light up. In fact, light is efficiently reflected when these specs are worn, scattered light won't be a distraction.
---
HUBO SPORTS Cycling Glasses
---
PROS:
Extremely simple lens exchange method
5 replaceable lenses 100-percent UV400 resistant
Natural light is enhanced so eyes are protected
Capable of eliminating astigmatism
Each lens is color-keyed for a different type of light.
CONS:
Clumsy lens switching mechanism
Construction/material complaints.
---
Spend below $30 on these unique, popular cycling glasses featuring unbreakable, polarized frame and 5 interchangeable lenses, each of which has been treated to help the wearer avoid eye damage thanks to anti-UV 400 coatings. Even the packaging is designed for cyclists: it's lightweight so sunglasses can be hung on the waist when riders aren't wearing them.
Designed to be worn by men and women, the manufacturer emphasizes comfort so cyclists can kiss uncomfortable nose pads goodbye; these are detachable and adjustable for a custom fit. Within the nose pad, a layer of soft stainless steel is inserted to add years to the glasses. Frames are crafted of rugged TR90 plastic yet they're extremely lightweight.
The lens replacement feature is a dream: unlike competitor glasses, lenses can be switched out using one hand in one step: pull down the nose pad partially, pop out the lens and slide another one in. If you perspire like a sprinter, these glasses have small air holes in the lenses to circulate air so you stay cooler.
---
Tifosi Unisex Marzen Wayfarer Sunglasses
---
PROS:
Swivel ink models come with 2 pairs of arms
Arms switch out fast on the fly if necessary
Includes hardshell zippered case/microfiber cleaning bag
Ideal for cyclists needing prescription lenses
Hydrophilic rubber nose piece won't slip.
CONS:
Only fits medium to large faces
Just 3 frame color options
Switching lenses may not be as easy as Tifosi claims.
---
Forget colors and bargains. These no-nonsense cycling sunglasses mean business at below $50 per pair, and they certainly belong in a class of their own, according to shoppers who wouldn't think of wearing another brand or style for their adventures.
Straightforward design, sturdy plastic components, and 100-percent UV protective coating give cyclists an edge when they're on the road and Tifosi doesn't make any polarization claims. Thick, beefy and crafted of Grilamid tr-90, and high-tech nylon, these glasses are known for their ability to bend without breaking and the material resists chemical, UV and other damaging grime capable of negatively impacting components.
Bring your prescription with you when you order since these are "RxAble" for those who need corrective lenses. You'll spend twice as much but features and benefits could convince you that these glasses are well worth the money you invest-—or at the very least, put them on your birthday wish list and let someone else give you this gift.
Read more: Touring Bike vs. Road Bike – Differences and Similarities
---
ROCK BROS Polarized Sunglasses
---
PROS:
Military-grade frame plastic beats the competition
Lenses are anti-reflective and polarized
Vision is sharpened by increasing contrast and depth perception
Windproof, dustproof; fitted with anti-slip nose and ear pads
Curved for low air resistance during high-speed rides.
CONS:
Maybe flimsier than you prefer
You may experience distortion
---
Apologies for the pun, but these Rock Bros sunglasses really do rock! They're uniquely shaped and styled, polarized and offer UV protection that's a critical component of every cyclist's ride. The composite frame is solid, and the lens is anti-reflective and coated with a 100-percent UV400 mirrored finish.
But there's much more about the coating that you will love: it offers even the sweatiest cyclist anti-fogging properties; it resists oil and soil a rebuffs water, so lenses stay clear from the beginning to the end of a ride. Yes, the coloration is a vivid combination of yellow/orange, but those are shades with the highest potential for keeping your eyes healthy out in the sun and the frame isn't wimpy!
Fabricated of TR90 memory material, the frames are made to deliver military-grade impact resistance and since they cost less than $25, you get plenty of bang for the buck. The manufacturer adds that this pair of glasses is especially helpful for wearers who have been diagnosed with some type of myopia.
---
Hulislem S1 Sport Polarized Sunglasses
---
PROS:
Designed in Italy of material created in Switzerland
State-of-the-art engineering based on advanced science
Polarized lens dramatically reduces glare
Signature 3-point fit for comfort and precise optical alignment
Comes with stylish carry case, cleaning cloth and polarization test card.
CONS:
May not sit properly on every face
Could distort your field of vision causing headaches
---
When around 8000 people take time to write a review about a product, it's time to take notice. That's how many reviews Amazon alone received for these Hulislem S1 Sport Polarized Sunglasses, which have the distinction of being the only pair of Food and Drug Administration (FDA) approved sunglasses on this list.
Ranging in price from $20 to $24, depending upon the lens/frame combination you pick, these polarized sunglasses are so lightweight, Hulislem marketers insist you will forget they're on your face as a result of being made of polycarbonate.
Lenses are UV400 mirror-flash coated to limit the amount of light your eyes must process and tests prove these lenses protect eyes from UVA, UVB, UVC, Blue Light and any other light that may come along.
Lenses are dye cut from a single piece of material using ellipsoid geometry to deliver a lens that offers excellent depth perception, color contrast, and lower vision field clarity. Tinting is done via a process called Acu-tint that eliminates warping.
Tough and rugged, this "Stress Resistant O Matter" frame stands up to a variety of challenges cyclists encounter on varying terrains.
---
How to Choose The Best Cycling Sunglasses Below $50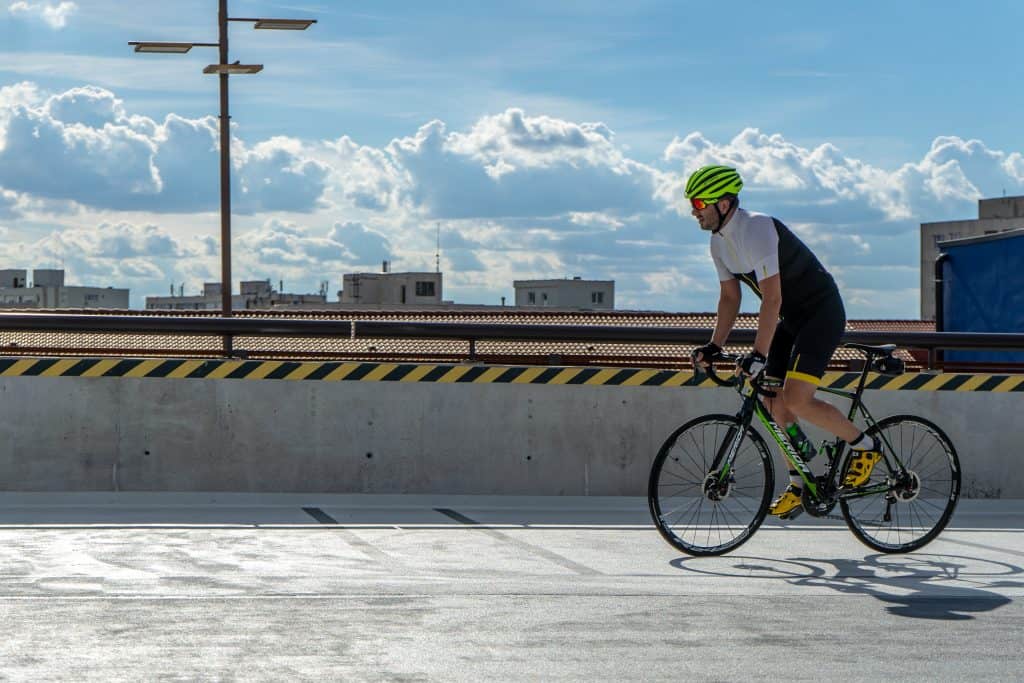 Whether your sunglass buying style requires you to visit an optical shop, spin a kiosk or browse the internet in search of the right shades, these essentials are serious business and should be treated so for the health and safety of your eyes.
It's okay to go for style, but it's the feel and tenacity of the pair you choose that can make all of the difference. Look for these 10 attributes when you make your buying decision.
1. Coverage
Choose the best wraparound shape you can get your hands on so the skin around your eyes and your peeps are protected from the sun, soil, debris and whatever else happens to be floating around your favorite cycling area.
2. Contrast enhancement
Your ability to differentiate light from dark while you're zooming along at warp speed could mean the difference between clear sailing and winding up on your butt. Sunglasses with dark lenses can compromise contrast, and that could mean you miss seeing a pothole or a person in your path. Light-colored lenses enhanced contrast while extending safety benefits.
Read more: 10 Best Handlebar Bags
3. Fit
If you've ever popped on a new pair of sunglasses and immediately realized the fit was all wrong, you know that fit is crucial. Cycling pros say that frames with straight-back temples are more compatible with helmets for myriad reasons. Try on several pair so you don't wind up with glasses that are too tight or slip off.
4. Frame technology
You can't go wrong picking frames made of sports performance materials which are made to be sturdy but are light enough to be comfortable. Nylon is always a good bet if you're mulling choices.
5. Grip
Go for cycling glasses featuring temple and nose grips, so they don't budge when you sweat. Sunglasses that grip properly eliminate distractions and can offset distortion, especially if you wear prescription sunglasses.
Read more: Why Do Road Bikes Not Have Kickstands
6. Lens technology
First up, glass lenses are an invitation to danger. Not only is glass heavier, but if you fall or debris hits your lenses the glass could shatter and damage your eyes. Polycarbonate is an ideal material because it's lightweight and unbreakable.
7. Polarized or non-polarized?
We'll cut to the chase: Polarized lenses can throw off your depth perception, so while they cut glare and reduce eye strain this is purely a personal choice. Road conditions are so diverse, you may need that glare to help you avoid an accident, so weigh your choices before you buy.
8. Progressive v. non-progressive lenses
Progressive lenses can be lifesavers for cyclists with focus issues who need to keep tabs on maps, devices or fix a flat while out cycling. Because this lens type requires a prescription, progressives are likely to fall outside our criteria for glasses under $50–unless you know an optometrist willing to give you a discount.
9. Transition lenses
These light-adjusting lenses are particularly popular for daytime riding, and while not everyone likes the fact that this type of glass literally changes colors in seconds, some cyclists recommend them–especially if the alternative is dangerous, like wearing dark lenses on an overcast day.
10. Weight
Do you still have bad memories of long rides wearing heavy sunglasses that leave your nose and skin around your eyes painful and sore? Today's lightweight frames are incomparable, affordable and there are plenty of choices, so if you can't feel your sunglasses while wearing them, that's the goal you should strive for!