Cycling in the rain is not a pleasant experience. It can be dangerous, uncomfortable, and unpleasant.
Like most cyclists, you want to ride your bike all year round, but we all know that it rains during winter and autumn. Rain gear makes cycling much more comfortable and enjoyable when the weather turns cold or wet. The problem is that cycling in the rain isn't safe or fun.
We did extensive research on what makes a great rain jacket for cyclists, so you don't have to spend hours searching online forums or asking friends which product they use (and why). We found out what's important when buying these jackets – waterproofing, breathability, visibility, etc. Our guide will help you find an excellent jacket at a reasonable price!
---
---
PROS:
Offers plenty of storage space
Audio port included
Easy enough to fold
Can be seen without issue even in low-light areas
15,000 mm waterproof rating
CONS:
Can get really warm when vents are not open
---
Pockets are underrated components of cycling rain jackets. Having extra storage space available is always handy. The Men's Double Century Bike Jacket from Showers Pass is the kind of outerwear you need if you don't like bringing backpacks along during your trips around the city.
You're getting a chest pocket that you can use for storing your smartphone, and there's even an audio port present there if you're using older earphones. At the back of e jacket, you can find a large pocket that you can use for holding a water bottle or something similar in size.
As long as you know how to fold a cycling rain jacket, you should also be able to store this item easily whenever it's not in use. Still, you will be able to find other 2.5-layer cycling jackets that are easier to work with on that front.
This jacket also comes loaded with a bunch of vents. There are two core vents, two additional vents at the cuffs, and another one at the back. They can provide you with more than adequate cooling when they are all opened up.
You obviously can't leave them all open while the rain is coming down, and that can be a real issue because this jacket tends to feel stuffy with no vents letting any air inside.
It's not hard to say that this Showers Pass offering deserves to be considered the best packable cycling rain jacket, but some design flaws prevent it from being a slam dunk choice.
---
GORE WEAR C5 Gore-tex Shakedry 1985 Insulated Viz Jacket
---
PROS:
Terrific breathability
Does not allow water to get in
Easily adjustable
Simple but attractive design
CONS:
Does not have a lot of pockets
Only a few reflective features included
Expensive
---
The C5 GORE-TEX Shakedry 1985 Insulated Viz Jacket possesses a certain kind of uncomplicated charm. Its job is to keep you dry even amidst the pouring rain, and it just focuses on that and does so exceptionally well.
It makes its case for being the best breathable cycling rain jacket by capably warding off the raindrops while remaining very light. It can feel a bit warm when completely zipped up, but it's far from uncomfortable.
Velcro is used in the collar of the jacket. That's not a bad thing. The presence of Velcro allows for more comfortable and more precise adjustments.
You're not getting a lot of storage room with this jacket. I didn't find that a significant issue because I mostly used this jacket for quick commutes, but the lack of storage space is annoying if you're planning a long-distance ride.
It's also worth pointing out that you can't wear a rucksack together with this cycling rain jacket. Once again, that shortcoming will prevent you from using this jacket as a companion for a camping or hiking trip.
This jacket is also not one you will want to use if you prefer cycling at night. It only comes with a few reflective strips that may not do much when visibility is inferior.
GORE WEAR's offering could very well be the best breathable cycling rain jacket, but overall, it lacks some essential features that could make it better for the road.
---
Sportful Stelvio Jacket – Men's
---
PROS:
The special fabric used makes the jacket very breathable
Comfortable 3-layer design
Offers a good amount of reflective features
CONS:
Heavy for a cycling jacket
On the pricy side
---
You can tell right away that a significant amount of care went into creating the Men's Stelvio Jacket from Sportful. That's mainly because the folks over at Sportful went the extra mile and decided to use their specialty fabric to create this jacket.
Much like GORE WEAR's creation, this Sportful jacket does a fantastic job of preventing water from seeping and soaking your skin. With a waterproof rating of 20,000 mm, I would even say that it does a better job of keeping you dry than the item listed above.
Since the fabric is also woven into a 3-layer design, the jacket manages to remain suitably breathable.
I also want to draw attention to how this jacket envelops your body. While I don't go out my way to look for jackets that can cling to my body tightly, some riders who want to pick up speed quickly do like that feature.
The aerodynamic nature of this jacket is a real plus in that regard.
At first glance, Sportful's Stelvio Jacket doesn't look like it will fare too well in low-light situations, but I can assure you that it will do just fine. There's no need to worry about others failing to see you on the road if you have this jacket on.
My biggest complaint with this jacket is that it's heavy. Long-distance rides are out of the question because of that.
Use it only within the city, and this Sportful product could turn out to be the best commuter cycling rain jacket.
---
---
PROS:
Very stylish for a cycling rain jacket
Loaded with a variety of waterproof features
Offers good wind protection
Can be packed without a problem
CONS:
Lacks a desirable amount of breathability
---
Styling is often not the most crucial consideration for people looking for a new cycling rain jacket. If you do want a jacket that can be just as useful on the road as it is when you're just strolling around town, though, the Men's Cycles Rain Jacket from Co-op is not a wrong choice.
It is one of the best lightweight rain jackets for cycling because it seamlessly blends functionality and style. Whether you choose to get it in orange or night sea blue, you're adding a stylish jacket to your wardrobe.
On the functionality front, this Co-op jacket does an excellent job of keeping the raindrops away. Its seams are completely sealed up to prevent any water from entering through them. The zipper installed on this jacket is similarly designed to keep the water out.
In addition to all the waterproof features found on this cycling rain jacket, it also holds up very well against strong winds. Don't expect to see rips and tears in this jacket unless the wind speed climbs to over 60 miles per hour.
You're given plenty of pockets to use on this 2.5-layer jacket. Once again, as long as you are aware of how to fold a cycling rain jacket, storage should not prove to be a problem. Breathability is where this jacket struggles. When all zipped up, the jacket can be too warm.
If you can live with how warm this item can sometimes become, you may see this as the best packable cycling rain jacket.
---
---
PROS:
MapFabric used is stretchable and comfortable
Map graphic acts as a reflector
Fabric repels water effectively
Hood is removable
Handwarmers and chest pocket included on this jacket
15,000 mm waterproof rating
CONS:
Jacket feels warm when it's completely sealed
---
Continuing with the stylish and still functional cycling rain jackets, the Men's Atlas Bike Jacket from Showers Pass indeed manages to stand out from the pack because of its unique design.
The body of the jacket itself is made out of a material the manufacturers call "MapFabric". Functionally speaking, "MapFabric" is stretchable and comfortable. It's not the kind of material that will get in your way as you're riding up and down city roads.
"MapFabric" also features the DWR finish, and as you would expect, it can capably keep water away from your skin. The sealed seams make it even harder for water droplets to infiltrate the inside of this 3-layer jacket.
Unfortunately, those protective features also produce an adverse effect. Specifically, the jacket tends to get quite warm when it's all sealed up.
The core vents and the cuffs help with the heating issue, but they can only do so much.
This is arguably the best road cycling rain jacket on the plus side. It won't slow you down if you're trying to ramp up the speed while you're on the road.
It's also worth taking the time to highlight some of the extra features of this Showers Pass cycling jacket.
You're getting a chest pocket with an audio port included, and the hood can be removed as well. You're even given hand warmers to use if it's particularly chilly. By the way, the map graphic is not just for show, as it also acts as a kind of reflector.
For those on the market for the best rain jacket for cycling, it's hard to do better than this Shower Pass Men's Atlas Bike Jacket.
---
Endura FS260-Pro Adrenaline Cycling Waterproof Rain Jacket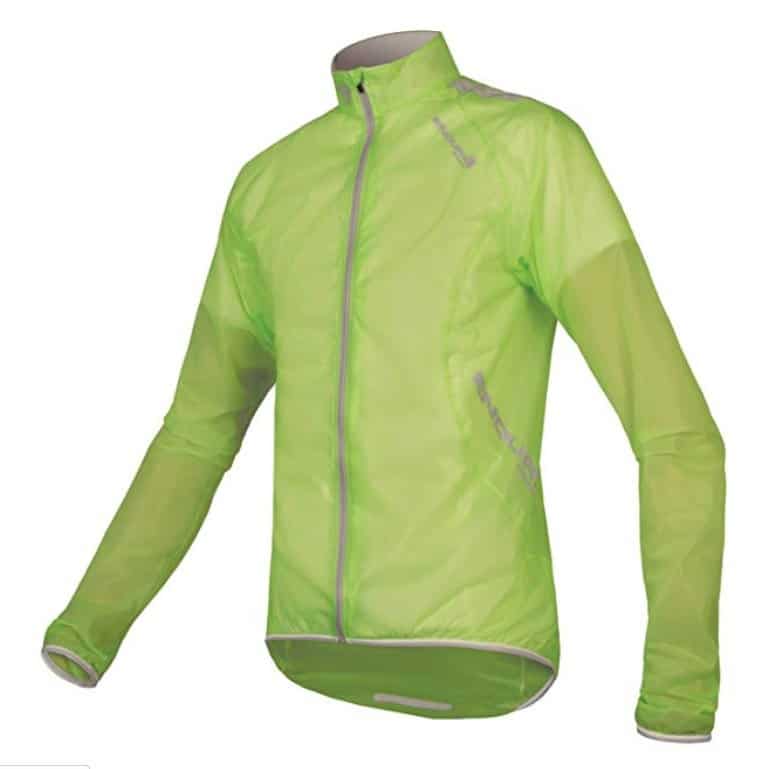 ---
PROS:
Incredibly lightweight jacket
The padded collar makes the jacket feel more stable
Offers great visibility
One of the more affordable cycling rain jackets
15,000 mm waterproof rating
CONS:
Not completely waterproof
---
Endura's FS260-Pro Adrenaline Cycling Waterproof Rain Jacket is a great item to purchase if you're just looking for something that can make your daily commutes much more comfortable.
It's one of the best lightweight rain jackets for cycling, and it's so tiny when folded that you can pack it quickly in a medium-sized handlebar bag when you don't need it. When you first start using this jacket, there's a chance that you will feel that it's too flimsy. It can sometimes feel more like a raincoat as opposed to a jacket.
Don't let that perceived feeling of flimsiness fool you, though. This lightweight jacket is more than capable of keeping you protected from the rain. It will even stretch in specific ways to not feel restricted as you're pedaling away.
The padded collar offers additional stability. You can keep it upright if you want to prevent more moisture from getting inside. The seams are also completely sealed up, which will work to keep even more rain droplets away.
Even with the sealed seams, though, this jacket is not completely capable of keeping you dry. It should work fine when you're just going through a light drizzle, but the moment the rain starts falling harder, expect your clothes to get wet.
Because this cycling jacket is not entirely waterproof, it lags behind the other items featured in this article in terms of performance. However, the lower price tag attached to this jacket may help you get over that.
---
Do I really need a cycling rain jacket?
If you live in a city where rain is regularly expected, then yes, a cycling jacket that offers some protection against water is something you need to have. Beyond that, cycling rain jackets are handy in other situations too.
I enjoy going out for nighttime rides now and then. When I do, I put on my best road cycling rain jacket to keep myself warm and give motorists a better view of myself. The reflective features found on many cycling rain jackets ensure that no one will completely lose sight of you in the dark.
---
What to consider when buying a cycling rain jacket
Ideally, the waterproof rating for your jacket is over 20,000 mm, but anything around the 16,000 to 20,000 mm range is still great. At a bare minimum, try to find a jacket that at least has a waterproof rating of 6,000 mm.
To help improve a jacket's water-repelling capabilities. These fabrics come with the company's "GUARANTEED TO KEEP YOU DRY" promise. They excel at keeping rainwater at bay.
Some makers of cycling rain jackets may also rely on a durable water repellent (DWR) finish to keep you dry. When applied, this finish causes the water droplets on your jacket to bead up and roll off, thus preventing the water from getting inside.
Some makers of cycling rain jackets may also rely on a durable water repellent (DWR) finish to keep you dry. When applied, this finish causes the water droplets on your jacket to bead up and roll off, thus preventing the water from getting inside.
Read more: