Top 8 Most Comfortable Bicycles of 2023
Do you ever feel like biking can be a little too strenuous? Maybe you're not in great shape or don't have the time to put in hours at the gym. Whatever the reason, comfort bikes might be right for you!
Comfort bikes are perfect for those who want to enjoy a leisurely bike ride without feeling exhausted. This blog post will discuss the best comfort bikes on the market and what makes them so unique.
We've spent hundreds of hours researching many bikes to put together this list of the best comfort bikes in 2023. If you want a cheap, simple, and very comfortable bike, get the Sixthreezero EVRYjourney. It's a cruiser-style bike with a comfortable extra-wide saddle, lightweight aluminum frame, and zippy semi-slick tires. We also have some recommendations for more traditional hybrid bikes with step-through frames.
---
-Best Overall Comfort Bike-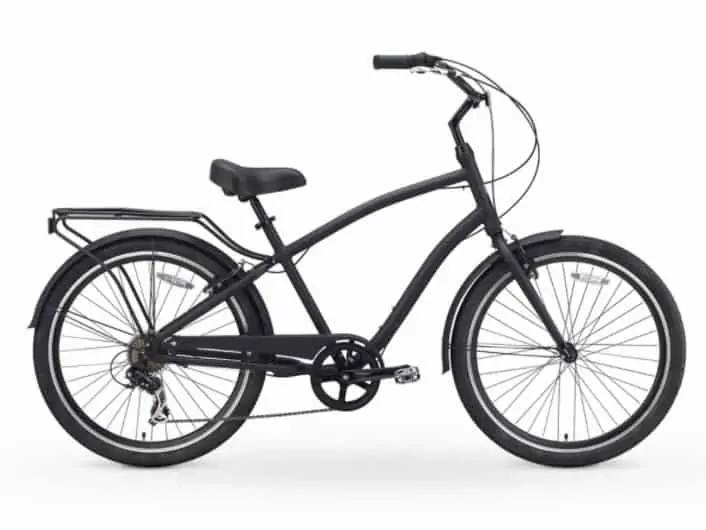 ---
2-inch semi-slick tires
Lightweight aluminum frame
Includes matching fender and rear rack
Comfortable extra-wide saddle
---
Read our full review of Sixthreezero EVRYjourney.
You may want to consider a hybrid cruiser when looking for the best comfort bike for the money. While you may be thinking that the hybrid is different from the comfort bike, there are actually hybrid bike styles that favor the comfort bike style, such as this bike from Sixthreezero.
The key to this bike is versatility. It has a 19-inch swooping frame made from aluminum that allows for comfort and quick speed. The design is also crafted to keep the rider upright. This is the perfect posture for any rider, as it helps reduce the tension in your shoulders and back.
As you might imagine, poor posture can result in aching shoulders and a bad back. So, that biking adventure may end sooner than you had planned. This article goes further into why having the correct posture can affect not only your comfort level on the bike but also the efficiency of your ride.
Sixthreezero EVRYjourney is equipped with 7-speed shifters. The saddle is also dual-springed, so your comfort when bouncing over a few rough areas on the trail or road is hardly felt. So, you can either have a slow and leisurely stroll down the sidewalk or challenge yourself with a face-paced race on a bike trail.
A few other key features of this bike include front and rear handbrakes, so you can quickly transition on the trail or during high-volume traffic areas. The tires are semi-slick, which means they are cushioned for maximum comfort but are also grippy enough to provide security on the trail. The width of these tires is 1.95 inches thick.
---
Diamondback Trace ST Dual Sports Bike
-Best For The Trails-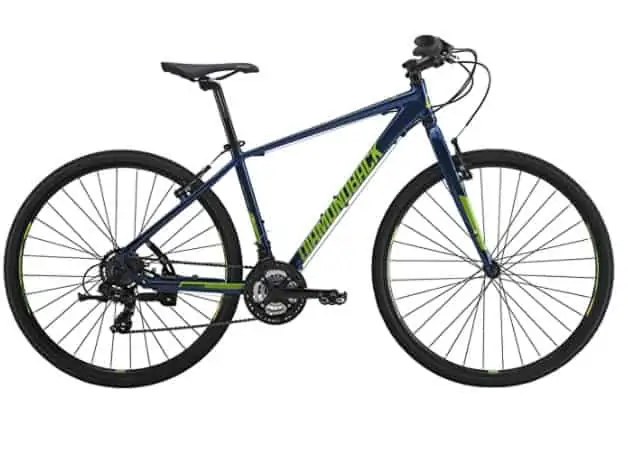 ---
High tensile steel fork without suspension
Alloy linear pull brakes
Quick Dual sport 700C tires
Shimano 3×7 speed drivetrain
---
Like the Sixthreezero, the Trace ST is a great comfort bike for everyone. This bike uses a mountain bike's comfortable position and frame to allow maximum power when pedaling. It also keeps the rider upright in the correct place to pedal comfortably without straining the body incorrectly.
The comfort bike plays a part in its large and narrow wheels ( Dual sport 700C tires ), thus providing a smoother and more efficient ride. Some bikers would say that the Trace ST is a standard hybrid bike, but I think it's a highly comfortable bike for daily commutes. That's why I included it in this list.
This bike comes with a staggering 21 gear combinations. So, no matter what obstacle you intend to challenge, you have the perfect gear. Because of this wide range of gears, you can easily take this bike from the sidewalk and some of the more rugged trails in the forest or local park.
The pull brakes are made from alloy, providing excellent stopping power. Also, the dual sports tires have fast-rolling traction. This means you can easily transition from street to dirt without worrying about sacrificing your comfort or control.
Because the wheels are DB SL-27, they're durable, so you can be sure that they will last you for a while. The seat is hard enough to provide support but still retains that cushion you would expect in a comfortable bike. This bike also comes 95% assembled, so you can easily and quickly install the remaining few parts and be on your way.
---
Diamondback Wildwood
-Simple, Comfortable, and Reliable-
---
Aluminum Wildwood LBC Comfort Frame
Suspension fork with 50mm travel
Puncture-Resistant Kenda Comfort Tires
Simple design
---
Another fantastic bike from Diamondback is the Wildwood Classic. As its name might suggest, this bike harkens the comfort bike back to simplicity. It does precisely what a comfort bike is meant to do. Please make sure to provide a comfortable and easy ride for whatever purpose you have in store for it. It utilizes the custom 26-inch wheels commonly found on all comfort bikes.
The wheelbase is an incredible 5.90 inches, so you can expect plenty of traction and smooth riding. Diamondback also considers this a hybrid bike with an emphasis on comfort parentage so that you can expect benefits from both bike classes.
The suspension fork is HL Zoom and comes with KindShock suspension to ensure you don't feel those bumps in the road. The stem is adjustable, so if you find while you're riding that the handlebars aren't quite settling right with the rest of your body, you can easily adjust them. Both height and angle can be adjusted for maximum comfort.
So, if you want to use your bike to run to the nearest grocery store, you won't have to worry about the road jostling those delicate items in your bag. The ride is super comfortable because of the included suspension inside the seat post and the dual-density padded seat.
---
-Unmatched Comfort-
---
Steel hybrid frame with a front fork
21-speed shifters
Swept-back handlebar
Suspension seat
---
Another excellent comfort bike from Schwinn is this version of a hybrid bike. It's relatively inexpensive and combines both aspects of trail riding with extreme comfort. This bike comes with 21 micro-shift speed shifters for your needs. You can speed up and down hills, not to mention across the street!
Both the front and back of the bike are equipped with alloy V brakes to help stop the cycle immediately. The seat comes with springs as well as a suspension seat post. So, you can ride over bumps and hardly feel them. For those looking for maximum comfort, this bike's excellent.
Schwinn Network 1.0 700c is the best comfort bike for women. It comes with a good suspension fork for extra comfort. If you are a woman looking for a nice hybrid or comfort bike to commute from/to work or to get fit, then the Schwinn Network 1.0 is a perfect option.
Due to the 700C tires, the bike is super quick and easy to ride on hills. Schwinn Network 1.0 700C is a comfort bike with 21 speeds which means easier hill climbing and much faster on downhills.
---
-Premium Ride, Affordable Price-
---
Best-in-class aluminum step-through frame
Powerful mechanical disc brakes
Comfortable saddle
Quick and comfortable tires
---
The FX1 Stagger Disc is one of our favorite comfort bikes. It comes with a comfortable, lightweight step-through frame, a great saddle by Bontrager, and fast-rolling 700x35c tires.
Related: Trek FX1 2021 Review
This bike is super light at only 28.31 lbs for the M size, and no other bike in this list comes even close. On top of that, you get great modern disc brakes ( Tektro MD-U310 ) that give you extra stopping power. The FX1 Stagger is a great-looking bike because of the internal cable routing, which hides all cables inside the tubes. The bicycle looks clean and straightforward.
Related: Are Trek Bikes Good?
Trek makes really premium bikes with outstanding components, and this entry-level hybrid bike is not an exception. For less than $600, you get a high-quality Shimano drivetrain with 21-speeds and unique Shimano Altus shifters. Not to mention the rigid Alpha Gold Aluminum frame, which comes racks and fenders ready.
---
-Best Electric Comfort Bike-
---
Class 3 e-bike with powerful 750W motor
Comfortable frame and saddle
Mechanical disc brakes
Integrated LED headlight
---
Electric bikes are among the best-selling bicycles on the market right now.
Yes, they're pricier, but if you can afford them, a decent e-bike could be extremely comfortable—especially this excellent Ride1Up 500 Series with an ST frame ( low-step ). For around $1400, you'll get a lightweight and uniquely agile bike designed for comfortable touring over long distances.
But what's unique about this e-bike? It's a Class 3 electric bike for starters, with a maximum speed of 28mph pedal assist and 20mph throttle. The manufacturer promised a battery range of around 25-45 miles depending on the rider's weight, the incline of the terrain, etc.
Read more: Best Electric Bikes Under $1000
The most important aspect in terms of comfort is the frame. Ride1Up fitted this model with a perfect aluminum frame with an upright, comfortable geometry. Also, we have to mention the saddle – Selle Royal Freeway Plush Comfort. It's a gorgeous, comfortable saddle that will serve you for years to come.
Ride1Up Series 500 comes equipped with a friendly Suntour XCT Coil Spring front fork with 100mm travel for additional comfort and stability. Having a suspension fork is rare among electric bikes.
---
-Best Comfort Bike for Women-
---
Low-step aluminum frame
Very comfortable dual-spring saddle
Adjustable suspension fork
Very customizable ( 3 models, 6 colors )
---
Body Ease is one of the most comfortable bikes you can find in the already comfortable lineup of sixthreezero. It's stable and balanced, and riding it is straightforward. For around $500, you get a low step-through frame, dual-spring wide saddle, and a terrific adjustable suspension fork.
You can get the Body Ease with 3, 7, or 21 speeds, but what's interesting is that the cheapest is the 7-speed option at $479.99, then comes the 21-speed model at $499.99, and the most expensive model is the 3-speed one at $529.99. If you live in an area with many hills, choose the 21-speed model. The bike is also available in six unique, trendy colors.
Related: 15 Best Beach Cruiser Bikes
The beefy tires ( 700C x 38" ) provide a decent ride on paved roads, but the bike is perfect for casual riding in the park. Most of the parts in the drivetrain are Shimano but don't expect some high-end components. For example, the shifters are entry-level Shimano RevoShift – we can't complain about that price.
Remember that the sixthreezero Body Ease is on the heavy side with its 38 Lbs. There is nothing to worry about if you don't plan to carry around the bike.
Read more: 65 Best Bike Brands
---
How to choose the best comfort bike
Unless you're a die-hard cyclist, you probably have not heard of the comfort bike. That being said, it's likely that you've seen one without even realizing it. The comfort bike is crafted precisely for what it sounds like – comfort and leisure.
Here you can see what's important in a comfort bike. It would help if you looked for the following:
The comfort bike is practically a hybrid bike made for extra comfort. Unlike the mountain bike, made for harder and rougher terrain, the comfort bike is designed for smooth terrain and short excursions.
The wheels of a comfort bike are 26 inches and wider than mountain bikes. This is to create a smoother ride, so you've not jostled around while running errands. They also contain suspension systems to remove some of the shocks as you bike over potholes or rocks.
Finally, the seat itself is usually made of a softer material, so you have more comfort when sitting. Sometimes the seat includes a suspension for extra comfort for heavy riders. Here you can check for more comfortable seats for heavy guys.
Not only will it cover comfort bike reviews, but it will also offer up the best comfort bike for the money that you can buy. For those who want a simple, smooth ride for enjoyment or running errands, this article will equip you with the information you need.
---
Comfort Bike vs. Hybrid BIke
I have been asked many times about the difference between a comfort bike and a standard hybrid bike. And the simple truth is that there is little difference. The comfort bike is a hybrid bike made for a more comfortable ride in a few words. In most cases, the most significant difference between a standard hybrid bike and a comfort bike is the tire and wheel sizes and sometimes handlebars.
Most comfort bikes use standard 26-inch tires ( 650c ), and most hybrid bikes use 700c tires. The 26-inch tires are wider and more comfortable for the rider. However, the smaller size also has a downside – the lowest maximum speed and more effort are needed.
Another significant difference is tire pressure. Hybrid bikes have higher tire pressure in the tires than comfort bikes resulting in higher speeds, and as previously mentioned, less effort is needed.
---
What is the best comfort bike?
If you want a cheap, simple, and very comfortable bike, get the
Sixthreezero EVRYjourney
. It's a cruiser-style bike with a comfortable extra-wide saddle, lightweight aluminum frame, and zippy semi-slick tires.
Read more: How Much Should You Spend on Your First Bike