---
After countless hours of testing and research, we've come to the conclusion that the best bike for teens is Cannondale Quick 24. It's a super-capable, and very lightweight mountain bike suitable for teenagers age 10-15. If you are looking for a budget option, you should consider the Co-op Cycles REV CTY Kids' Bike. 
---
Although video games and VR technologies have been taking quite a huge part of the contemporary kids' time, riding bicycles has been and always will be a popular thing to do with children.
During the teenage years, the bike becomes more and more of a used item, until it develops into being a vital part of the teen's everyday life.
---
---
PROS:
Shimano Tourney Revo Twist shifter and rear derailleur
Promax V-Brake Alloy linear-pull rim brakes
Comes partially assembled
Stylish, sleek and amazingly light
1.5-inch wide Kenda tires deliver a comfortable ride.
CONS:
Max seat height adjustment could be problematic.
This is not a step-through bike, and pedals don't spin freely
Attractive to thieves (please invest in a good lock).
---
There are two classifications of bike-riding teens on this planet: those who love red and those who don't. If your teen happens to belong in the first category, put these "acid red" wheels on your shopping list, and your child will so appreciate you, she could stop rolling her eyes every time you admonish her.
Loaded with features that guarantee your teen will earn the admiration of her peers, the Quick 24 has fast-rolling tires, stable handling, and wide-range gearing. These are just a few of the reasons to consider this bike.
What sort of terrain does your teen prefer? Whether it's off- or on-road, this lively machine delivers on performance thanks to a lightweight SmartForm C3 alloy aluminum frame that is outfitted with neat touches.
Cranks are explicitly designed for kids who know how to make the most of their 7-gear experience, and the saddle, handlebar, grips and brake levers are all engineered to delight teens falling into categories that range between daredevils and conservatives. You provide the kid. Cannondale provides excitement. You become your teen's hero (for a short while, at least)!
---
---
PROS:
Affordable starter bike for teens
Frame is high quality and wheels are sturdy
Takes slopes in stride
Quality frame and brakes
Built for the long haul.
CONS:
Color choice could be off-putting
Pedals are likely to disappoint
Not your kid's best rough terrain option.
---
How would your pre-teen feel about riding alongside neighborhood kids atop an attention-getting orange or purple Norco Storm 4.2 bike? These color choices won't necessarily appeal to every teen, but for those who consider themselves trendsetters or fashionistas, you could have a hard time getting them off the bike and into the house for dinner when you call.
Despite the unique color choices, this bike is engineered, says Norco, to "storm the gates." The phrase should be changed to "storm the trails" since this miniature-version of the quintessential adult trail bike has many of the same features: Lightweight x6 aluminum frame, an SR Suntour XCT Jr. fork and 7-speed Shimano Altus drivetrain.
New for 2020, the 4.2 builds upon previous models manufactured by Norco. The Tourney cassette has a 14-34-tooth gear range capable of conquering steep hills without sacrificing top end speed on the way to a summit. Tektro Alloy V-brakes are so reliable, parents can sleep more soundly at night, knowing that the off-road riding risks their child takes won't include applying brakes only to have them fail to do the job.
Durable aluminum rims and hubs don't disappoint. Your kid is going to take chances if he feels comfortable and safe on the bike you buy, so if the Storm 4.2 gives you the most amount of confidence, everyone in the family will sleep soundly at night.
---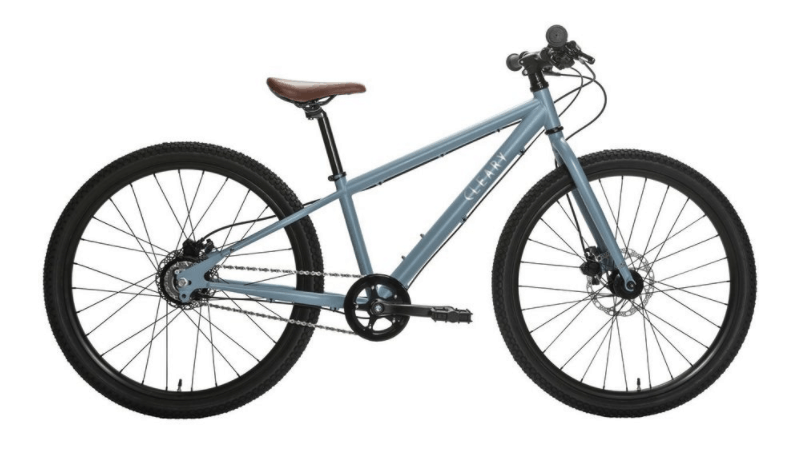 ---
PROS:
A thoughtfully-built bike designed for all terrains
Lube the chain, pump up the tires and go
No rear derailleurs to break or gears to adjust
Shifting while pedaling is effortless
Pass this sturdy bike down after your kid outgrows it.
CONS:
Reviewers can't agree on how much this bike weighs
May sell out quickly; you'll have to search
Costs a little more than competitor bikes.
---
A bit pricier than the two bikes reviewed above, the Meerkat is nonetheless worthy of your consideration. While this product only has 5-speeds, its engineering more than makes up for that when it performs like a pro while whizzing around corners. Does your kid like to show off his fearless side on occasion?
This is the bike that will make you feel comfortable while he undertakes makeshift backyard jumps. Built to fit riders with 22-to 30-inch inseams, the Meerkat's hydraulic disc brakes are easy to operate. Grab the levers and come to a fast, full stop.
What differentiates this Cleary bike from others? The 1020 alloy steel frame plus a fork crafted of suspension-corrected 1020 alloy steel. Features include an FSA threadless headset, Sturmey Archer DLC-50 trigger shifter and Sturmey Archer DLC-50 5-speed front Derailleur. Weighing in at 24 pounds, it's light enough to move briskly but heavy enough to handle abuse kids are known to give their bikes.
The Meerkat is named for a wily rodent capable of flying along at 30 mph, so your kid can ride like the wind in equal fashion. Low in maintenance but high in popularity, don't let the price difference keep you from checking this model out.
---
---
PROS:
Suits family budgets nicely
Comes in girls and boys versions
21 gearing options cannot be ignored
Available in colors appealing to boys and girls
The brake upgrade can keep your kid safer.
CONS:
Frame may not accommodate standard-size bottle cages
Recommended side-entry cages are not included
The brand, owned by REI, is relatively new.
---
If you want it, order it immediately since this Co-op REV CTY model costs less than others in this review and it's selling in record numbers. The price isn't the only factor driving this bike's popularity. The aluminum frame is durable and lightweight, but the factor that sends parents on a worldwide search for this bike has to do with a Shimano drivetrain that delivers 21 versatile gearing options.
Why settle for 5 or 7 when your kid can get 21? This bike never met a hill, flat or rolling terrain it couldn't conquer, but city bike paths and urban pavement fall equally under the spell (wheels) of this affordable bike.
This isn't the bike to choose if your teen never met a box of cookies he couldn't consume in one sitting. Rider and gear combined can only weigh up to 120 pounds. Linear-pull rim brakes provide responsive braking power and the all-terrain tires, mounted on sturdy rims, offer even the most audaciously wild child the safety and performance he or she craves most.
On the topic of "he and she," this is the one bike in this review that is available as a step-through model specifically for girls (we can hear you cheering). What to do with the money you save if you decide to buy this bike for your teen? Upgrade to the one with safer mechanical disc brakes.
---
---
PROS:
A very high-quality product
Great for a transition to a big bike
Very light
Great braking system
CONS:
High price
Might seem a little stiff with some lighter cyclists
---
Another great Diamondback mountain bike here! A bit bigger than the previous one and thus suitable for the early through mid-teens – best for children aged from 10 to 15. Line 24 by Diamondback is a perfect option for your child to make their first steps into trail riding.
One of the top features of the Diamondback Line 24 is the frame, made of aluminum of the 6061 type which is extremely strong and thus offers both durability and lightweight at the same time. This aluminum alloy is usually used by the top bike producers and is a guarantee of quality.
The 24-inch wheels with alloy rims and 2.35 inch thick tires offer great traction and balance for your kid's safety.
Gearing is completely made from SRAM, which is a top brand in the biking industry. The bike comes with front and rear disc brakes with a 180 mm front and a 160 mm rear rotor, operated by hydraulics, adding the security of a perfectly reliable braking system.
This Diamondback bike, just like the previous one on the list, also comes with an extra tool kit for easy assembly and adjustments. It's a perfect bike for the transition to the big boy bikes. It offers most of the features that big bikes provide, which makes it a perfect choice for children taking cycling pretty seriously.
Unfortunately, this bike might seem out of the budget for most biking moms and dads, as it is a pretty high-end one. After all, as one of the top bikes for teens, this is a high-class product, so that would be most likely expected.
---
---
PROS:
Great design
High-quality materials
Suitable for most types of terrain
Easy to assemble
---
El Oso Nino 20 is a real masterpiece and a cutting trend mountain bike, perfect for your teenager. It is suitable for kids in their early teens, anywhere between 7 and 13 years. It's the smallest fat tire bike on the market, and it is simply a pure tank in the cycling business.
Not only are the fat tires extraordinary, but also its overall design is a killer – a sharp, bright green frame with black rims and a black seat. Your kid will be turning heads with this one. It is meant to be a pure mountain bike, suitable for any terrain, but lately, you can find fat bikes anywhere throughout the city.
In terms of specifications, the El Oso Nino 20 has 20-inch wheels with amazing 4-inch fat tires. Its frame and fork are made of Hi-Tensile steel, which is exceptionally durable. So is the alloy handlebar. The bike is built out of very high-quality materials.
It is completely equipped with reliable gearing – the shifter, rear derailleur, and cogset are all Shimano products. Another key feature of the El Oso Nino 20 are a set of Apex Mechanical Disc brakes, which are an absolute top performer, so you will worry a bit less about your kid getting hurt.
What's more is the bicycle comes with its own great tool kit that can come in handy not only when assembling the bike, but also for future bicycle needs. The bike comes 95% whole, so you won't be spending much time to figure out and assemble this thing.
Overall, this bike is a great fit for your kid, as it is a combination of extremely good design and very high-profile materials. The bicycle is a bit pricier than average, so I would advise you to buy it for your kid only if they have had some previous experience with cycling.
---
---
PROS:
Great simple design
Great for beginner cyclists
Quality elements
Excellent price/quality ratio
CONS:
Might have some problems with the gearing
---
The 24″ Granite Peak Girls' Mountain Bike is an excellent choice for girls that are eight years of age or older – it is perfect for riders from 4'8″ to 5'6″ in height. It is quite a small and compact bicycle, suitable for both casual and beginner trail cycling.
This bike comes with teal paint and a standard girls' frame, front suspension fork, 24-inch wheels and pretty much all the standard equipment for a basic bike. It uses both front and rear pull brakes and comes with a 3-piece crankset. With the 18-speed twist-shifters, shifting is a piece of cake.
The frame is made completely out of 100% steel, which is a guarantee for an extremely durable product. The Shimano rear derailleur adds to the overall quality of the bike, as well as the alloy rims.
The Roadmaster 24″ granite Peak Girls' Mountain Bike is a relatively cheap one, which makes it a perfect choice for your small daughter, as well as some bigger girls that are at a beginner's level. It delivers an excellent price/quality ratio.
---
---
PROS:
Very lightweight
Nice design
Quality materials
Affordable price
CONS:
Not a very good option for serious trail riding
---
The 2018 Gravity FSX 1.0 Dual Full Suspension is a high-class entry-level mountain bike that comes in 4 sizes, depending on your child's height – 15, 17, 19 and 21 inches, suitable for kids of all ages. You can choose from 2 color variations – a cute and classy black version and a vivid yellow one.
The 2018 Gravity FSX 1.0 Dual Full Suspension is a perfect choice for some basic trail riding, as well as to ride it in the streets throughout the city. Thus it offers a pretty comfortable seat to make your kids' long rides much more pleasant.
The frame is one of the top features of this bike – made of high-quality hydroformed aluminum. That makes the bike an extremely light one. Adding to the lightness of the bicycle are the handlebar, which is also made of aluminum, and the strong double-wall alloy wheels.
Another key feature of this ride are the front and rear disc brakes giving you great security over your kids stopping. What's more, is the adjustable front shock and the adjustable rear coil-over cartridge shock. The gears on the bicycle, as well as the front and rear derailleurs, are SHIMANO.
Overall, this is a great bike, offering decent quality and some nice features at an affordable price. This bike will definitely match your kids' expectations of a cool looking bike.
---
---
PROS:
Made of durable materials
Classic look and ride
Affordable price tag
CONS:
Pedals are not quite good
---
The Schwinn High Timber Mountain Bike is one of the most popular and best-selling bikes for teens on the market. Just like the previous one, this bike comes in a couple of different size variations.
The small option on 24-inch wheels has a 12-inch frame. The medium option with 27.5-inch wheels is with a bigger 18-inch frame. The biggest variation is the 29-inch wheeler, again with an 18-inch frame.
The bike has a variety of different colors and styles, including a light blue option with a girls' frame. The frame is a classical Schwinn mountain-style one, made of solid steel, with a decent quality suspension fork.
The wheels are geared up with some light & durable alloy rims. The overall weight of the bicycle is not that heavy – depending on the size it can vary, but it reaches up to no more than 35-40 pounds.
The Schwinn High Timber is equipped with SHIMANO Revoshift twist shifters and a 21-speed rear derailleur. It is pretty easy to change gears with precision on the go with this one. You can rely on the sharp linear-pull brakes for safe stopping.
This bike is a great choice if you would like to get a classic ride for your kid that can last them at least for the next couple of years. It is good for children aged 10 and up, but I would personally recommend it for teens that are a bit bigger. It is suitable for any terrain, as well as for casual use as a city bike.
The bike is made of simple but decent quality materials and comes at a great price. Although you might feel some uncertainty and instability with the pedals, the bicycle is a top product and surely deserves to be on the list of the top bikes for teens.
---
---
PROS:
A stylish and distinctive look
A lot of fun
Good for both children and adults
CONS:
Not suitable for casual cycling
---
As in our other articles, here we have also included one unusual option. The Razor DXT Drift Trike is a bike made exactly for downhill drifting action.
This will be a great choice if you and your kid are into drifting. However, you might as well end up taking this one out for a ride yourself.
This low rider has a nice 2-piece welded steel frame with a moto-style construction that makes this bike a masterpiece. The handlebars are also in a moto-style and have enhanced rubber grips to make you feel at full control when riding.
The seat is an adjustable one with two possible positions, giving you some good comfort. The front wheel is a 20-inch pneumatic one with a very light and solid aluminum rim. Attached to the wheel, you can find the BMX-style pedals & an alloy V-brake.
The rear wheels are a pair of 10-inch kart style blow-molded slicks with speed bearings and chrome hub caps. These make sure you get the perfect experience from drifting. Although the Razor DXT Drift Trike is not suitable for casual riding, I assure you it is a lot of fun. I haven't had one of these, but I have tried the particular one multiple times, and I can give only positive feedback to anybody interested in this bicycle.
---
What to Consider When Buying a Bike for Your Kid
Once your kid has already been acquainted with the basics of the cycling business and gets too big for the small baby bike, it is the right time you get them a big-boy ride. It is very important for a child to make his first steps on a bigger bike. That is why we believe it is essential to pick out a list of the best bikes for teens.
There is a wide set of factors that you should consider when choosing the perfect bicycle for your teenage kid. Elements, such as the bike size, bicycle type, budget, and brand type, are very important when picking the right bike.
---
Teen Bike Sizes
The bike size is probably the most important of all factors about choosing the best bike for a teen girl or boy.
If your kid is at their early teens, in most cases the best option will be the smallest size of frame that there is on the market for a particular kind of bicycle.
What I suggest to consider when picking the bike size is to get one, which is a bit larger than your kid's perfect fit.
With the constant and rapid growth of your teen, if you get the size that matches your child's size, there is a huge chance that they might grow too big for the bike by the time they get used to it.
Getting a bigger bike helps you make sure that your kid will have enough time to get used to it and be able to ride it for a while afterward.
With kids in their late teens, without any worries, you can choose a bike that will match their size, as they won't grow so drastically anymore and I recommend focusing on better quality, as this bike is going to have to last for a longer time.
---
Bike Types Suitable for Teens
You should also decide on what type of bicycle to get for your teen – whether they would like a road bike or maybe a mountain one.
Of course, they can be interested in completely different styles of cycling, so do not exclude the option of a good old BMX yet.
If they are still not interested in any particular biking style, you can do some observing, or if you are not yet sure about this, you can simply rely on a hybrid bicycle.
---
The Budget
As always, the budget also plays a big part in the decision for a bike for your kid.
If your kid is still in the early teens, I advise you not to trouble yourselves too much, as a budget-friendly option might be just as effective.
After all, when the kids are still small, they aren't that pretentious. However, if you are dealing with a bigger teenager, you will have to turn to something of higher quality, and respectively – higher price.
---
Best Teenager Bike Brands
I will give you some basic advice with that as well. Bike brands such as Cannondale, Schwinn, Trek, and Bianchi are some of the top manufacturers in the world of bikes.
If you are not familiar with the brands that have some high influence in this business, I will give you some basic advice with that as well.
Bike brands such as Cannondale, Schwinn, Trek, and Bianchi are some of the top manufacturers in the world of bikes.
Of course, there are many more which you can find on the web. This way you can get acquainted with the prices of best bikes on the market and get a better glimpse of how much a bicycle from a top-quality brand costs.
---