10 Best Bikes for Moms in 2023
---
Most moms prefer to ride a beach cruiser or a simple hybrid bike with a low frame.
Pedals in front of the seat post provide a more comfortable riding position.
On average, women spend between $250 and $600 for a simple beach cruiser and more than $1100 for an electric bike.
If you live in a mountainous area, get a bike with more than 7 speeds and linear-pull breaks. Coaster brakes work fine on flat terrain.
---
We've spent hundreds of hours researching cruisers, hybrids, and electric bikes to put together this list of the best bikes for moms for every budget. If you want a cheap, simple, and fun single-speed cruiser bike, get the Electra Cruiser 1 Step-Through.
We also have some more expensive electric options with pedal assist.
---
-Simple, elegant and fun-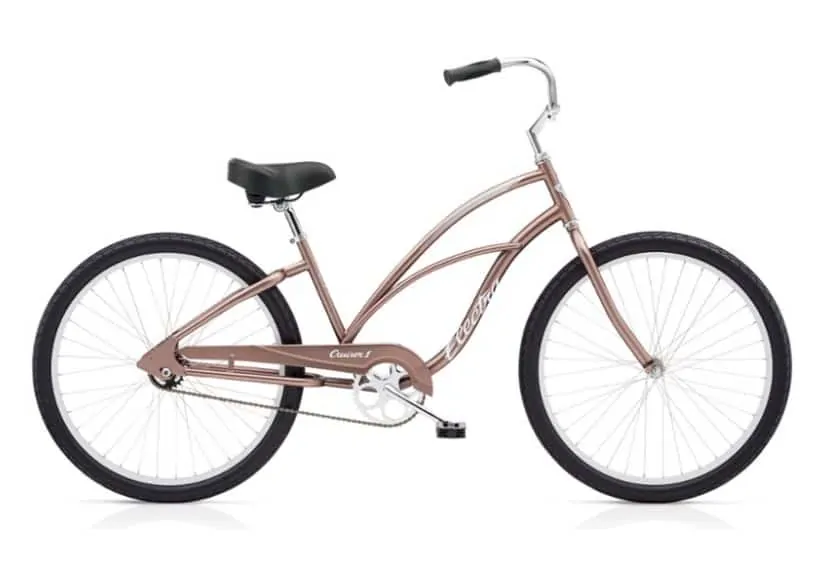 ---
Durable steel frame
Simple and fun single-speed bike
Classic Knobby tires
Pedals in front of the seatpost
---
Styled for today's on-the-go woman, this Electra Cruiser 1 step-through ride is simple, elegant, and fun. The steel frame and 26-inch wheels offer a solid ride, and since the frame design places the pedals in front of the seat post, moms enjoy a low center of gravity that contributes to an upright, balanced position for a comfortable ride.
Electra says that mounting and dismounting, courtesy of the step-through design, is easy, and the single-speed drivetrain (no fussing with gears) and the rear coaster brake can be engaged simply by backpedaling. Equipped with knobby tires that remain stable during slow speed turns, the steel fork and one-piece steel crankset combine for a solid riding experience.
Since the wide saddle on the Cruiser is fitted with elastomer springs, even mom's bum gets a break should she find herself cycling over rugged terrain. As a style note, platform pedals welcome just about any pair of shoes in mom's closets (sandals included), and a full-length chainguard helps keeps pants free of entanglements. At 35 pounds, this ride is hefty enough to keep mom safe but light enough to lift when it's time to stow it.
---
Huffy Nel Lusso Women's Classic Cruiser
–Cheap, Simple, With Basket and Cup Holder-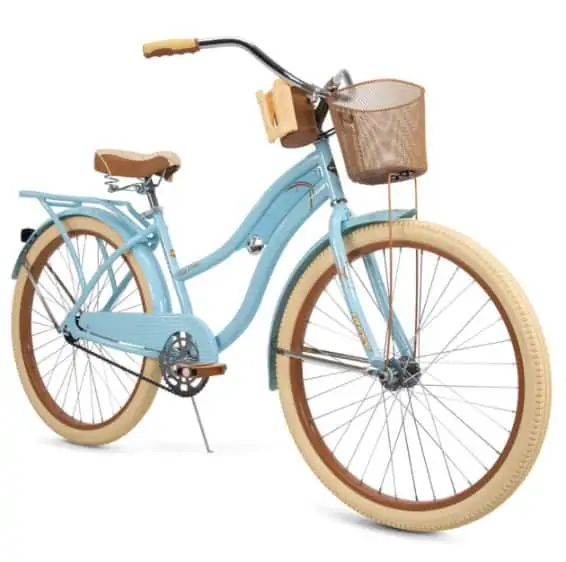 ---
Coaster brakes
Affordable price
Comfortable saddle
Cellphone and cup holder
---
For moms who recall how it felt to ride their first Huffy bikes to school, this nostalgic bike with its sunny components is a charmer. New on the market yet highly rated by women seeking a classic cruiser, this cute bicycle is trendy and fun.
The perfect-fit frame promotes a healthy, upright body position, the handlebars are easy to reach, and it also comes with a front basket and rear storage rack.
Convenience? Oh, yes. A cellphone holder and cup holder are both within easy reach, and the sporty saddle is designed with comfort in mind. Moms who prefer a heavy bike because they feel safer riding one will appreciate this 50-pound model, and since both the seat and handlebar are adjustable, it only takes a couple of levers to customize the fit.
Love the color? Mom will love the brand – after all, Huffy bikes have been part of the bicycling scene since George P. Huffman bought the Davis Sewing Machine Company in 1887 and realized that women would rather ride a bike than sew any day of the week.
Despite the style innovation, this yellow Huffy is comparably priced, so for women who love to be noticed on budgets, this ride is amazing.
---
-Best Combo of Comfort and Speed-
---
17-inch durable steel frame
Dual-spring saddle and wide cruiser handlebar
Single-speed with pedal-backward coaster brakes
Rear rack included
---
If your mom loves mint green and wants to ride distances that go beyond "Around the Block," this classic, curvy, single-speed beach cruiser could make you her favorite child should you pick this ride and give it to her as a gift.
This 40-pound bike is crafted of steel, features a rigid suspension, and the 17-inch durable frame gets high marks from moms and non-moms who seek a reliable, dependable bike that doesn't cost a fortune.
Because this sixthreezero bike offers the best upright riding style, riders assume a proper body position, so shoulders stay relaxed. No matter how much terrain mom decides to cover, this bike can handle it without giving her back pain. The dual-spring saddle and wide cruiser-style handlebars fitted with foam hand grips add to a very comfy ride.
This single-speed bike dotes on flat terrain, and the coast braking system stops mom on a dime — just in case she spots a sale while passing her favorite boutique.
This cruiser's 26-inch, 2.125-inch wide aluminum wheels host large waffle tread tires, and there's no shortage of style: Blacked-out components, a rear rack for optional baskets, and panniers give women as tall as 6 feet; 2-inches a fabulous riding experience that requires very little maintenance down the road.
Read more: 5 Best Bikes for Back Pain in 2021
---
-Retro Look, Modern Parts-
---
Durable steel Schwinn cruiser frame
1, 3, or 7-speed options
Rear coaster brake
Padded cruiser saddle and handlebar with an upright stem
---
Having introduced you to bicycles designed for women that come in lemon yellow and mint green, perhaps you've got a hot mom who wouldn't consider anything but a red ride. This Schwinn should make her happy.
Featuring steel step-over or step-through frames, this ride may only operate at one speed, but Mom will make a good time taking care of business on this hefty steel cycle with 26-inch wheels. Duel suspension adds to comfort, but the vintage, retro styling for which Schwinn is known may delight her most.
Easy to use and maintain, this adult beach cruiser features coaster brakes promising fast, confident stops, and those fenders add weather protection properties that can be lifesavers if mom is stuck in the rain.
The classic cruiser handlebar affixed to the upright stem helps a rider assume an efficient and comfortable position while riding. Even on long and arduous rides, mom will dismount without an achy back.
Moms ranging in height from 5 feet, 4 inches to 6 feet; 2 inches will find that adjusting the bike takes no time at all, and she doesn't have to worry about finding custom-sized wheels because these 26 inches are available everywhere.
Schwinn is known for the company's generous limited lifetime warranty for as long as the rider owns the bike, and while it will require assembly, as her favorite child, you'll take care of that, right?
---
-Best for Hills-
---
Best-selling bike in the U.S.
Flat Foot Technology® frame
Ergonomic saddle, pedals, and handlebar
Alloy linear-pull brakes
---
You'll be able to buy that Schwinn Beach Cruiser plus the yellow Huffy for the same amount of cash that this Electra Townie will set you back, but since mom only has two legs and two arms, who needs more than one bicycle?
For moms who insist on superior engineering, the Electra Townie 7D is that product. Weighing in at 34.5 pounds, this aluminum ride with 26-inch wheels doubles down on gears, so this is no cruiser.
Like her less-expensive sister, the Electra Cruiser 1-Step, the Townie 7D is designed with a low center of gravity and offers full leg extensions. If you are familiar with how recumbent bikes operate to take the pressure off the skeletal system, this bike offers a rider a similar experience.
The ergonomic saddle with elastomer bumpers absorbs shocks as the Shimano Revo shifter, and rear derailleur take riders through all seven gears.
Flat Foot Technology™ geometry aligns the body, so it is situated properly, permitting the rider to place both feet on the ground when bringing the bike to a stop. The Townie's linear-pull brakes, engineered for controlled deceleration and fast stopping, are so versatile even the platform pedals will accommodate any pair of shoes in mom's closet.
This bike's semi-slick tires ensure a smooth, stable ride over every terrain, making it an ideal choice for discriminating moms.
---
-Best for Carrying Kids-
---
Powerful Bosch Active Line Plus motor
Bosch's Kiox display with Bluetooth
Internal cable routing
Fenders, front and rear LED lights included
---
If you're grateful to your mom for a long list of reasons, break out your plastic and treat her to the bike everyone's talking about: the jazzy 2020 Vale Go! 9D EQ Electric Bike is designed to handle anything from errands and daily commutes to fun getaways.
This e-bike features a powerful Bosch Active Line Plus motor, a fully integrated battery, and a step-thru frame. The Bosch Kiox display provides Bluetooth connectivity and advanced rider information, so no matter where she goes, you call to thank her for her support.
Versatile and stylish, this pedal-assist e-bike's fenders repel soil and water, and LED lights keep her safe. Up the ante by adding pannier bags to the integrated rear rack to increase functionality.
Outfitted with Schwalbe 27.5″ tires, mom won't be able to decide which feature she likes most, but hydraulic disc brakes and suspension seat post are most likely to make her shortlist. The Bosch Kiox display delivers speed, performance, and battery health data, adapting to lighting conditions for enhanced readability.
This e-bike features the brand's patented Flat Foot Technology. Easily monitor ride data like speed, battery charge, and heart rate in one place with the hi-res Bosch Kiox color display.
No worries about getting on and off since this frame is designed to make it a comfortable process, and you can customize Mom's ride by adding an Electra Ringer Bell or bottle cage for hydration – but given the hefty price tag, a nice card works, too!
Read more: Best Electric Bikes for Short Females
---
Firmstrong Urban Lady Cruiser Bike
-Affordable and Reliable-
---
One of the cheapest beach cruisers
Ready for recreational riding on paved roads and paths
Simple coaster brake
Comfortable single-speed ride
---
If only baby blue will do when it comes to mom's favorite color, you can stop shopping once you glimpse this Firmstrong Urban Lady single-speed beach cruiser. A tiny bit smaller than other products on our list (15.5 inches), this steel frame sits atop 26-inch aluminum wheels, and this cruiser bike comes equipped with coaster brakes for a relaxed riding experience and efficient stops.
Whitewall balloon tires not only deliver a cushioned ride but add a touch of nostalgia, a plus for moms who have long memories and recall begging for white-wall tires on their bikes when they were kids. The oversized seat is fitted with dual springs and suits moms weighing up to 300 pounds and those who stand up to 6 feet tall.
Wide handlebars with rubber grips plus every feature women require are the hallmarks of a company dedicated to producing stylish and functional bikes, which is why Firmstrong is committed to producing bikes for women that make the ride "an experience rather than a chore."
Whether your mom prefers urban streets or the road less taken, she won't be disappointed. And since this bike comes 80 percent assembled out of the box, if your mom has a few tools, you may not have to come over to finish the job.
---
Navitas Organics Women's Bike
-Most Color Options-
---
15+ color options
26-inch women's single-speed cruiser
Over-sized seat with dual springs
Coaster brakes
---
For moms who love color choices but they can't count on their kids to figure out which hue would please them most, This Navitas Organics bike offers the widest array of shades of all the bikes in this review, but depending upon the one she likes best, each color is priced differently.
A few nearly double the price. Why mention that upfront? Because if you're on a budget, you may want to make the color choice yourself!
Highly rated by owners and engineered for easy, relaxed riding, this Navitas Organics bike is desired for women who measure between 5- and 6 feet. The 15-inch durable steel frame and 26-inch aluminum wheels feature cushy whitewall balloon tires, and the coaster brake system powered by rubber block pedals brings a rider to a fast, safe stop.
Dual springs underpin the oversized seat, and wide handlebars with foam grips let mom control her ride from start to finish.
While formally classified by the maker (Firmstrong) as a girl's bike, the mom may not be able to tell the difference if she stays in shape.
Assembly, say those who have completed the build-out of the box, is likely to take less than 30 minutes, according to one mom who installed the front wheel, seat stem, seat, handlebars, pedals, and reflectors on her own, showing her kids that there's no job moms can't tackle.
---
Schwinn Perla Women's Beach Cruiser
–Jack of All Trades-
---
Steel step-thru cruiser-style bike
Alloy linear-pull brakes
Comfortable quilted seat
Fenders included
---
If this sweet pink bike is out of stock when you shop, don't discount the yellow version because you'll save around $65 by sacrificing your first color pick. This 45-pound bike comes with all of the durability and design for which Schwinn is known: The frame is steel, the wheel size is 26 inches, and the bike comes equipped with linear-pull brakes for responsive stops.
Whether mom picks pink or yellow, she will have the advantage of 7-speed twist shifters, and this step-thru cruiser is no slouch in the style arena: Fenders match the frame color, the handlebars are swept back, and the quilted seat is a pleasure to experience.
For moms who spent their child-bearing years telling their kids to sit up straight, this bike allows them to follow their own advice because it allows a rider's body to assume the proper riding position. Fenders stand between rider and road dirt, and the rear rack could prove invaluable for moms who say they often feel like Sherpas.
Schwinn recommends this bike for women who are between 5 feet; 4 inches, and 5 feet; 9 inches, but you can factor in leg length and handlebar reach distance before declaring this a perfect fit for moms since the step-over height measures only 19-inches.
That stated, it's easy to customize this bike using the seat height adjustment, and the 31-inch wide handlebar should be a good fit for mom, too.
---
–Great Value, 7-Speed Cruiser-
---
Shimano 7-speed drivetrain
Ready for urban commuting or casual riding
Front and rear handbrakes
Steel frame with easy step-through
---
As the least expensive model within the sixthreezero EVRYjourney collection, this teal, 45-pound beauty has all of the bells and whistles mom would like, including a sturdy steel frame, rigid suspension, and 7 speeds so she can change up the pace of her ride when she's running late or feels a need for speed.
This hybrid bike is engineered for women seeking comfort in a classic commuter ride. Featuring a Shimano 7-speed external derailleur and front and rear handbrakes that accommodate everything from leisure rides to long-distance commutes, this bike's low, swooping 17.5-inch steel frame is a breeze to mount.
Once seated, moms automatically assume the proper body position that prevents backs, knees, and shoulders from being taxed. Featuring 26-inch wheels and 2-inch semi-slick tires known for their excellent rolling ability, this is a cushioned, stable ride that's also fashion-forward.
The teal frame, fenders, brown saddle, and grips make a stylish statement, and no worries about stopping this bike, so bystanders can admire your good taste because these liner pull brakes are manufactured to do the job with aplomb.
---
Is there a gender gap when it comes to male and female bike riders?
The answer is yes, say researchers conducting gender-specific surveys about bike riding habits posted on the Velosurance website blog.
"Women riders aged 18-to-24 actually ride more days per year than men of that age do, but their riding days drop off dramatically in the child-rearing age groups of 25-to-34 and 35-to-44."
What factors into this ridership decline? A 2010 Women's Cycling Survey found that 73 percent of respondents cited "distracted driving" as their biggest worry. Other reasons women stop riding after having kids include an "inability to carry children" on bikes.
But an underlying factor is rarely mentioned: Women are tired of being uncomfortable riding bikes not designed for their unique bodies. This is changing. Once you read the descriptions associated with our 10 picks, you will discover just how much!
Related: Best Beach Cruiser Bikes
Why do women need bicycles designed exclusively for their bodies?
It takes a woman to understand how difficult it can be for females forced to pilot bikes made for men, so when Kelly Bastone tackled the topic for Outside.com, she approached the subject loaded with facts and figures.
Citing a video proving her thesis that bikes for women are the only solution for riding equality, Bastone refers to data collected by the global anthropometric database PeopleSize as well as NASA.
"Women have narrower shoulders, shorter arms, and shorter crotch heights. Those trends become more pronounced among shorter men and women, meaning that women are less likely to achieve an ideal fit on smaller-size frames built for men."
There's more.
Women's muscles don't work the same way as men's muscles do. "Ladies activate their rectus femoris (one of the thigh's quad muscles) more than men" when they ride, which is why bikes with steeper seat-tube angles give women advantages when they pilot bikes.
Further, a women's ratio of lower-body to upper-body strength is higher than men's, a prime reason product stiffness is important when producing women's bikes because stiffness compensates for women's pedal strokes, say scientific studies.
---
Why women's bikes feature lowered top tubes
Time to bring history into the equation, say contributors to StackExchange where the topic received eclectic responses. The first women's bicycle frames were produced with top tubes because "Historically, women wore skirts, so a lower frame in the middle made it easier to mount and dismount, and [a woman] was less likely to show an ankle accidentally."
Today's female biker — even moms devoted to fashion — rarely wears skirts to ride, but for female commuters whose work dress codes discourage pants, a lower top tube can make life so much easier, even in a day and age when showing one's ankle accidentally is hardly a reason for a scandal!
---
Cruiser Style Handlebars
What features separate cruiser-style handlebars from other types when choosing a woman's bike? Experts at CityBicyleCo.com say that cruiser handlebars offer women exceptional comfort because the rider's wrist assumes "the most natural position while riding."
This handlebar style lends a cute, homey style to a ride ("It's the type of handlebar you bring home to mom," editors say), and because of their swept-back configuration, there's more room at the front for a basket and once loaded, this configuration helps balance that weight. Not all of the news is good.
Women will need more seat padding due to body position one must assume with these handlebars, and, adds this informative resource, hills can be a nightmare.
A comfortable saddle is essential
Unfortunately, most road bike saddles are designed for men. Not only does anatomy play a major role in saddle comfort because women have wider pelvises, but saddle design has always advantaged men whose derriere's "sit bones" are located outside the area of support that women require to feel comfortable on a saddle.
Technically, a man's saddle transfers support from skeletal to "soft tissue," which can be uncomfortable for women's anatomy, to say the least. One solution women's bike makers have adopted is cutting the saddle nose to "allow for a forward rotated pelvic position without putting excess pressure on soft tissue," but this alteration comes at a price.
While taking pressure off sensitive areas, less surface area can present additional challenges for women.
---
Extras today's moms seek
Today's mom is offered so many extras that are both necessary and just plain fun that it can be hard to visit a website or shop devoted to bicycling that doesn't present too many temptations.
From simple baskets (front and rear mount) to fixtures that give her easy access to electronic devices, water bottles, and other necessities, there is an entire cottage industry devoted to these extras, though if you ask today's mom, she is very likely to say that bike seats for toddlers are the most advantageous new items on the market.
These seats can be used to safeguard little ones as young as 9 months, say product reviewers at the website USAALL.org because the youngster can sit unsupported. These innovations are available in front- or back-mounting models and include either a three-point belt or the five-point harness with shoulder straps.
The most inventive models recline, have footrests and some even offer a suspension feature plus padded seat and supportive high backrests.
---
FAQs
What is the best bike for moms?
Can a Woman Ride a Man's Bike?
According to a blog entry on the
BikeMunk.com website
, "Of course, she CAN, but SHOULD she?" Citing a "spike in female cyclists" throughout the nation, unisex bikes are always an option, but male-specific products are unlikely to deliver a comfortable ride because women tend to have shorter torsos, longer legs, and longer, leaner physiques.
What are unisex bikes?
REI blogger Ken Knapp
explains that today's manufacturers are basing new designs on a better understanding of fit for men and women alike.
Sizing is the answer to producing unisex bikes. Knapp envisions a world where engineering provides "a greater fit range for all riders, and smaller incremental changes between sizes, so both sexes enjoy a more precise fit in the future."
Why do some women's bike seats have holes?
It's "a perfect solution," say CyclingHow.com posters on the topic of the discomfort female bike riders feel when sitting atop a traditional bike seat with a "canal going through the middle of the saddle capable of producing discomfort in the perineal (crotch) area."
Thanks to cut-outs, channels, and sizing innovations, bike seats with "holes" make riding more comfortable, safer and ventilation is improved, so keep this in mind when you help mom pick out her next bike.       
Read more: