6 Best Bikes for Back Pain in 2023 ( Beach Cruisers, MTBs, and E-Bikes )
ALSO CONSIDER:  Best bikes for seniors || Best bikes for college students  || Best bikes for food delivery || Best budget mountain bike
Cycling is a low-impact exercise that puts less overall stress on the body, which can be especially helpful in reducing lower back pain. Bicycling also helps to reduce lumbar muscle tension and improve flexibility.
In this blog post, we will discuss the top bikes for people with back pain in 2023 and provide tips for selecting the best option for your individual needs.
Quick summary of the best bikes for back pain:
---
Type: Beach Cruiser | Frame Material: Aluminum | Drivetrain: 7-Speed | MSRP: $630
What's good 👍
Relaxed Upright Riding Position: Reduces strain on the back and neck, suitable for individuals with back pain.
Extended Handlebar and Shock-Absorbent Saddle: Contributes to comfortable riding and easy steering.
User-friendly Frame Geometry: Allows for full leg extension without overextending the seat post
7-Speed Shimano Drivetrain: Provides a decent gear range suitable for various terrains, including hilly areas.
What's not so good 👎
Entry-Level Shimano Tourney Rear Derailleur: This may not provide as smooth or reliable shifting compared to higher-end models.
Electra Townie 7D is a perfect choice for anyone who has back pain because of the upright, relaxed riding position it offers. It's very comfortable to ride for a few reasons.
First, the frame geometry places the rider in such a position that you don't need to overextend the seat post to have a full leg extension. This means you can quickly put both feet on the ground at a stop without sacrificing power delivery. On top of that, you get a super comfortable extended handlebar and an ergonomic shock-absorbent saddle for additional comfort.
The 7D model has a 7-speed Shimano drivetrain, an entry-level Tourney rear derailleur, and a Shimano Revo twist shifters. Nothing fancy, but enough gear range for most people, even those who live in relatively hilly areas.
Other cool features include internal cable routing for a cleaner look, a full-length chainguard for safety, and a convenient kickstand.
Read more: 65 Best Bike Brands
Electra Townie 7d is also available as an electric cruiser bike ( Electra Townie Go! 7D Electric Bike ), an even better option for riders who are not in shape but want to get back to cycling. With this bike, you get all the benefits of the original Townie plus the Hydrive rear hub electric motor and a pair of mechanical disc brakes.
Video review of Electra Townie 7D:
---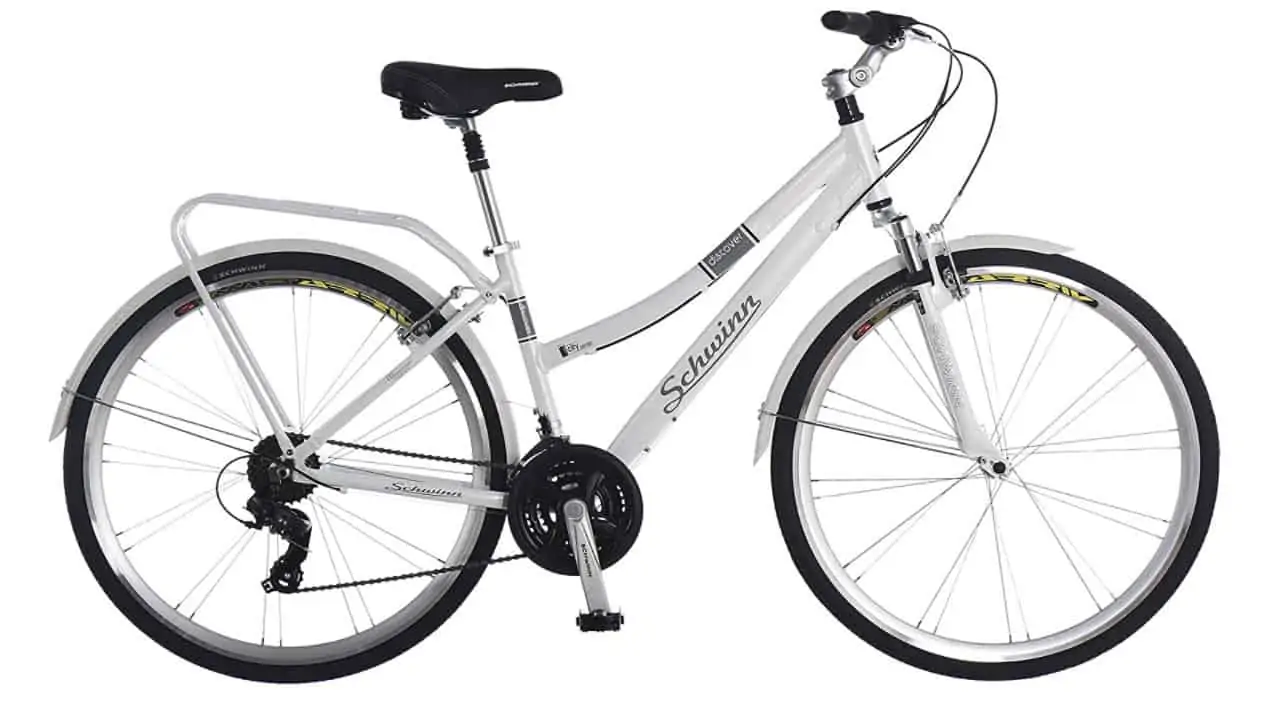 Type: Hybrid | Frame Material: Aluminum | Drivetrain: 21-Speed | MSRP: $499
What's good 👍
Swept-back Upright Handlebars: Promotes a more natural, upright riding position reducing strain on the back, neck, and shoulders.
Comfortable Frame Geometry: Designed for an ergonomic riding position, enhancing control and reducing fatigue.
Wide Gear Range: Provides versatility in riding conditions with easier climbing and faster speeds on varying terrains.
Suspension Fork: Absorbs shocks on rough terrain, providing a smoother ride and improved handling.
What's not so good 👎
Weight (35.5 pounds): Heavier weight makes the bike less agile and potentially more challenging to transport.
Cheap Pedals and Handlebars: Lower quality components may require earlier replacement, affecting durability and riding comfort.
Schwinn Discover is one of the most popular hybrid bikes by Schwinn for a reason. It's affordable, well-made, and very comfortable to ride in town or around the park. The ride's comfort is guaranteed by the swept-back upright handlebars and a very wide padded seat. The aluminum frame of the Discover is made for comfort as well. It's the so-called step-through or step-over frame. The step-through frame is necessary if you can't lift your legs too much.
Schwinn Discover is a great bike for people who want to climb hills because it has a 21-speed entry-level SRAM drivetrain, including a nice grip shifter. Gear shifting is smooth and relatively silent for a budget commuter bike. As a bonus, you get a decent Schwinn suspension fork that dampens road bumps. Schwinn Discover has fenders to keep dirt off and a convenient rear carrier for groceries.
Remember that this bike is a bit heavy at 35.5 pounds, and you should look for another bike if you plan to carry it a lot upstairs. That weight, on the other hand, keeps the bike on the road with a balanced ride. The only downside is that some components, like the pedals and the handlebars, are pretty cheap.
🚨 Now there is a new model Schwinn Discover 2, with better, more modern components and a higher price tag.
---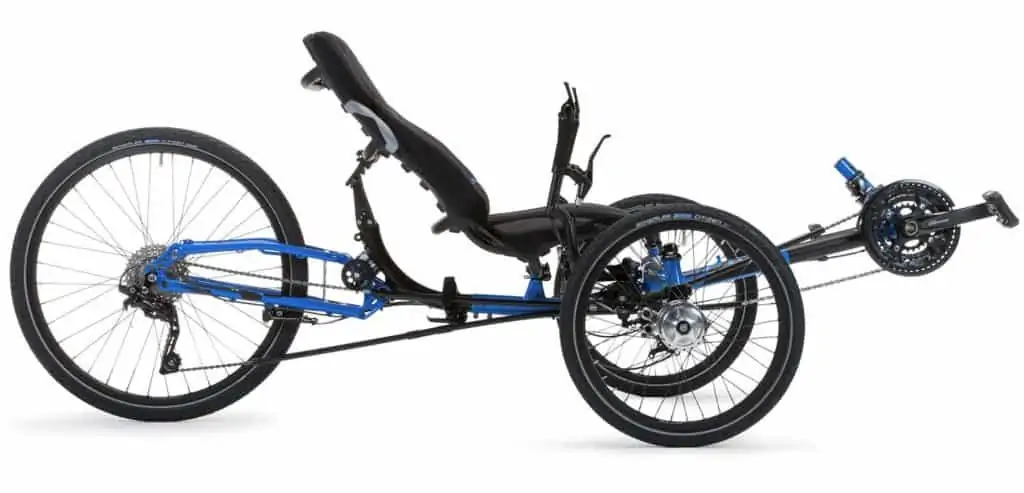 Type: Recumbent Trike | Frame Material: Aluminum | Drivetrain: 30-Speed | MSRP: from $4,490
What's good 👍
Most Comfortable Trike Seat: Provides an optimum level of comfort, ensuring a pleasant riding experience.
High Weight Limit (330 lbs): Accommodates a wide range of riders, enhancing its inclusivity.
Comfortable Ride: Ensures a smooth and enjoyable ride, minimizing discomfort and fatigue.
Highly Customizable: Allows for personalization to cater to individual rider preferences.
High-end Components: Ensures durability and premium performance, enhancing the overall value.
What's not so good 👎
Eye-watering Price Tag: The high cost may deter potential buyers, making it less accessible to a wider audience.
Recumbent bikes ( or trikes ) are among the most popular choices for riders with back pain because they're made exclusively for this purpose. Ice Adventure is our favorite recumbent trike of them all. It's a fantastic ride for heavier people ( weight limit 330 lbs. ) or people who want a roomier cockpit.
This trike's cushioned seat ( not a saddle ) is probably the most comfortable one you can buy right now on any trike. It's so good that you can compare it only to a car seat or an office chair. Another thing we love about the Ice Adventure is that it's highly customizable.
You can get it with drum or disc brakes, suspension or no suspension, different tire types, and 21-inch or 26-inch wheels. You can customize it as per your needs and desires. The only thing you can't customize is the blue color. That's the only one you can get right now.
The ride of the Ice Adventure is comfortable, even in the non-suspension model, because the bike absorbs the bumps. Every component is high quality, from the shifters to the brakes. The Schwalbe Big Apple tires give you a soft ride, but they're also fast and silently rolling on the paved road. As a big plus, we must mention that Ice Adventure is foldable, and when it's folded, it fits in an average car trunk.
---
Type: Commuter bike | Frame Material: Aluminum | Drivetrain: 7-Speed | MSRP: $650
What's good 👍
Size Options: Different size options are available, catering to various heights for a comfortable fit.
Smooth Ride: Offers a smooth ride quality on various terrains, suitable for both urban and leisurely rides.
Appearance: Aesthetically pleasing design.
Lightweight: Lightweight construction contributes to its ease of use.
Comfortable: A comfortable ride experience enhances its usability for both short errands and longer trail rides.
Adjustable Seat Height: The adjustable seat height allows for a more personalized fit.
Accessory-Friendly: Compatibility with various accessories like baskets and bags, adding to its functionality.
Complimentary Assembly by REI: REI offers free assembly, a convenient bonus for buyers.
Better Fit on Racks: Fits better on bike racks and public transit racks compared to some other models.
What's not so good 👎
Assembly Instructions: Lacking assembly instructions, especially regarding the installation of the front fender, can lead to difficulties or even damage during self-assembly.
Toe Overlap Issue: Toe overlap is experienced during slow-speed turns, making it uncomfortable and potentially unsafe for some riders.
Heavy for Uphills: Can feel heavy and challenging to ride uphill.
Electra Loft 7D is a lightweight commuter bike with a minimalist design, designed to withstand the tough conditions of city streets and inspired by European bike culture. The easy-to-mount design, lightweight aluminum frame, and relaxed geometry make it an excellent option for commuters and leisurely riders with back pain.
The angled top tube allows easy mounting/dismounting. The feature reduces the risk of strains or injuries during long rides, making it an ideal option for those who seek a comfortable and easy-to-handle bike. Moreover, the bike's lightweight aluminum frame makes it effortless to maneuver, particularly on congested city streets.
Adding to its functionality is its compatibility with a range of accessories like baskets and bags, which is great for those looking to carry items along.
However, the bike does have its downsides. A notable concern is the toe overlap issue during slow-speed turns, which could be uncomfortable or even unsafe for some riders. Additionally, the bike's performance on uphill terrain seems to lag, feeling relatively heavy when challenged by gravity.
---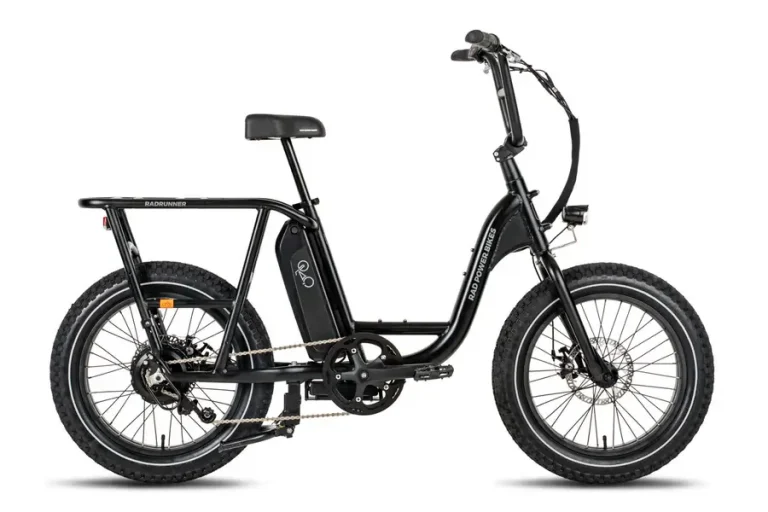 Type: Urban Utility Ebike | Frame Material: Aluminum | Motor: 750W | Range: 45+ miles
What's good 👍
Easy Assembly: This bike is designed for hassle-free assembly, making it user-friendly for individuals regardless of their mechanical skills.
Powerful 750w Geared Hub Motor: Equipped with a potent 750w motor, this eBike provides sufficient power to tackle various terrains and conditions.
Extended Range: With the capability to cover 45+ miles per charge, it offers an impressive range, reducing the need for frequent recharging.
300-pound Payload Capacity: A robust payload capacity of 300 pounds ensures it can carry a good amount of weight, making it a reliable choice for heavier riders or those with cargo.
Simplified Drivetrain: With a simplified drivetrain, maintenance is minimized and the learning curve for new riders is reduced.
What's not so good 👎
Tire Quality: The tires may require an upgrade as they may not offer the best traction or durability.
Saddle Comfort: The comfort of the saddle is questionable, which could make long rides less enjoyable.
Limited Front Basket Storage: The front basket on this eBike has a limited storage capacity, restricting the number of items you can carry with you.
RadRunner 2 is very comfortable and versatile and has an adjustable seat for better leg extension. The bike has an impressive rear rack and a front mount that can hold a large cargo basket, making it an ideal choice for carrying goods. The bike's responsive throttle and efficient cadence-sensor pedal assist are integrated smoothly into the utility bike's frame, providing a smooth and controlled ride experience.
Its powerful 750W motor coupled with a 672Wh battery ensures a reliable performance even on extended trips ( max range 45 miles ), with the battery life being commendable. The RadRunner 2 doesn't just score on the utility front but also provides a fun riding experience for people with back pain.
Overall, the RadRunner 2 is a great choice for city riding and trail riding. It has a powerful motor and good cargo capacity, making it perfect for those who need to haul loads.
Video review of RadRunner 2:
Type: Mountain bike | Frame Material: Aluminum | Drivetrain: 12-Speed | MSRP: $1,599
What's good 👍
Wide gear range: The 1 x 12 SRAM SX Eagle drivetrain provides plenty of gears for climbing and offers streamlined shifting.
Enhanced suspension: The front suspension features 120mm travel on XS-S sizes and 140mm on M-XL sizes, ensuring a smoother ride on technical trails.
Dropper post: The X-Fusion Manic dropper seatpost with remote and 125mm of travel allows quick and smooth adjustments, enhancing your control on the trails.
Excellent traction: The 27.5+ tires provide ample traction, improving handling and offering a smoother ride, even on rough terrain.
Tubeless-ready wheels: The bike's wheels are ready for a tubeless tire setup, allowing for improved performance and reduced chances of flat tires.
Reliable braking: The Tektro Auriga hydraulic disc brakes deliver reliable stopping power in various weather conditions, providing added safety on- and off-road.
Sturdy construction: The front and rear thru axles provide added rigidity to the bike, enhancing stability during challenging rides.
Accommodating weight limit: The bicycle weight limit of 300 lbs. (including the rider and all gear) ensures the bike can accommodate a wide range of riders.
What's not so good 👎
Misleading advertising: Some customers have reported discrepancies between the advertised specifications and the actual components on the bike, such as the brakes not matching the advertised model.
Dropper post reliability: There have been reports of issues with the dropper post, including breakage and limited adjustability for certain frame sizes.
Weight and tire selection: The bike is relatively heavy, which may affect maneuverability and speed. Additionally, some riders have expressed a desire for knobbier tires to enhance traction further.
Color availability: A few customers have mentioned dissatisfaction with the color options available for the bike.
Co-op Cycles DRT 2.1 is an attractive option for those who enjoy mountain biking but suffer from back pain. It boasts several fantastic features, such as a wide gear range, enhanced suspension, a dropper seatpost, and reliable braking.
While there have been some concerns about misleading advertising and potential issues with the dropper post, the bike has received positive feedback from users who appreciate its performance on the trails.
The bike is super comfortable for people with back pain because it has an excellent front suspension with 120mm travel on XS-S sizes and 140mm on M-XL sizes, ensuring a smoother ride on technical trails.
If you're looking for a mountain bike with excellent traction, reliable components, and the ability to handle technical trails, consider the Co-op Cycles DRT 2.1.
Video review of Co-op Cycles DRT 2.1:
---
How to choose the best bike for riders with back pain
Bike Types for Back Pain
The first thing you need to choose is the bike type. The most common bike types are mountain bikes, road bikes, hybrid bikes, beach cruisers, and recumbent bikes.
Generally speaking, mountain and road bikes are not among the best for riders with back pain, but you can find some good full-suspension mountain bikes and some good endurance road bikes that can work for you.
In most cases, people with back pain choose hybrids, beach cruisers, or recumbent bikes.
Beach cruisers have the most upright riding position; they often have a wide cushioned saddle and sometimes an electric motor for pedal assistance. We love them for the low maintenance and ease of use as well.
Read more: How Can You Prevent Injury While Cycling?
Some hybrid bikes are also suitable for people with back problems. Especially if you can find an urban commuter bike with comfortable frame geometry and swept-back handlebars that bring the rider's hands back and maybe up a little bit.
Recumbent bikes are the best for chronic back pain because they can be the only option for some people who can't ride any regular bike. The pedals are out in front of you with recumbent bikes instead of below the seat, and you get a substantial car-like seat with a backrest to lean against. This takes the pressure off the lower back, buttocks, and groin. ( SOURCE )
Bike Fit for Back Pain
Bike fit is crucial for people with chronic back pain. If the bike doesn't fit well, you will have problems, and you can worsen your pain. When we talk about bike fit, we first recommend buying a bike from a local bike shop, where professionals can help you choose the best type and size. If you still prefer to buy online, don't get a one-size-fits-all bicycle; get a high-quality bike with a proper bike fit.
Seat selection is also essential. If the bike seat is uncomfortable in the first few days, you might still find it comfy when you get used to it. But if it's still uncomfortable after a few weeks, you should consider an upgrade or some common ways to prevent lower back pain when cycling. Wide and cushioned saddles provide the best support for people with back problems, so get a high-quality seat and upgrade as soon as possible.
Read more: Bike Size Chart – How to Choose Your Size
Can cycling strengthen my back?
Biking can't strengthen your back muscles, but it helps core muscles and overall flexibility. Having a strong core and good flexibility is crucial for preventing pain during and after a bike ride. If you have an existing back condition, you should be very careful when starting to ride and always start with very little distance. People with spinal stenosis ( a spinal canal narrowing) might find riding an upright bicycle much better than other activities like running or walking.
Why does my back hurt when cycling?
Young cyclists often have back pain due to bad posture on the bike. You might favor one side of your body or the other and lose your balance. An imbalance in the spine will cause overuse and lower back pain. Poor bike fit is often the problem. A too-high saddle will cause your hips to rock side to side, leading to lower back pain. You should immediately stop riding your bike if you feel sudden back pain.
What features should I look for in a bike to alleviate or prevent back pain?
When looking for a bike to alleviate or prevent back pain, prioritize ergonomic design to ensure a natural and comfortable posture while riding. Opt for bikes with adjustable features like handlebars and seats to tailor the fit to your body. It's crucial to choose the correct frame size and consider a style like the step-through frame, which is easier on the back. A good suspension system is beneficial for absorbing shocks from uneven terrain, preventing jarring impacts on your spine. Lastly, select a bike with a wide, cushioned saddle to better support your weight and promote an upright riding position.
How does the frame size and style of a bike impact my back health?
The frame size and style of a bike significantly impact your back health as they determine your riding posture. A correctly sized frame ensures that you don't have to overreach or hunch to grasp the handlebars, preventing strain on your back, neck, and shoulders. The style of the frame, such as a step-through frame or a cruiser design, can promote a more upright posture, reducing the likelihood of back pain. Conversely, a racing or aero frame might force you into a hunched position, potentially causing discomfort or exacerbating existing back issues.
Are there specific brands or models recommended for individuals with back issues?
Here are some recommended bikes for individuals with back issues: Electra Townie 7D, Schwinn Discover, and Ice Adventure Recumbent Trike.