The truth is that most bike manufacturers put cheap and uncomfortable seats on their low-end models.
This is even more true for you if you are overweight. But fortunately, there is a way to make cycling more comfortable and enjoyable.
We present to you our selection of the best bicycle seats for overweight people.
We've spent a lot of time researching and reading about bike saddles to put together this list of the best bike seats for overweight riders.
Our top recommendation is the Mango Cruiser Super Wide ( Link to Amazon ) – a high-quality, thick, wide, and super comfortable bike seat. Last year we helped cyclists to buy more than 160 seats.
Top 6 Bike Seats in a Glance
We may receive compensation when you click on external links on this table.
Best Bike Seats for Overweight Person
---
Best Overall: Mango Cruiser Super Wide
---
+ Extra Thick Padding
+ Sping and Elastomer Chassis
+ Wide and comfortable
+ Great for heavy riders
– Heavy
– Seat surface is slick
---
Mango Cruiser Super Wide is a bicycle seat that ranks as one of the most comfortable bike seats available on the market. It is specifically designed for overweight riders who need the extra cushioning of their seats.
The bike seat features extra thick padding for more comfort and stability. It is made of heavy-duty vinyl, making it durable and capable of delivering a comfortable ride for a long time.
The Vinyl material also makes the saddle waterproof, which is a nice additional feature. The suspension comes with an advanced spring and "elastomer" chassis that greatly supports your extra weight without sustaining damages.
This bicycle seat comes in two colors: grey or black, from which you can choose according to your preferences. However, you will require a straight seat post that comes with a tapered mounting for perfect fitting.
In my experience, Mango Cruiser Super Wide is the best bike seat for overweight bikers because it's super comfortable, wide enough, and supports your butt the way it should. It's cheap enough, so upgrading your new bike with it would cost you less than $30.
The only downside of this bike seat is that it's pretty slick, and you might slide on it if you are not careful enough.
But using this bike seat for a few days, I can easily say that this is not an issue for me. Some riders say that the system holding the elastomers is not very good, but in my testing, I could not find any problems with that neither.
Read more: How to Make a Bike Seat More Comfortable
---
---
+ Much more comfortable than stock saddles
+ Doesn't interfere with hard cranking on the pedals
+ Great vent in the middle
– A bit heavy at 485 grams
– Expensive
---
Women-specific bike seats have grown in popularity in recent years because they're super comfortable and cheap enough to produce due to demand and mass production.
But when we talk about bike seats for overweight women, you can't find many options on the market. Selle Royal Moderate Bike Saddle is an excellent choice for women who seek comfort on their bicycles.
It has a central cutout that helps distribute weight and relieve pressure on sensitive areas.
On top of that, you have a decent ventilation system with a front ventilation channel that moves cooling air along the cutout.
The comfort of the saddle is guaranteed by some smartly designed elastomers and thick RoyalGel.
We like this saddle because it's easy to install, encourages upright riding, and is made of high-quality materials that won't age. It feels like a high-end saddle when you sit on it or touch the saddle cover material.
The only downside to the saddle is its weight. It weighs 475 grams, which adds up quickly to the total weight of the bike. But keep in mind that some stock saddles weigh even more than that.
---
Best Features: Giddy Up! Bike Seat
---
+ Comfortable and wide
+ Dual-shock absorbing ball
+ Memory foam filling
+ LED tail-light included
– A bit too soft
---
This bike seat from Giddy Up is manufactured and constructed from high-quality artificial leather that is then filled with memory foam. This ensures that the seat is capable of providing the utmost comfort to riders.
What's more, it comes equipped with an LED light so that you can enjoy your ride even in the dark. Whether you are riding to school, work, or around the park, you will find that this seat is the ideal choice.
This bike seat from Giddy Up is designed to give you some of the safest and most comfortable rides as well as the best riding experience you have ever had.
If you are looking for a smooth ride, this saddle could be your best pick. This is because the two rubber balls placed beneath the saddle ensure it effectively absorbs shock whenever you ride on bumps, potholes, or any other uneven terrain.
The seat is easy to mount on almost any kind of bicycle. It also comes with all the parts you need to install it. It comes with a protective cover to keep the seat in good condition and shape whenever you are not using the bike.
Giddy Up's bike seat is an excellent value for money because you get so many things included in the package for around $40.
---
Bikeroo Most Comfortable Bike Seat for Women
---
+ Comfortable wide cushioned seat
+ Universal rail mounting
+ Deep center cutout
+ Quality faux leather
– It could squeak and creak
---
Any time you sit on this saddle, you will undoubtedly appreciate its comfort. When you ride for an extended period on the road, you will need a saddle with excellent ventilation in the perennial area.
Bikeroo is a seat designed to deliver the best experience to people looking for enhanced comfort and quality.
In general, female cyclists have different problems than male cyclists, but there are some ways they can combat saddle soreness. This bike seat for women comes with an extra padded cushion and dual suspension to offer you comfort even when riding for several miles.
This will come in handy, especially if you are a daily commuter on a bicycle. If you are looking for a comfortable long-distance cycling bike seat for the woman you love, then this could be the best gift for her.
This saddle is designed to reduce cycling pain significantly. It is wide enough with a hollow at its center to provide an ergonomic shape that is best suited for overweight female riders.
Whether you want to use this saddle on your stylish beach cruiser, road bike, or on your indoor bike, you will most likely enjoy the comfort you need on every occasion.
This is because it will help you relieve pressure on your sensitive parts. It also features a waterproof cover that will ensure your bike seat is protected from rain and sweat.
Additionally, the saddle is flexible and easy to mount to give you a quality ride. Owing to its universal rails mount system and the bicycle seat adapter, you will definitely be receiving way more than what you pay for.
In fact, it won't take you more than 5 minutes to mount the saddle fully so that you won't waste time. Even though this bike seat is marketed for women, I found it quite comfortable for men. So I guess it's unisex.
---
Best for Performance: Fizik Aliante Gamma
---
+ Super lightweight at 0.57 pounds
+ Endurance road cycling ready
+ Carbon-reinforced nylon shell
+ Integrated won'tSystem compatible
– Eye-watering price tag
---
Fizik Aliante Gamma is the best performance and endurance saddle that you can ride on for longer hours, minus thinking about your bum pain and hampering numbness. If you are an overweight rider looking for a performance bike seat, you might already find the best one here.
Besides giving you value for your money, this saddle also provides you with a comfortable ride for longer distances.
It is made from the synthetic Microtex cover that makes it water-resistant as well as lighter than leather. The nylon carbon-reinforced shell provides enhanced comfort and shock absorption that dampens vibrations.
The rails are designed to provide excellent support and strength to weight ratio to handle the pressure and the rider's weight exerted on it perfectly.
This bike seat is not made specifically for heavy riders, but it's a perfect choice for anyone who wants to spend some extra money on a high-quality product.
Note that you will need more time to get used to any performance bike seats. But once you get comfortable, you won't don't of changing it.
Related: Why Are Bike Seats So Uncomfortable?
---
Best on a Budget: Zacro Oversized Bike Seat
---
+ Abrasion-resistant Microfiber leather
+ Double-density gel foam padding
+ Double thickened shockproof ball
+ Bang for the bucks
– Seat is too hard
– Not compatible It's MTBs
---
Zacro Oversized Bike Seat is another great budget option for heavy riders' bike saddle. It's made of microfiber eco-leather, which is abrasion-resistant and breathable.
The gel foam is perfect and really looks like double- density one. The saddle is very soft and comfortable on longer rides, and I can say that it deserves to be in our review as one of the best on the market.
This bike seat also features a double thickened shockproof ball and damping cushion, making it even more comfortable. It's wide enough to accommodate every type of rider, so you don't have to worry about it.
This bike seat is suitable for a 22.2mm bike hole whose inner diameter is 38mm, and the outer diameter is 53mm.
I like this bike seat because it looks just like one made of genuine leather. It's easy to install, and you won't complain about comfort at all. Also, it's cheap enough to come for less than $30.
Unfortunately, there are some downsides as well. The piece staying between the springs is made of plastic, which is probably the first thing that will break down over time.
This bike seat is also more suitable for cruiser bikes, which means that it's not good if it isn't used for mountain bikes.
---
Do I really need a bicycle bike seat for an overweight person?
Here you have a few points which might convince you that you definitely need a specially designed seat for heavy riders.
Using the wrong saddle for overweight persons will result in soreness and pain that negatively affect your well-being. This is because numbness, boils, and other physical ailments will characterize your bike riding experience.
A great bike seat for overweight riders will be exceptionally comfortable and capable of delivering an enjoyable riding experience.
A bike seat for an overweight person is designed with special features to make sure the riders have a comfortable ride. With the seat, you stand to benefit greatly if you are overweight.
Most bike seats that come preinstalled are garbage. Upgrading to a better one is always a good investment.
How to choose the best bike seat for overweight riders
Finding the best bike seat for heavyweight guys can be challenging because it will take more than just a little effort from seat'so determine what saddle is best for you to ride on, consider a few aspects.
Suspension of the seat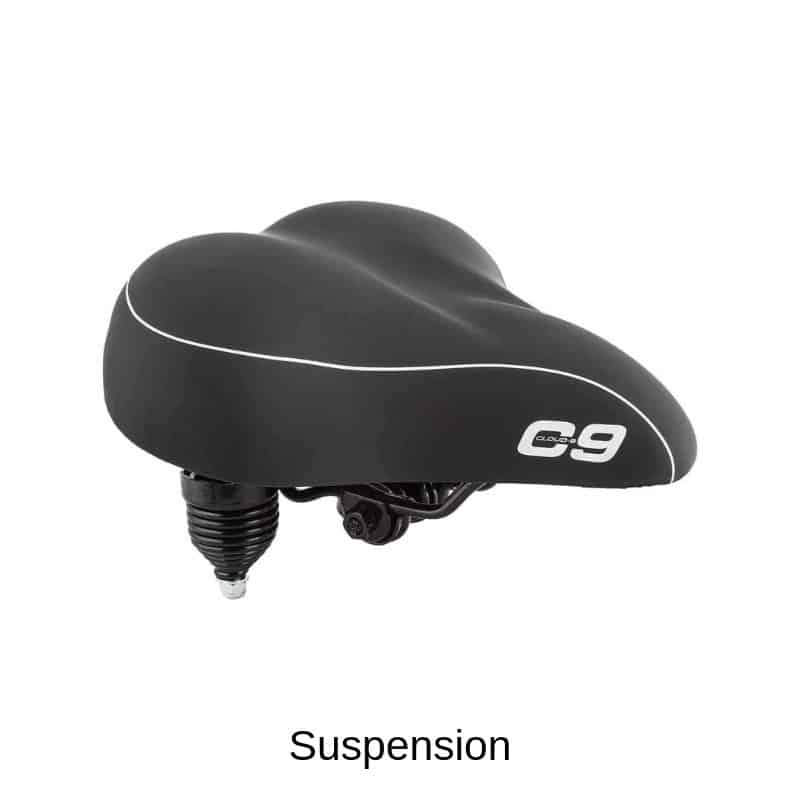 A rider's comfort is often dependent on the type of suspension the bike has under the seat.
The suspension absorbs the impact from the body more, especially when you are rolling over rough terrains.
Although most suspensions are made of elastic springs that allow the saddle to move and level up once you sit, some bike seats don't feature suspensions.
As such, the better the suspension the better the seat will be.
Note that if you buy a bad quality bike seat for overweight riders, the suspension in most cases is very bad and you will roll around uncomfortably all the time.
It's essential to buy a bike seat with a suspension tested and reviewed by someone like me.
The Nose of the bike seat
It is unavoidable that you will be rubbing your thighs against the nose of the saddle when riding for some time.
Typically, heavyweight riders will have a small thigh gap that will make friction a real problem.
This will bring some discomfort so you will want to minimize the rubbing as much as possible.
As such, you should go for a narrow nose that ensures the friction between your thighs and the saddle is reduced significantly if not eliminated.
Saddle's Width
Whenever you are shopping for a bike seat, its saddle width should be the first consideration you make if you want to settle on the right seat.
The saddle width shouldn't be enough to comfortably accommodate the space in the middle of your two sit bones.
Overweight riders need a wider seat than average-weight riders to support the larger buttocks comfortably.
You only need to ensure that the seat isn't too wide to cause excessive chaffing or rubbing.
Seat Cushion
Sometimes, you might think that going for the most cushioned bicycle saddle you find on the market is the best idea.
However, when it comes to bicycle seat cushioning, the more isn't always the best.
You might end up placing unnecessary pressure on your sensitive parts if you go for an extra-cushioned seat.
In most cases, it's advisable to choose the seat that comes with the least cushioning for comfortable cycling.
Seat Mounting
You will also need to consider the seat's mounting procedure to ensure you get a seat that works best for you.
The mounting you choose needs to agree with your bike to avoid unnecessary customizations that may cost you more on installation or damage the present bike mount.
The good news is that most bike seats are made to accommodate practically any bike on the market.
Cover of the seat
Although the seat cover is the least considered part of a bicycle seat, it is one of the crucial parts of a bike seat.
This is because the cover determines the durability of the bike seat as well as its ventilation. Moreover, it greatly affects the traction between your body and the seat.
As such, it is wise to choose materials that will withstand the pressure and friction that will be exerted by your body.
According to Expert Advice, leather has always been great because it provides breathable capabilities and longevity.
It will also offer you great traction, which means that you will not slide awkwardly when cycling.
The bad news is that today you can't find a bike seat with genuine leather on it. But most eco-leather options are good enough to go.
The durability of the bike seat
The general rule of thumb here is that foam saddles break down much easier over time.
They compress and wear out with your riding, and we can't do anything about it.
This is especially true when an overweight person uses them. Of course, this doesn't mean that foam seats are not good.
On the contrary, they can be a perfect choice for anyone who needs extra cushioning.
When we talk about durability, we need to mention the trails as well. Be sure that the trails of the seat are made of durable metal that can hold your weight.
One more thing before you go…
Now let's chat! Which bike seats do you think are great? Feel free to comment below and after reading this article share it with your friends who love biking too.
What is the best bike seat for overweight riders?
Our top recommendation is the Mango Cruiser Super Wide – a high-quality, thick, wide, and super comfortable bike seat.
Editors' Recommendations: