There is a common feeling among all cyclists around the world – we all love stats! By stats, I mean statistics like time, speed, average speed, miles, heart rate and much more. The most convenient way of having all these stats on the go is using a dedicated bike computer. We at YesCycling also love all these stats and we have decided to test and review the most popular choices among cyclists.
We know that today we have hundreds of bike computers on the market and choosing the right one is never an easy task. I know that it's quite difficult to choose the right bike computer for your needs and I'm here to help you with the decision. We've tried so many bike computers to find out which is the best one. Some cyclists prefer a GPS sports watch for cycling but most adventurous riders still opt-in for the dedicated bike computer.
How To Choose A Bike Computer
There are so many options out there on the market that we can say even the professionals are having a hard time choosing the right one for them. This is especially valid for the casual rider or the beginner road cyclist who is just new in this sport and just starting to explore. We all agree that a bike computer should be super easy to install, with big and good display and a lot of metrics, stats, and features. Also, every bike computer should be very well made and rugged because cycling is not a joke.
Cycling is a brutal sport and the conditions on the road could change in a moment from cold weather to rain and high altitudes. Most of the bike computers out there look amazing in the ads and this is normal but the reality is different. In reality, there should be the best bike computer for each cyclist depending on the needs, cycling habits, fitness level, and desires.
Most of the bike computers are on the market for much more years than for example a smartphone. The reason is that the innovation levels are too low and each new model is not so different than the previous one.
Also, it is a product that you buy and most probably use for 5+ years and this is one of the reasons you need to be informed before you click the buy button. But ultimately some brands are trying to change this and they release new models on a more regular basis ( probably changing models around the 2nd year of the lifecycle of the product ).
Other Things to Consider
You need to think about it and answer a few questions in order to decide what exactly do you need from a cycling computer. The first one is what information do you want to see on the display of the bike computer and how will you use it.
The second question and maybe the most important one is how much are you willing to spend. And the third one is what additional features and functions do you need in a bike computer. When you have the answers to all these questions you also need to determine what type of rider are you.
What type of rider are you?
Casual rider – maybe you are just using your bike for a casual ride on the weekend or going to the local grocery store. In this case, most probably you don't need any bike computer at all but if you just want to see how far you have ridden and for how long, there are some bike computers for you to consider.
The Enthusiast cyclist – the enthusiast cyclist is the one who rides to/from work each day and makes some tours on the weekends. The enthusiast is interested in all kind of stats from a bike computer but for the moment is not very informed how to use it. He is willing to learn more about the sport and he wants to have a good cycling computer. One day the enthusiast may become a competitive cyclist.
Competitive cyclist – this one needs all the available stats and features. Heart rate monitor is a must here not to mention GPS. For the competitive cyclist is very important to beat the times and to become better rider after each ride. All type of cycling power meters is also installed on the bike of a competitive cyclist. A competitive cyclist should look for the high-end bike computers.
Types of bike computers.
In my opinion, we can divide the dedicated bike computers into two types. The first one is a bike computer without GPS functionality. This is the normal, cheap bike speedometer which is very good for the casual rider. It can be fitted practically to every bike. They use a magnetic sensor which is attached to the front wheel and it could transfer the data to the device wirelessly or with a cord.
The magnetic sensor attaches to a spoke on the bicycle wheel in a position where it will pass by the sensor unit within millimeters. Bike speedometers are really good for the casual rider and they are a good entry into the cycling world.
The second type of bike computer is the one with GPS functionality. These devices pick up data from the GPS satellites and convert the data into ride information. The enthusiast rider and the competitive rider are using this type of bike computers. There are a lot more of data information, the screens in most cases are much more customizable and the units can be swapped between bikes.
Of course, the GPS units are much more expensive, and they have included the battery, so it means the battery life is limited and you have to charge it more frequently.
Other bike computer features to consider:
There are many more features on a cycling computer to consider before deciding which one is the best for you. Below you can see the 5 most important features in my opinion.
Battery life is essential, especially for GPS units. For the competitive cyclist, a drained battery in the middle of the ride is a disaster. Most of the manufacturers know that, and they try to do their best to compromise between battery life and size of the unit as both aspects are crucial for the users. Determine how long is your average ride or better your most extended trip and choose a GPS bike computer which can offer such battery life. h battery life.
Of course, for the non-GPS units, there are no such issues. Most of the standard bike computers use a CR2032 battery which lasts for years, and the only data which can be lost if the battery is drained is the total mileage.
The backlight is a must feature if you ride at night because, without it, the unit is useless when it gets dark. If you don't need night ride today maybe you will begin in the future. Think about it twice before you decide if it is an important feature or not. Most of the GPS bike computers have a backlight feature, but some of them are not so good. You will have to check this feature before clicking the buy button.
Mapping is an extremely useful feature. Going for a longer ride around on the outskirts of the city, or just exploring a new area, having a map with you is always better. If you a touring type of rider it should be a must feature. Some of the most expensive units include maps and route guidance. In 2018 it seems that even some entry-level models are getting mapping features.
Connectivity is a huge thing these days. The most advanced GPS cycling computers use Bluetooth and/or ANT+ to connect with other mobile devices and power meters. Most of the power meter accessories are using ANT+ but many new models support both. Also, Bluetooth connectivity is essential if you want to connect your dedicated cycling computer to your smartphone.
The Best Overall Bike Computer
On 1st of July 2015, Garmin announced a new bike computer which has changed the game entirely and instantly became – the best GPS cycling computer. Garmin Edge 520 became immediately the most advanced and powerful unit you could buy at that moment and the best cycling computer. A lot of the new features of the Garmin Edge 520 are also available at the other Edge models including 510, 810, 1000 and even on the cheapest unit 25.
The cycling computer offers some extremely good features which were introduced for the first time by Garmin.
Here you have a list of some features:
Strava Segment integration for the first time in a GPS unit;
3rd party maps;
Basemap;
Bluetooth Smart Text and call integration;
Recovery tactics;
FTP tracking and testing;
Personal records of the cyclist;
Cycling dynamic metrics;
Ability to control the new devices offered by Garmin – Varia bike radar and Varia lights;
Addition of GLONASS support;
Time in Zones;
Integrated live tracking with a phone;
ANT+ support;
Support for Edge Remote Control accessory;
Shimano Di2 integration;
Support for Garmin VIRB control/integration;
If you are an advanced cyclist, results-oriented cyclist or just bike enthusiast the device is perhaps the best choice for you. The unit is known as the benchmark for bike computers around the world, and there is a good reason for that. With the unit, Garmin targeted the competitive cyclists who are looking for Strava Live Segments, Di2 integration, FTP testing, and a VO2 Max calculation.
Apart from that, the unit also includes virtually every metric like speed, distance, time, average speed, elevation, and much more. If you integrate the unit with a heart rate monitor ( strap ), you can, even more, increase the functionality.
The display of the unit is 2.3 inches in high-resolution color and is just gorgeous. The screen clarity and the viewing angles are outstanding as a norm in any Garmin device. One of the very few things that we don't like in the Edge 520 is that the unit's display is not touchscreen and uses 7 buttons in total instead which is a little bit old school but still very easy to use with gloves or sweaty hands.
But let's face it, the touchscreen is not a selling point for a bike computer at all. When it comes to riding with the unit it is flawless as any other Garmin product. It works just perfect and it's extremely easy to install and use. One of the best features of the Garmin Edge 520 GPS Bike Computer is the Strava Live Integration. As we know, Strava is one of the 5 best running/cycling apps for 2017!
If you already have used Strava you should know very well how engaging and fun is to check your Strava Segment times and positions on the leaderboards after a good ride. Now you can see all this information live while cycling. You can race against your friends and also you can see live how far behind or ahead you are from the record you are chasing.
As we mentioned previously, Strava is one of the best cycling apps out there and we absolutely love using it every day. Edge 520 is not the first unit which introduces this feature but we can say that it's the one which did it flawlessly. Also, the feature will be available on many other GPS bike computers in 2016 and 2017.
The device includes one of the most desirable features in such unit – mapping. Unfortunately, it is the base map which is very basic and not very good at all. Even as very basic maps you can use it if you are lost or want to check something. If you need more advanced maps you should definitely look for another unit with better mapping. Another new feature of the bike computer which we like a lot and use frequently is ANT+ Trainer Control.
With it, you can control your electronic trainer directly from the device, which is handy. You can easily set the resistance of the trainers, set the wattage, etc. Unfortunately, only a few electronic trainers support that at the moment because it is a new standard ANT+ FE-C. In the future, we will see many new electronic trainers with the function included as a standard.
In conclusion, I can say hands down that the Garmin Edge 520 is the best GPS bike computer overall unit on the market right now. In our Garmin Edge 520 review, this unit behaved just as expected. The device is just perfect for beginners and advanced cyclist.
If you are a result oriented cyclist, the device is an outstanding choice too. I recommend the Garmin Edge 520 Bike GPS as it is one the cheapest ones with Strava Live Segments and ANT+ Trainer Control integration. We are giving our verdict with a 10/10.
The Best Affordable Bike Computer – Polar M450
The unique thing about the Polar M450 GPS Bike Computer is its price. With a sub $200 price tag for the unit with included heart rate monitor, it is a super deal. Most of the competitors with the same functionality, features, and characteristics cost at least $100 more. .
The M450 is designed to be just a budget entry model for Polar, but with all the features included, we can easily say that the unit is a mid-range model. Polar M450's size is almost identical to the Garmin Edge 500 and 520. The screen is quite big, and the contrast is fantastic. I can say that it is perfectly readable under any conditions, even in direct sunlight. Also one of the exciting features is the backlight which can be turned on by the dedicated button.
Unfortunately, the backlight will not turn on automatically when it gets dark, and you have to do it manually. It's quite strange having in mind the unit is equipped with an ambient light sensor, but it is not a big deal. Another cool feature is the so-called safety light, which is a front light with automatic on and off function. It's handy when you transit a tunnel, for example, but the backlight is not very powerful thus not able to replace an ordinary bike headlight.
The mount of the device is similar to Garmin's quarter-turn mount, but it's not compatible with it which is a shame having in mind the vast variety of 3rd party mounts available for the Garmin units. Anyways the mount is straightforward to install, and I have had just one issue with it the first time with my hybrid bike. The problem was that my handlebar is quite thin and with a strange non-standard form but with a few tests, I have found the best position and have managed to install it correctly.
Polar M450 GPS Bike Computer does have a slight angle upwards which helped a lot for the good visibility.
One of the benefits of the Polar unit is that the charging is standard micro-USB, which is waterproof to IPX7. That's handy having in mind the many USB cables that we have in our houses these days. After you finish a ride, you can transfer wirelessly the data pushing the back button for a few seconds. ds.
This is one of my favorite features because I can super easy upload my ride to Strava in just 30 seconds or less while I park my bike.  Yes, the device is compatible with Strava but through the Polar Flow, which is Polar's software.
I have to tell you that the device is not touchscreen compatible and you have to navigate through the menus using a series of buttons. You have one on the front, which is the OK button and Start/Lap button. The left side button is for turning on the device and also a back button. On the right/bottom side, you have the navigation buttons for up/down the menus.
Also, there is a button on the left side of the unit, which is turning on and off the backlight. It took me around 5 minutes to figure out the functionality of the buttons, but after that, I can navigate the device even with eyes closed. Another benefit of the buttons is that they are easily reachable if you are riding with summer gloves.
I bought the version with the heart rate monitor included, and I have to say that this was a sage choice. With it, you have the full functionality of the device. With the heart rate monitor, you get the Training Benefit, Orthostatic Test, Fitness Test, Training Load, and Recovery Status. I will get more details of each of the functions below:
Training Benefit is a healthy motivating feedback available to you immediately after finishing a ride. This feature will tell you the effect of each training session.
Orthostatic Test is an easy and reliable way to determine your current condition. Repeat the test regularly to learn what to expect from your heart rate and what can affect it, then adjust your training to allow your body to recover when needed.
Fitness Test is a 5-minute test that measures aerobic fitness from your resting heart rate, heart rate variability, and your background info.
Training Load is a function that shows how your training affects your body and helps you compare different loads.
Recovery Status shows you the time you need to recover until your next ride.
Technical information about the device:
Battery life: 12-16
GPS Chipset: U-Blox UBX-G7020-CT GPS chip (PLK)
Mount: Polar twist-lock mount (same as V650)
Waterproofing: IPX7
GPS Recording Rate: 1-second
Barometric altimeter included
Black/white display with backlight
Sensor Compatibility: Bluetooth Smart Power Meters, Bluetooth Smart Speed, Cadence, Heart Rate Sensors
If you are new to training with a heart rate monitor, you will be pleased with the device. Polar is the company which introduced the first commercial EKG monitor in 1970s. The Finnish company produces some of the best heart-rate-centric devices and there is a good reason for that. t.
You can easily edit and customize the display screens on the Polar Flow software, but unfortunately, you can't customize anything while you ride. The information variations are pretty much standard with information like distance, speed, average speed, heart rate, elevation, time, temperature, and more.
For example, one of my favorite customized screens is the one that I use on my morning commute to work, which is with speed, temperature, and time. When I am on a longer ride, I use heart rate zones and heart rate or pace, average speed, distance, and heart rate.
Polar M450 GPS Bike Computer is a pure, reliable, and a very well made product. It's our pick of the best affordable bike computer with heart-rate monitor. If you are looking for your first GPS bike computer with a heart rate monitor you don't have to look any further. For your money, you get an outstanding screen, very good battery life, heart rate monitor functionality and many additional features. We are giving our verdict with a 9/10.
UPDATE: Now there is a new updated model Polar M460!
The Best Cheap Bike Computer – Garmin Edge 25
Garmin Edge 25 Cycling GPS is the smallest GPS cycling computer and the best cheap GPS bike computer in our opinion. The device was initially released in June 2015, but for a cycling computer, it is a relatively new product even today. It's a replacement of the old Garmin Edge 200 which was introduced years ago. So it is again a fundamental unit which should be the entry-level device for first-time buyers.
Here is the thing:
The most important thing about the Garmin Edge 25 is its size. It's a tiny device ( 4 x 4.2 x 1.7cm ) and also super light ( 25g ). And yet very capable and easy to use the Garmin Edge 25 is just perfect for the newbie. The device is using the standard Garmin quarter-turn mount, and we don't have any complaints about it. Also, the market is flooded with perfect third party mounts.
For such a small device, the display is quite good and readable enough. It is still small but with big numbers on it, and it is super sharp. The pixel density is 128×160. You can navigate the Garmin Edge 25 using the four dedicated buttons. Upper left button is for backlight, lower left is selecting back and lap button. The top right button is for entering ( select ), and the lower right button is down ( changing selections ). The unit is not a touchscreen, but that's OK as the most important thing here is the price.
The device is very minimalistic and super easy to use. You get three screens during your rides, and you can scroll through them. You can configure two of the bike computer screens on your computer before your trip to show a range of different metrics. Garmin Edge 25 GPS Bike Computer is showing the essentials.
If you are a competitive cyclist or a cyclist hungry for stats, maybe this is not the best choice for you. The display shows just up to three stats per screen and depending on the data, sometimes only two stats.
The metrics available: Distance, Time, Average Speed, Speed, Calories, Cadence, Total Ascent ( using GPS, no barometer included ).
Garmin Edge 25 Cycling GPS gets GPS signal super fast, and we can say that it is much faster than the old model Garmin Edge 200. Nothing to add here as all of the Garmin devices is top notch GPS products.
It also offers Bluetooth and ANT+ connectivity. Thus it is compatible with almost all the speed sensors and heart rate monitors in the market. The Bluetooth connectivity is basically for syncing with a smartphone. One of the downsides of the GPS unit is that it is not compatible with power meters. But again that's OK having in mind it is an entry-level device.
Another great feature of the Garmin Edge 25 is the LiveTrack. It is a function that let people know where you are in real time. Thus friends and family can follow your long distance rides. Also, as the device is Bluetooth-enabled, it can show call and text notifications on display, making it very safe to use while cycling. We all know that using your smartphone while cycling on the road is not a very smart idea.
The battery life is claimed to be around 8 hours of GPS use. One of the things that we don't like about this unit is that it is not charging via mini USB charge port. Instead, it uses four pin contact and dedicated cradle. Of course, it works perfectly well, but we don't understand why in 2016 someone would use such a charging method when the mini USB is an industry standard.
Also, you can't charge the device with the external battery. You maximum ride will be 8 hours. If you lose that dedicated charging cradle, you would have just one option to buy a new one, and it costs around $20.
Another great feature, or at least on paper, is the presence of navigation. It's a fundamental function, and it works similar to the Edge 510. It's even more limited because of the small screen. It offers turn notifications and follows a route, and that's all. You need to upload a FIT file to your device via Garmin Connect before your cycling. It's not possible to make a route on another platform or during a ride. It works well but as it is elementary. You should look elsewhere if the navigation is crucial to you.
Garmin Edge 25 Cycling GPS is the best cheap bike computer, and we recommend it for a casual cyclist or even advanced cyclists looking for the first GPS bike unit. It's minimal and compact device and only adds 25 g to your bike's total weight. It is easy to use and most probably very reliable as all Garmin devices are. The only cons are no power meter and limited navigation. Talking about prices, the Garmin Edge 25 is one of the cheapest GPS units on the market right now.
The Best Bike Speedometer – CatEye – Strada Wireless Cycle Computer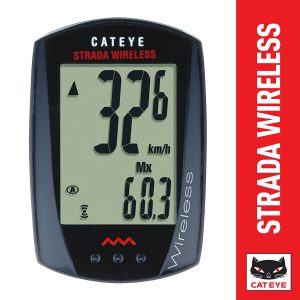 So if you are just a casual rider you should look for a standard bike speedometer without GPS module. The market is flooded with such models which range from $5 up to $100. This model is one of the best we have tried on YesCycling in terms of durability and quality. CatEye makes really good bike computers without GPS modules and this one is not an exception.
It's a wireless model which means that the sensor and the bike computer itself are connected wirelessly without any cables and extra stuff. If you are concerned about the battery life ( some wireless models drain the battery quickly ) you have to know that the bike computer has a battery life of 1 year ( 1 hour/day cycling ) and the sensor has a battery life of 6250 miles ).
CatEye – Strada Wireless Cycle Computer is waterproof so you will not have to worry about the weather at all – rain or shines you are covered as the ad says. The stats which you can track with this device are current, max and average speed, total distance, trip distance, elapsed time, a pace arrow, and clock. Practically all you will need in your daily commutes.
In conclusion, I will say that Cateye – Strada Wireless Cycle Computer is an excellent choice for any casual rider who doesn't want to spend money on GPS bike unit but still wants to track some stats. The device usually sells for around $50, so it's cheaper than any dedicated GPS bike computer. If you're going to track more precisely you stats or maybe to track your location as well, you should look for a more advanced unit – for example the Polar M460 or Garmin Edge 25.
I want to help 10 000 000 people around the world learn how to ride a bicycle and find the joy of cycling to work. Thank you for being a part of the Yes Cycling community.