After testing more than 30 different bike computers over the years we think that the best one for everyone is the Garmin Edge 520 Plus. For an affordable price tag, you get everything you will ever need in a GPS bike computer.
There is a common feeling among all cyclists around the world – we all love stats!
By stats, I mean statistics like time, speed, average speed, miles, heart rate and much more. The most convenient way of having all these stats on the go is using a dedicated bike computer.
If you don't have the time to read more, here you can check the best bike computers:
We at YesCycling also love all these stats and we have decided to test and review the most popular choices among cyclists for 2020.
We know that today we have hundreds of bike computers on the market and choosing the right one is never an easy task.
I know that it's quite difficult to choose the right bike computer for your needs and I'm here to help you with the decision.
We've tried so many bike computers to find out which is the best one. Some cyclists prefer a GPS sports watch for cycling but most adventurous riders still opt-in for the dedicated bike computer.
How To Choose A Bike Computer
There are so many options out there on the market that we can say even the professionals are having a hard time choosing the right one for them.
This is especially valid for the casual rider or the beginner road cyclist who is just new in this sport and just starting to explore.
We all agree that a bike computer should be super easy to install, with a big and bright display and a lot of metrics, stats, and features. Also, every bike computer should be very well made and rugged because cycling is not a joke.
Cycling is a brutal sport and the conditions on the road could change in a moment from cold weather to rain and high altitudes.
Most of the bike computers out there look amazing in the ads and this is normal but the reality is different. In reality, there should be the best bike computer for each cyclist depending on the needs, cycling habits, fitness level, and desires.
Most of the bike computers are on the market for longer period than for example a smartphone. The reason is that the innovation levels are too low and each new model is not so different than the previous one.
Also, it is a product that you buy and most probably use for 5+ years and this is one of the reasons you need to be informed before you click the buy button.
But ultimately some brands are trying to change this and they release new models on a more regular basis ( probably changing models around the 2nd year of the lifecycle of the product ).
Other Things to Consider
You need to think about it and answer a few questions in order to decide what exactly do you need from a cycling computer.
The first one is what information do you want to see on the display of the bike computer and how will you use it.
The second question and maybe the most important one is how much are you willing to spend. And the third one is what additional features and functions do you need on a bike computer.
When you have the answers to all these questions you also need to determine what type of rider are you.
What type of rider are you?
Casual rider – maybe you are just using your bike for a casual ride on the weekend or going to the local grocery store.
In this case, most probably you don't need any bike computer at all but if you just want to see how far you have ridden and for how long, there are some bike computers for you to consider.
The Enthusiast cyclist – the enthusiast cyclist is the one who rides to/from work each day and makes some tours on the weekends.
The enthusiast is interested in all kinds of stats from a bike computer but for the moment is not aware of how to use it. He is willing to learn more about the sport and he wants to have a good cycling computer.
One day the enthusiast may become a competitive cyclist.
Competitive cyclist – this one needs all the available stats and features. Heart rate monitor is a must here not to mention GPS.
For the competitive cyclist is very important to beat the times and to become better rider after each ride.
All type of cycling power meters is also installed on the bike of a competitive cyclist. A competitive cyclist should look for high-end bike computers.
Bike Computer Types Explained
In my opinion, we can divide the dedicated bike computers into two types.
The first one is a bike computer without GPS functionality. This is the normal, cheap bike speedometer which is very good for the casual rider. It can be fitted practically to every bike.
They use a magnetic sensor that is attached to the front wheel and it could transfer the data to the device wirelessly or with a cord.
The magnetic sensor attaches to a spoke on the bicycle wheel in a position where it will pass by the sensor unit within millimeters.
Bike speedometers are really good for the casual rider and they are a good entry into the cycling world.
The second type of bike computer is the one with GPS functionality.
These devices pick up data from the GPS satellites and convert the data into ride information. The enthusiast rider and the competitive rider are using this type of bike computers.
There are a lot more of data information, the screens in most cases are much more customizable and the units can be swapped between bikes.
Of course, the GPS units are much more expensive, and they have included the battery, so it means the battery life is limited and you have to charge it more frequently.
Other Things to Consider Before Buying
There are many more features on a cycling computer to consider before deciding which one is the best for you. Below you can see the 5 most important features in my opinion.
Battery life is essential, especially for GPS units. For the competitive cyclist, a drained battery in the middle of the ride is a disaster.
Most of the manufacturers know that, and they try to do their best to compromise between battery life and size of the unit as both aspects are crucial for the users.
Determine how long is your average ride or better your most extended trip and choose a GPS bike computer that can offer such battery life.
Of course, for the non-GPS units, there are no such issues. Most of the standard bike computers use a CR2032 battery which lasts for years, and the only data which can be lost if the battery is drained is the total mileage.
The backlight is a must feature if you ride at night because, without it, the unit is useless when it gets dark. If you don't need a night ride today maybe you will begin in the future.
Think about it twice before you decide if it is an important feature or not.
Most of the GPS bike computers have a backlight feature, but some of them are not so good. You will have to check this feature before clicking the buy button.
Mapping is an extremely useful feature.
Going for a longer ride around on the outskirts of the city, or just exploring a new area, having a map with you is always better.
If you are a touring type of a rider, it should be a must feature. Some of the most expensive units include maps and route guidance. In 2020 it seems that even some entry-level models are getting mapping features.
Connectivity is a huge thing these days.
The most advanced GPS cycling computers use Bluetooth and/or ANT+ to connect with other mobile devices and power meters.
Most of the power meter accessories are using ANT+ but many new models support both.
Also, Bluetooth connectivity is essential if you want to connect your dedicated cycling computer to your smartphone.
Best Bike Computers for 2020 – The Top Picks by YesCycling!
Watch the small print when you explore the idea of purchasing this bike computer because Garmin offers you deals on bundles that can throw the price of this essential tool into overdrive.
The unit itself runs about $227, but if you click on the wrong link, you're going to find yourself with a mountain bike bundle costing $276 or a speed and cadence bundle that costs a whopping $360.
Forewarned, it's time to take you through the features and benefits you'll enjoy if you decide to make the Garmin Edge 520 your very own computer/navigation assistant.
Highly-rated-and who isn't impressed by the Garmin brand? – this advanced road tool offers advanced navigational perks, new rider alerts and because you get pre-loaded cycle maps with turn-by-turn guidance, you can get lost in thought and still not lose your way.
What's the secret behind this handy product?
Preloaded Strava Live Segments that are so intuitive, you get to compete against yourself second-by-second so if your goal is to beat a personal best (or if you want to surpass the performance of the dude who keeps outpacing you!), you get real-time results on the screen that allows you to assess where you're at in terms of either objective.
Assuming that you're not so out of breath from your effort that you can't carry on a conversation, the Edge 520 Plus allows you to connect with your compatible smartphone using LiveTrack and Group Track.
Expect smart notifications, rider-to-rider messaging and Incident Detection is part of the package, too.
If that's not enough to suit your particular style, you even get specific Vo2 Max monitoring capability/recovery time tracking that can be interfaced with your choice of power and heart rate monitors.
In other words, it won't wash your bike, but it will keep you safe and connected.
Fans of this unit rave about their customer service experiences when trying to master the features, so if your learning curve is less than stellar, add this to your reasons to consider the Garmin Edge 520.

PROS:
Up to 15 hours of battery life
2 mounts and charger included
Easy to learn/use
Improves speed and cadence
Auto start and ride saving eliminate manual uploading
CONS:
Knows issues with iPhone pairing
No touchscreen capability
While fairly new to the market, Wahoo Fitness products claim to be compatible with 110 different training apps.
So even if the one you prefer is unique or exotic, you can hold the company's feet to the fire if it won't interface with this affordable bike computer that is in the same price ballpark as the aforementioned Garmin.
Relatively well-reviewed by shoppers, the model name "Bolt" could bring to mind security and sturdiness and this Wahoo product dares you to download, pair, configure and ride in keeping with your particular need for information and connectivity.
In fact, Wahoo's free ELEMNT Companion App automates pairing and manages the configuration process so smoothly, you can expect a fast and frustration-free setup experience.
What will this compact piece of technology do for your rides?
Plenty. Enjoy automatic route downloads and uploads with these compatible third-party apps: Ride With GPS, Best Bike Split, Komoot, Singletracks, and MTB Project.
You can fully integrate Strava Live Segments that will allow you to monitor your progress, asses your current status and even give you the kick in the bum you need to beat your goals.
If you like the idea of being your own route builder, you can do it by accessing your Bolt and checking out the pop-up and LED screen notifications that offer turn-by-turn efficiency.
This feature is especially helpful if you're the sort who tends to hide the fact that you make the occasional wrong turn because you've been mulling the advisability of your last relationship.
Get everything you need to jump into the saddle and move in the right direction: The Bolt, a nicely engineered and integrated Aero Out-Front mount, stem mount and the charging cable you require to keep the system up to speed.
It even works with Garmin Speed and Cadence Sensors so if you've wanted to change over from Garmin and try this brand out, you can do so since this device offers dual bands and interfaces with all ANT+ sensors and Bluetooth.
PROS:
Amazing bundle; heart rate sensor is included
Compatible with Zwift for indoor cyclists
Accurate; advanced; problem-free
Fast-search GPS/zoom screen
Aerodynamic cabinet styling
CONS:
Screen could fail
Wahoo customer service may disappoint
Insufficiency of reviews may trouble you.
Polar is a brand that I admire a lot. I reviewed the affordable M460 bike computer, and the M430 sports watch.
What I personally like about Polar is that they're trying to destroy the hegemony of Garmin, and as an underdog, they will always be in my heart.
Now let's dive into the review itself.
If you're on a budget and don't care about (or already own) a compatible heart monitor, you can snag this cycling computer for just a little over $200.
Otherwise, expect to fork over about $250 for the Polar H6 Bluetooth Smart heart rate sensor.
The rechargeable battery uses a standard micro USB cable and you can look forward to around 10 hours of battery life when the computer is in training mode.
On the topic of training mode, this advanced cycling computer offers you integrated GPS and unique Smart Coaching training capability, so you can ditch the human coach who screams at you because you haven't developed the right cycling form under his or her watch.
In fact, motivating training feedback gives you instant access to your progress, so you know exactly how much to kick it up to get to your objective.
The color touch-screen is relatively large when compared to others; it measures a readable 2.8-inches. Get your data on the fly without having to squint because no matter how fast you happen to be going, you'll still be able to check that screen.
Do you ride at night?
You'll appreciate the front-mounted smart visibility LED light that is automatically triggered in low-light conditions, so you don't have to start fumbling with switches in mid-pedal.
If you've had bad luck in the past because your bike computer was taken out by Mother Nature, you'll be happy to read that this one is water-resistant so let the rain pour down.
In fact, one of the most popular features of this particular cycle computer is one's ability to use the barometric pressure sensor so you perpetually receive accurate altitude data.
Thanks to clever engineering, the bike mount that comes with this unit are of solid construction and easy to position.
Once you're up and running, your Polar cycling computer will immediately synch and deliver instant data, training analyses and sharing via the Flow app and Polar web service.
Additionally, Polar Flow syncs with Strava if that's your preferred app.
Enjoy seamless connectivity, that all-important water resistance factor (IPX7) and quality, high res images (240 x 320 dpi) every time you consult the touch-screen to make changes or figure out where you are in terms of the goals you've set for the ride.
PROS:
Large, easy to read display
Good value for the price
New user-friendly
Customer service is amazing
Clear, easy-to-read data in all lighting conditions
CONS:
Backlight times out before it is done pairing
Polar Flow software still has bugs
Must re-calibrate before every ride

Open your wallet wide and don't expect change if you decide you can't live without the Garmin Edge 1030.
This extravagant bike computer will set you back $566—but if you can't live without the complete bundle, prepare to fork over around $690.
If neither of these prices causes you to blink, you're exactly the cyclist Garmin is looking for and saying that the Edge 1030 has connected features and navigation is something of an understatement.
You know the brand, but you might not be familiar with this product if you haven't been looking for the Mercedes Benz of models.
First off, the 3.5-inch screen dwarfs competitor bike computers and that's just the beginning of the revelations, that include comprehensive navigation, cycling awareness and performance features like 3rd party app access courtesy of connect IQ and in concert with reloaded Strava and training peaks.
Are you a stickler for road accuracy?
Thanks to trend line popularity routing, you'll avail yourself of billions of miles of Garmin Connect ride data so unless a highway, road or street has yet to be built or established, you'll always have the best on- and off-road routes at your fingertips thanks to all of this directional power.
The preloaded Garmin cycle map will keep you company, no matter how long your ride happens to be, by giving you turn-by-turn directions. If something comes up that you need to know about, a new navigation alert will advise you of what's ahead.
Further, whether you need to communicate with cycling pals, or you travel in a pack, stay in touch with everyone via rider-to-rider messaging, so you don't miss a thing.
Battery life could get you up to 20 hours without a recharge and if you compare 1030 with its less-powerful siblings, you'll understand why the price point on this particular model is hefty.
This is the best battery life on any bike computer out there.
That stated, this impressive gadget comes with some quirks: while U.S. maps are loaded into the system, if you intend to take your bike abroad, you're going to have to order individual ones from Garmin—unless you don't care if you get lost.
Further, if you count on your Series 3 Apple watch to act as your heart rate monitor, they're not compatible.
Quite the stash comes with this particular bicycle computer: the unit itself, an out-front mount, premium HRM Strap, speed/cadence sensor, standard mount, USB cable, and manual, just in case you know your way around your bike like an expert but have no clue how computers work.
Garmin Edge 1030 is definitely one of the best bike computers for touring, and a must-have on your touring checklist.
PROS:
Screen size is awesome
Sets up and goes in 5-7 minutes
Excellent battery longevity
Matches GPS to wheel sensor RPM's for superior speed accuracy
Screen won't be activated by sweating
CONS:
Overly expensive; not always reliable
Problematic USB connection at times
iPhone connectivity described as "awful"
If other cyclist's ratings help you decide on making gear purchasing decisions, this product should get your attention.
The Garmin Edge 830 is a high-performance computer that offers mapping, performance monitoring and popularity routing features that make it a stand-out option.
At around $375, it's not the cheapest unit on the list, but you get lots of bang for your buck if you choose the 830 over comparable units.
This high-performance GPS computer offers mapping and touchscreen features and you'll receive information about everything related to your physical efforts, including insights on your VO2 max, recovery, training load focus, heat and altitude acclimation, nutrition, hydration and more.
What must you do to get all of this important information? Make sure the 830 is interfaced with compatible sensors (ANT+; BLE) and your data will be at your fingertips.
There's more!
MTB dynamics keeps tabs on your track jump count and distance plus hang time.
If you're the sort who likes to keep track of a ride's difficulty, Grit takes care of that on your behalf while it's virtual associate Flow tracks the pace of your descent so you can assess the smoothness of the experience and have a baseline from which to set your expectations for your next comparable ride.
If you purchase the mountain biking model, you can add "integrated Trail forks data" to the features that help you track your progress.
For cyclists who can't get enough extras, this Garmin offers a surprising mix of add-ons, some of which may not be available in higher-priced computers: a bike alarm, group messaging and tracking, compatibility with Variant rearview radar and when paired with a compatible smartphone, lights to help you travel safely after sunset.
Use the Garmin Cycle Map to obtain the most recent, popular routes and you can take advantage of on-device route creation and off-course recalculation, too.
If battery life has been an issue with previous bike computers you've bought and then abandoned, this one won't disappoint. Get up to 20 hours of battery life with GPS and if you add a Garmin Charge power pack to your shopping list, you can anticipate up to 40 hours of battery life.
Customizing your Garmin Edge 830 is both easy and empowering when you take advantage of free apps, widgets and data fields, all of which are available from the Connect IQ store.
PROS:
Synchs up with the Garmin HR strap
Comes with several mounting options
Perfection for the data-driven cyclist
Excellent battery life
Thick rubber sleeve protects case
CONS:
Loaded with U.S. maps only
Screen protector sold separately
The user interface may disappoint
If your budget or needs are minimal but you want to own a Garmin product, the Edge 130, selling for around $200, could be your best bet.
It is as easy to use as it is affordable, consumers give this unit good reviews and if you want to up the features, spend an additional $50 for the Speed and Cadence bundle or the Mountain Bike bundle to customize your ride.
For folks who consider themselves better at riding than they are at exhibiting their tech-savvy, this bike computer is both compact and easy to understand and use.
Minimalist design and a 1.8-inch display make it a sleek, uncomplicated addition to your bike gear and the screen is easy to read in low-light or sunny conditions.
For a small, compact product, this unit comes with a battery that, depending upon usage, could get you 15 hours on a single charge.
Connect your Edge 130 to your favorite compatible devices and you get smart notifications, weather updates, live track and more.
Here is a feature safety-minded cyclists appreciate: share your location as you ride, so you stay in touch with riding buddies, team members or just the people you've left behind who worry about you.
In fact, the designers of this Garmin product strove to give every rider increased cycling awareness. Get approaching car alerts on your display and if you run into any difficulties along your travel route, the Assistance feature in concert with a compatible device can summon help quickly.
The simplicity of this unit belies the inner workings of the Garmin Edge, which offers a rider GPS, GLONASS and Galileo satellites and an altimeter.
As a result of accessing these resources, you will always know how far, fast, hard and high you've ridden—whether that ride takes place in an urban setting or you're climbing mountains and foothills.
Further, the 130 interfaces with Varia cycling awareness accessories such as rear-view Radar and smart bike lights.
PROS:
Works with Garmin heart rate straps
Bright, easy-to-read screen and easy set-up
Offers up to 8 data screens
Superior performance for the price
Works with Bluetooth: Wahoo; Fitbit; Jabra HR headphones; more

CONS:
Tiny screen size may not work for you
Customer service could disappoint
The Mount system requires rubber bands for security!

As bike computers go, this mini product is surprisingly complex in light of the fact that, when compared to other computers on this list, there is no proliferation of bells and whistles.
But if you live on a shoestring, need a computer to keep you on track, this $100 pick just may set off the sound of angels singing in your head!
While not necessarily the most well-known brand on the market, this Lezyne is no newcomer to the cycling scene. The company's "Engineered design library" consists of GPS devices, LED lights, pumps, tools, C02 inflators, tire repair aids, bells, bottle cages, bags, and organizers.
In other words, if it can help elevate a ride, Lezyne probably makes it. According to consumers, the Lezyne Mini earns consumer ratings that equal those of higher-priced, feature-filled competitors.
Further, although this unit may be seen as a bare-bones technological product, you still get all of the essentials you need to stay on course: Bluetooth wireless compatibility, a backlight to keep you safe at night or in bad weather, a lithium polymer battery that delivers around 12 hours' worth of power before it needs recharging and the low battery indicator won't leave you wondering why it is beginning to run out of juice.
Is saving money worth investing in this particular product?
The answer is yes, according to users who have found the Lezyne Mini to "offer all the features you find in other brands that could be priced two or three times higher."
The unit holds about 80 hours of ride data and the onboard GPS can be relied upon for speed and distance metrics.
You will have to sync ride data via Bluetooth and the Lezyne Ally app after the fact, but the data is automatically published on Strava.
It's important to know that Lezyne Mini's navigational assistance is less than optimal-not because it doesn't navigate, but because this computer doesn't work with downloadable routes.
If this factor doesn't bother you, you'll be glad to read that this computer does provide turn-by-turn navigation when synced up with the Lezyne Ally app on your phone during a ride.
Yes, he tiny screen size can be an impediment to getting readings but has trade-offs go, this product makes an ideal introductory computer if you're short on cash but long on ambition to keep track of your progress as you undertake future cycling challenges.
PROS:
5 customizable screens for data tracking
Easy to learn and use
The display is easy to read
The price can't be beat
Solid, sturdy mount attachment
CONS:
There are no audible alerts for upcoming turns
Screen size can be problematic
Don't leave your phone at home.

Garmin Edge 25 Cycling GPS is one of the smallest GPS cycling computers on this list.
The device was initially released on June 2015, but even today in 2020 this product is a good option for the casual rider.
It's a replacement for the old Garmin Edge 200 which was introduced years ago. So it is again a fundamental unit that should be the entry-level device for first-time buyers.
The most important thing about the Garmin Edge 25 is its size. It's a tiny device ( 4 x 4.2 x 1.7cm ) and also super light ( 25g ).
And yet very capable and easy to use the Garmin Edge 25 is just perfect for the newbie. The device is using the standard Garmin quarter-turn mount, and we don't have any complaints about it.
Also, the market is flooded with perfect third party mounts. For such a small device, the display is quite good and readable enough. It is still small but with big numbers on it, and it is super sharp.
The pixel density is 128×160. You can navigate the Garmin Edge 25 using the four dedicated buttons.
The upper left button is for backlight, lower left is selecting back and lap button. The top right button is for entering ( select ), and the lower right button is down ( changing selections ). The unit is not a touchscreen, but that's OK as the most important thing here is the price.
The device is very minimalistic and super easy to use. You get three screens during your rides, and you can scroll through them.
You can configure two of the bike computer screens on your computer before your trip to show a range of different metrics. Garmin Edge 25 GPS Bike Computer is showing the essentials.
If you are a competitive cyclist or a cyclist hungry for stats, maybe this is not the best choice for you. The display shows just up to three stats per screen and depending on the data, sometimes only two stats.
The metrics available: Distance, Time, Average Speed, Speed, Calories, Cadence, Total Ascent ( using GPS, no barometer included ).
Garmin Edge 25 Cycling GPS gets GPS signal super fast, and we can say that it is much faster than the old model Garmin Edge 200. Nothing to add here as all of the Garmin devices is top-notch GPS products.
It also offers Bluetooth and ANT+ connectivity. Thus it is compatible with almost all the speed sensors and heart rate monitors in the market.
The Bluetooth connectivity is basically for syncing with a smartphone. One of the downsides of the GPS unit is that it is not compatible with power meters.
But again that's OK having in mind it is an entry-level device.
Another great feature of the Garmin Edge 25 is the LiveTrack. It is a function that lets people know where you are in real-time.
Thus friends and family can follow your long-distance rides. Also, as the device is Bluetooth-enabled, it can show call and text notifications on display, making it very safe to use while cycling.
We all know that using your smartphone while cycling on the road is not a very smart idea.
The battery life is claimed to be around 8 hours of GPS use.
One of the things that we don't like about this unit is that it is not charging via mini USB charge port. Instead, it uses four-pin contact and a dedicated cradle.
Of course, it works perfectly well, but we don't understand why in 2016 someone would use such a charging method when the mini USB is an industry-standard.
Also, you can't charge the device with the external battery. Your maximum ride will be 8 hours. If you lose that dedicated charging cradle, you would have just one option to buy a new one, and it costs around $20.
Another great feature, or at least on paper, is the presence of navigation. It's a fundamental function, and it works similar to the Edge 510. It's even more limited because of the small screen. It offers turn notifications and follows a route, and that's all.
You need to upload a FIT file to your device via Garmin Connect before your cycling. It's not possible to make a route on another platform or during a ride.
It works well but as it is elementary. You should look elsewhere if the navigation is crucial to you.
Garmin Edge 25 is one of the best affordable bike computers, and we recommend it for a casual cyclist or even advanced cyclists looking for the first GPS bike unit.
It's a minimal and compact device and only adds 25 g to your bike's total weight. It is easy to use and most probably very reliable as all Garmin devices are.
The only cons are no power meter and limited navigation. Talking about prices, the Garmin Edge 25 is one of the cheapest GPS units on the market right now.
PROS:
Affordable price tag
Very easy to use
Small but with big numbers on the display
Super lightweight
CONS: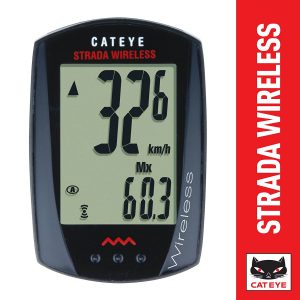 So if you are just a casual rider you should look for a standard bike speedometer without GPS module.
The market is flooded with such models which range from $5 up to $100. This model is one of the best we have tried on YesCycling in terms of durability and quality.
CatEye makes really good bike computers without GPS modules and this one is not an exception.
It's a wireless model which means that the sensor and the bike computer itself are connected wirelessly without any cables and extra stuff.
If you are concerned about battery life ( some wireless models drain the battery quickly ) you have to know that the bike computer has a battery life of 1 year ( 1 hour/day cycling ) and the sensor has a battery life of 6250 miles ).
CatEye – Strada Wireless Cycle Computer is waterproof so you will not have to worry about the weather at all – rain or shines you are covered as the ad says.
The stats which you can track with this device are current, max and average speed, total distance, trip distance, elapsed time, a pace arrow, and clock. Practically all you will need in your daily commutes.
In conclusion, I will say that Cateye – Strada Wireless Cycle Computer is an excellent choice for any casual rider who doesn't want to spend money on GPS bike unit but still wants to track some stats.
The device usually sells for around $50, so it's cheaper than any dedicated GPS bike computer.
If you're going to track more precisely your stats or maybe to track your location as well, you should look for a more advanced unit.
PROS:
Small size, but large numbers on the display
Super easy set-up
Wireless
CONS: