8 Best Belt-Drive Bicycles for 2023
Anyone who's ridden a bike for transportation knows that there are a few key things you look for in a commuter bike. It needs to be fast, efficient, and easy to operate. That's why belt-drive bikes are becoming so popular among riders who want a hassle-free ride. The best belt-drive bike for most people is the Co-op Cycles CTY 1.3 Bike, a smooth and quick urban hybrid bike with some high-quality parts.
Check out our list of the 8 best belt-drive bikes for commuting and casual riding!
---
-Best Overall-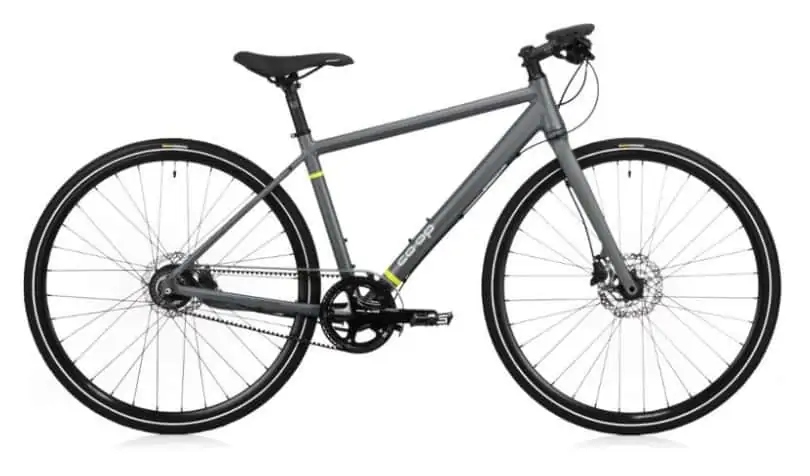 Type: Hybrid Bike | Frame Material: Aluminum | Gears: 8-Speed | MSRP: $1349
---
+ Sturdy 6061 aluminum body and fork
+ Flat handlebars for improved comfort
+ 8-speed internal-gear rear hub
+ Well built, quiet, and it handles great
– A bit expensive for beginners
– Lack of mount points on the front
---
Want to leave your cyclist friends in the dust because you've adopted the company mantra: "No chain, no pain"? Expect to do some digging since this model is hard to find. If you are fortunate to locate one of these 27.8-pound bikes, expect a smooth ride no matter where you're going, thanks to Shimano M315 hydraulic disc brakes that deliver consistent performance in all types of weather.
Read more: Hydraulic vs. Mechanical Disc Brakes
Reflective decals and reflective tire sidewalls keep you safe and visible in dim lighting conditions, and the internal rear brake cable routing system adds to the sleek, clean lines of this famous ride. You and your parcels can weigh up to 300 pounds when you ride, and because this bike comes with platform pedals, wear any shoes you like when you ride.
Want fender and rack mounts? Co-Op is happy to oblige at an additional cost.
---
–Best for kids 3-7 years old–
Type: Kids Bike | Frame Material: Aluminum | Gears: Single-Speed | MSRP: $329
---
+ Seat height adjusts between 18.5- and 22-inches
+ Equipped with grease- and rust-resistant Gates belt drive
+ High-end geometry outperforms competitor bikes
+ Front and rear V-Brakes with kid-friendly brake levers
– Expensive for kids bike
– Training wheels sold separately ( check price )
---
This sleek bike is not just safe but also comfortable and features a weather-resistant seat and grips. Mid-rise handlebars keep kids adequately positioned, but parents love this bike due to low maintenance, thanks to the belt drive delivering a grease-free experience.
Freewheel construction engineered specifically for 3- to 7-year-old kids provides a platform from which youngsters can bridge the gap between trainers and big-kid models. Seat adjustments allow kids to ride this bike longer, and this ride is beneficial to kids who tried to balance cycles but found them difficult to ride because standard coaster brakes thwarted their riding instincts.
A composite belt guard and full reflector kit plus kickstand are installed on every bicycle, and you can buy training wheels designed to fit this bike until your child is ready to solo.
Read more: Best 16-inch BMX Bikes for Kids
---
-Best for Casual Riding-
Type: Hybrid Bike | Frame Material: Aluminum | Gears: Single-Speed | MSRP: $549
---
+ Sleek, uncomplicated and affordable
+ Award-winning classic design
+ Ultralight frame won't rust
+ Several options for size, color, and frame style
– Coaster brakes could be frustrating
---
Reviewers at Inc. Magazine gave this ride "Most Brilliant Design" and "Best in Class" accolades, and Men's Journal and Real Simple rave about this bicycle's performance. It's easy to see why: The Classic Plus is affordable, and owners won't spend leisure time or money on maintenance.
Whether you seek three-speed versatility for recreational rides or need a bike to get you to work and errands, this model is hard to beat. It weighs only 25 pounds, so picking it up won't strain your back, a bonus for eliminating constant chain hassles.
The grease- and rust-free Gates Carbon Drive Belt are state-of-the-art. You can access the front hand and rear coaster/foot brakes to stop, but once you see how nicely the upright, comfortable riding position treats your body, you will want to keep going.
This package includes a kickstand, water bottle cage, puncture-resistant tires, reflectors, and an air pump. No wonder reviewers can't stop raving about this ride!
---
-Best for Commuting-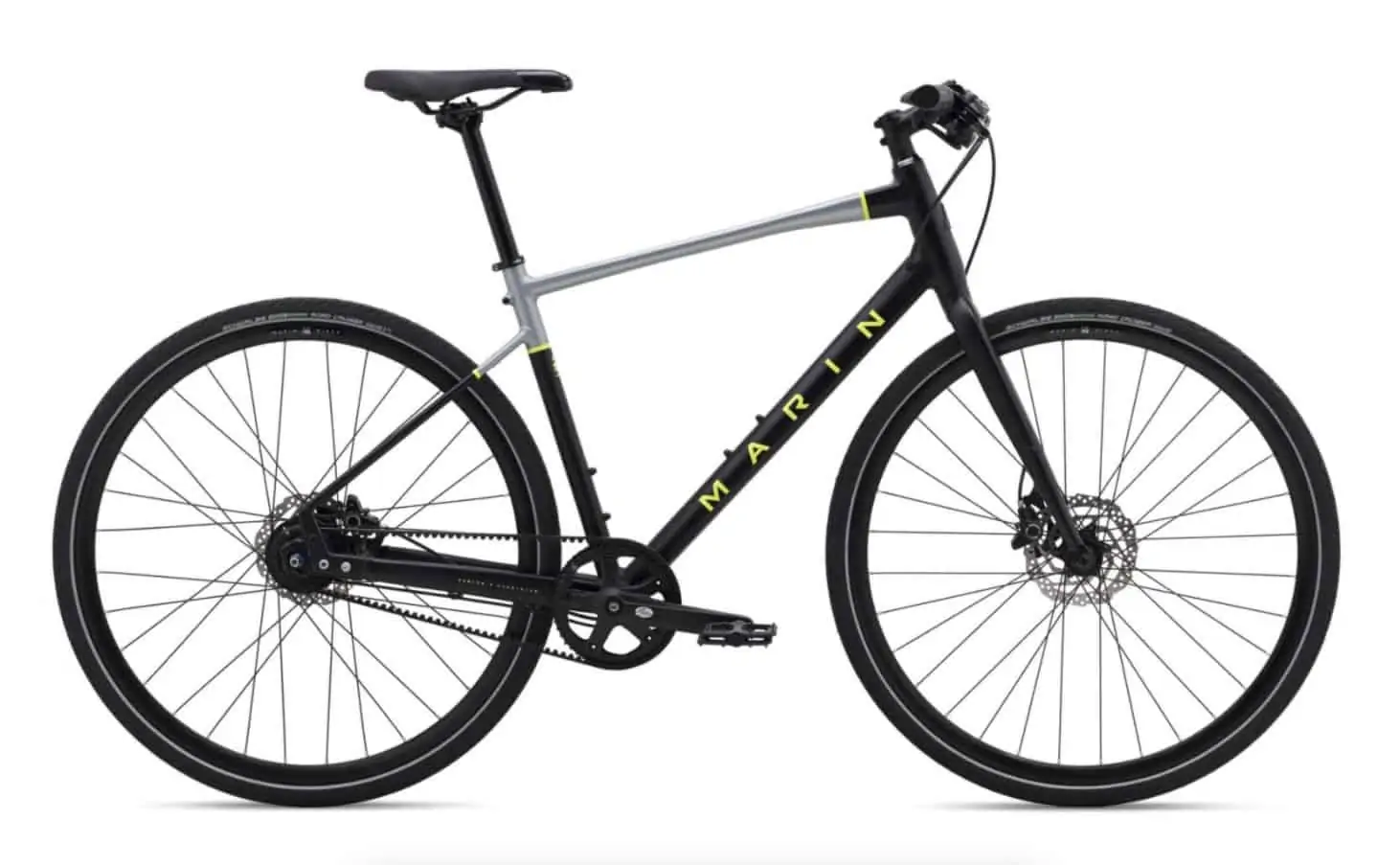 Type: Urban Commuter | Frame Material: Aluminum | Gears: 8-Speed | MSRP: $1129
---
+ Available in sizes XS, S, M, L, XL
+ Shimano Nexus 8D 8-speed internally geared hub
+ Comes with puncture-resistant tires
+ Comfortable, quiet, and easy to ride on the pavement
– Expensive for most people
– A bit dull looking
---
The Marin Presidio 3 is an upgraded version of the company's Presidio 2, and it comes with a tidy price tag, but performance and quality may be worth spending more, especially if you demand the ultimate in dedicated commuting range, low maintenance, and adaptability. Shimano U300 flat-mount hydraulic disc brakes stop on command, and the puncture-resistant tires won't leave you in the lurch.
Read more: Best Commuter Bikes
This model's belt drive was built to conquer demanding city streets, but that doesn't mean the manufacturer skimped on extras. Among the upgrades, you can expect dropouts that slide into place, making installation more accessible than usual.
Accessorized with wire-bead, puncture-protected Vee Tires trimmed with reflective sidewalls, a Marin alloy flat top riser handlebar, and all of the maintenance-free enjoyment you expect from a belt-driven bike, you'll pay a little more, but you won't be disappointed.
---
-Best Looking Bike-
Type: Urban Commuter | Frame Material: Aluminum | Gears: 8-Speed | MSRP: $2250
---
+ Lefty LightPipe fork with integrated light
+ Shimano Alfine 8-speed internal gear hub
+ Gates brand belt drive
+ Alloy seat post with integrated tail light
– Lefty Rigid fork is a bit of a marketing gimmick
---
This Bad Boy is so loaded with features you want in a stylish bike that you may be willing to overlook the sticker shock that assails you when you spot this product's price tag.
You'll get plenty of value for every dollar. Head and down tubes are 3D-forged from a single piece of SmartForm C1 alloy aluminum for added strength, and the lefty fork delivers on stiffness, so handling is precise.
Incredible details – like that SuperNova LED light strip (USB rechargeable) – increase safety and add a moto-style look. Rely upon the Gates Carbon Drive belt to free you of maintenance tasks you hate most.
So you have more time to enjoy smooth transitions courtesy of Shimano Alfine Rapidfire 8-speed shifters. Cannondale handlebars are fitted with fabric silicone cell grips, and the saddle is more comfortable than most.
Read more: Top Bike Brands
---
–Not Your Regular Bike–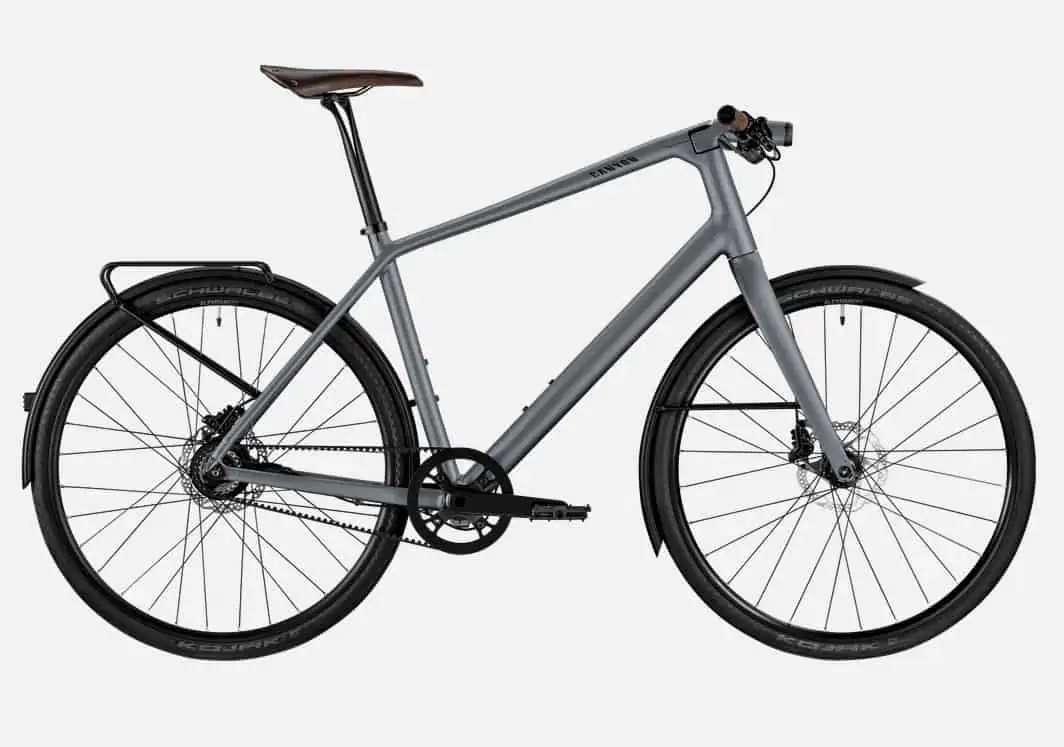 Type: Urban Commuter | Frame Material: Aluminum | Gears: 8-Speed | MSRP: $2499
---
+ Seat design improves shock absorption
+ Equipped with fenders, rack, and lights
+ Lightweight and easy to carry
+ Extraordinary award-winning design
– Some riders find it ugly
– Eye-watering price tag
---
When you examine the geometry and consider the quality components, you'll consider this an investment rather than a flight of fancy once you consider the retail price.
Canyon calls the Commuter 8.0 its' "flagship," and credit for this distinction goes to the integrated dynamo-powered lights, Shimano's top-shelf Alfine 11-speed internal-gear hub, Gates belt drive, and extra-durable seat post beneath a sleek, comfy saddle.
Enjoy 11 gears of accurate, effortless shifting. If you ride in bad weather or when lighting is dim, the Supernova E3 Pure 3-front integrated lighting system built into the handlebar illuminates the road with a powerful 205 lumens of output that is pedal-driven.
The E3 taillight is also pedal-powered, and both stays lit up to 4 minutes after you dismount. Winner of a Red Dot design award, the Commuter 8.0 gets you where you're going in style – especially at night.
---
-Best Gravel Bike-
Type: Gravel Bike | Frame Material: Aluminum | Gears: 11-Speed | MSRP: $1699
---
+ Nimble, fast all-road model
+ Integrated right brake lever drop-bar shifting
+ Performance Shimano Alfine-11 gear system
+ Very lightweight at 24 lb.
– Changing the rear tire might be an issue
---
If you live to conquer gravel and seek a bike with a 400+-percent gearing range, you've just found it. Fitted with tubeless-ready WTB byway 40mm gravel tires, go anywhere the trail leads you, but when you're done, you can walk away clean from the mates you leave behind because they must clean up their chain-driven rides.
Priority's goal when fabricating this design?
"When you're done with your ride — just rinse and repeat." No skimping on components, either. The Gates belt carbon drive manages torque adroitly. Still, it's what you don't see drives this bike: It is inspired by the Apollo 11 launch and lunar landing, "a human achievement driven by innovation, R&D, and an intense desire to press onward."
Sound like a gravel bike you'd love to pilot? It won't get you to the moon, but it could get you the ride of a lifetime.
Read more: Best Bikepacking Bikes
---
-Best Beach Cruiser-
Type: Beach Cruiser | Frame Material: Aluminum | Gears: Single-Speed | MSRP: $599
---
+ Designed, assembled, and tested in coastal climates
+ Tolerates beach assaults like sand, water, and salt
+ Affordable price
+ Comfortable ride
– Isn't built for long rides or big hills
---
If you purchase the Priority Coast, you can get your hands on an affordable belt-driven cruiser. Choose between diamond and step-through versions, decide whether a single- or three-speed bike best suits your style (the three-speed version has a Shimano 3-speed hub) and wait until you glimpse your color choices. Say goodbye to rust, even if you live by the sea.
Read more: 15 Best Beach Cruiser Bikes of 2021
Popular Mechanics magazine bicycle reviewers doubted Priority's claim that this cruiser is rust-proof, so they accepted the challenge of proving the manufacturer wrong over a 9-month test period.
"Other than an occasional spray with the hose," testers were forced to admit that such a bike did exist! You don't have to worry about the occasional seashell either since the tires on this trendy ride are puncture-resistant.
---
What is a belt-drive bike?
Belt-Drive bikes are quiet, zippy, and a joy to ride.
Expect to spend at least $500 for an entry-level hybrid and more than $1000 for an urban commuter or gravel bike.
Get a bike with at least an 8-Speed internal gear hub.
A belt costs 5x as much as a chain if you must replace it.
According to Momentum magazine, belt-drive bicycles were invented back in 1874 to mediate cyclists' "love/ hate relationship" with chain-driven models.
Simple, easy, and inexpensive to replace, belt-drive bikes eliminate dirty, heavy chains from the equation so riders can kiss a lot of the grime and dirt they must deal with goodbye for the life of the bike. As a result, carbon belt drives are cleaner, don't require lubrication, and are lighter, quieter, and more durable.
Cyclists seeking the ultimate low-maintenance ride are flocking to this bike type for this very reason, but that doesn't mean there aren't challenges to be considered by shoppers. Belt drives are only compatible with internally geared, fixed gear and single-speed hubs, so forget about derailleurs.
If you've already got a bike and would love to replace your chain drive system, that may or may not be possible since a belt drive requires a unique frame opening to accommodate the swap out. Prices on belt-drive bikes? Let's say you may have to open your wallet a bit wider if you want one with bells and whistles, but deals are to be had if you sleuth them out.
---
What are the pros/cons of belt-drive bikes?
PROS:
Easier to maintain; no lubes ever
Repair and maintenance savings
Lighter than chain-drive bikes
Belts last 4x as long as chains
Blissfully silent running
Ride faster and more efficiently
Terrific commuting option.
CONS:
Expect a much smaller gear range limit
Won't support lateral movement across gear cogs
Unlike a chain, a belt drive can't be split up
May not be permitted at triathlons or competitive road races
Costs 5x as much as a chain if you must replace the belt
---
Are belt-drive bikes worth it?
Belt-drive bikes are an excellent choice for many people. They are superior to chain-drive bikes in so many ways. Belt-drive bikes are easier to maintain and repair; they are lighter and run silently. They are a faster and super-efficient way to commute around town.
Which is better chain or belt drive bike?
Both options have their pros and cons. For commuting, belt-drive bikes are better than chain-drive bikes. You should get a chain-drive mountain bike if you're into mountain biking.
Can I make my bike a belt drive?
Generally speaking, yes you can make your bike a belt drive. But the process is expensive and quite difficult for non-tech savvy riders. We suggest sticking to your chain bike and investing in a new belt-drive bicycle for commuting.
Can a belt drive have gears?
Yes, most belt-drive bikes on our list have an internal gear hub that "changes" gears for you.
Recommended Guides:
Our favorite bikes for seniors – If you're a senior looking for a comfortable ride, check out our blog post, where you'll find the best models for this year + a buying guide.
Our favorite bikes for college – College students love riding bikes. Here's our selection of the best bikes for riding around the college campus.
Our favorite bikes for riders with back pain – If you regularly experience lower or upper back pain, you need to consider a bike with a comfortable bike geometry.
Our favorite road bikes for beginners – Here, you can find our favorite entry-level road bikes in the market right now.