15 Best Beach Cruiser Bikes of 2023
Get ready to hit the beach in style with the perfect cruiser bike. This article presents the top options for comfortable, stylish, and reliable beach cruising. We've covered whether you're looking for a single-speed or a multi-speed. So pack your sunscreen, and let's explore the best beach cruiser bikes available today.
We think that the best beach cruiser for most people is Priority Coast – a rust-proof, budget-friendly, comfortable ride with an internal 3-speed hub by Shimano.
---
-Rust-proof, value and comfort-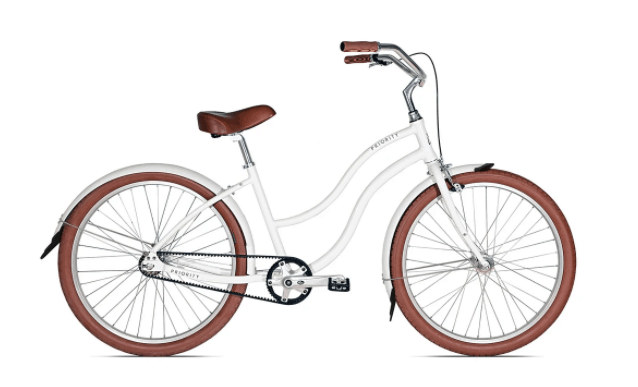 ---
100% rust-resistant
Gates Carbon Drive Belt
Beach cruiser foot rear brake + front hand brake
Shimano 3-speed hub
---
Priority Coast cruisers are manufactured to order, so if you need a bike now, keep shopping. In return for your patience, you can choose between Diamond or step-through styles. Priority prioritizes quality control.
Every bike is designed, assembled, and test-driven in various coastal climates. While you'll pay a little more, your bike won't wind up with rusty chains or replacements because the materials used to craft this bike repel rust.
Read more: Best Belt-Drive Bikes
At the heart of this bike's construction is a foundation composed of the Gates Carbon Drive Belt with an ultralight frame and fork plus sealed bearings. A smooth ride is assured, as is stopping power, thanks to the traditional foot (coaster) rear and front hand brakes.
The three-speed Coast comes with a double kickstand, but if you worry more about breakdowns than parking, the puncture-resistant tires will be most appreciated.
In 2019, Popular Mechanics magazine cited the Priority Coast when editors commissioned an article: "Does a Rust-Proof Bike Really Exist?" The answer, say testers and editors, is yes.
---
-Affordable and Simple Ride-
---
Lightweight 6061 aluminum frame
Easy-to-use rear coaster brake
Single-speed
Alloy double-walled rims
---

This no-fuss Batch Cruiser could end your search for the ideal ride before you've exerted much effort.
Featuring a single gear and coaster brake, we love Batch's promise: You won't have to micromanage your ride because mechanical adjustments are no big deal – even for men and women who consider themselves clueless.
The 6061 alloy frame and 1-1/8-inch rigid hi-tensile steel fork offer formidable resiliency and durability, and this bicycle comes in several versions designed to suit men, women, and youngsters.
Appropriately-sized tires plus Stars alloy 36H double-walled rims and steel with nutted axles hubs are ready for the long haul, and if you like color choices, check out the orange one.
Weighing a little over 29 pounds, this hefty bike features 1-inch aluminum handlebars, a Cionlli Cruiser Saddle, and steel fenders, all of which combine to create one wildly popular product that comes at a downright affordable price – which is why you may have problems finding one of these fast sellers.
Read more: Our Favourite Women Hybrid Bikes
---
-Best for Women-
---
26-inch wheels with 2-inch semi-slick tires
Lightweight aluminum frame
Four models available: 7-speed, 1-speed, 21-speed, and 3-speed
Front and rear handbrakes
---

Cruising just got sexier courtesy of this sixthreezero ride, marketed as the only bike a rider needs for every occasion under the sun. Though moderately priced, no effort was spared to design this timeless hybrid cruiser.
Variety? Yes, please.
Sixthreezero EVRYjourney is available in versions: Single-Speed, 3-speed, 7-speed, or the mother of trailblazers: 21-speeds. You pick the speeds that suit your favorite terrain. The 21-speed model never met a street, trail, or hill it couldn't conquer.
Fitted with 26-inch wheels and sporting 2-inch semi-slick tires made for excellent roll and a cushioned, stable ride, the lightweight aluminum frame makes maneuvering a breeze, and it matters not how tall or short you are since this bike was made for riders ranging between from 5-feet to 6-feet; 2-inches tall.
Front and rear handbrakes control stops and matching fender, and rear rack add to this bike's charm.
Did you know that sixthreezero is among the 15 best bike brands of 2022? Read more on the study here.
Another great Sixthreezero model: Sixthreezero Around The Block Review
---
Huffy 24-inch Panama Jack Beach Cruiser
-Best Island Feel-
---
Single-speed bike with coaster brake
Flower doodles on the chainguard, beverage holder
Comfortable padded saddle
Roomy wicker basket included
---
This charming Huffy is fashioned aluminum, weighs 41 pounds, and features coaster brakes, plus a rigid suspension favored by parents who don't want their girls riding flimsy bikes.
Kids measuring between 58- and 70-inches tall get lots of perks: Comfort, fun, and a limited 10-year warranty. Designed to encourage proper posture, this Huffy features a seat situated farther back, creating a lower center of gravity.
Swept-back handlebars assist an upright, comfortable position with full leg extension.
A quick-release mechanism takes care of height adjustments, and since the saddle has dual springs beneath plush padding, comfort is assured. Operation? Easy. You stop by peddling back. Put those pedals to the metal, and dynamic acceleration and speed attributed to a lightweight aluminum frame are assured.
Did we mention the sweet extras, including the vintage wicker basket, beverage holder, rear rack, and bottle opener? We just did. This floral-embellished bike is adorable – just like the girl you're buying it for!
---
–Amazing Value-
---
Wide cruiser saddle with supportive spring
Two size options – 26-inches and 24-inches
Shimano Revo twist shifter with 7-speed
Tuesday Big Roll 26 x 2.35 Balloon tires
---

This classic 26-inch Tuesday, June 7 Low Step bicycle is available in mint, lavender, surf blue, and vintage white, but the color doesn't compromise performance. The Shimano Revo shifter delivers quick, intuitive shifting, minimal maintenance, and 7 speeds are at your disposal.
Designed for hop-and-go action, comfort is not compromised. Grips are molded to fit hands, and the wide saddle is fitted with supportive springs. While salt air can destroy a bike, this model is crafted with rust-resistant hardware that adds years to its life.
The Hi-Tensile OS Steel Cantilever frame, Direct-connect rack, fender mounts, and Hi-Tensile Steel Unicrown fork are some of the features found on this cruiser, and the 26-inch alloy rims with stainless spokes plus Tuesday Big Roll 26 x 2.35 Balloon tires get you where you want to go.
Alloy V-brakes with adjustable levers deliver quick stops. Must you have access to a beach to justify this bike? Nope. You're welcome to use this cool bike as an excuse to move to the seashore.
---
-Best Fully-Equipped-
---
Lightweight ALUXX aluminum frame
Equipped with basket and front and fear fenders
Liv Women's Comfort Cruiser saddle
Shimano Revo Twist Shifter with 3-speed
---
There's nothing simple about this colorful, well-engineered bike. Enjoy the stable frame and step-through design, lightweight ALUXX aluminum, and graphics that are playful and unique so that they will stand out from the crowd.
Still, the freedom of the road will likely convince you of the merits of this smooth ride courtesy of balloon tires, a plush saddle, and swept-back handlebars.
Fabricated with a high-tensile steel fork, classic cruiser handlebars, a micro-adjust alloy seat post plus signature Live Women's Comfort Saddle, the anti-slip pedals are made of sturdy nylon, and Shimano Revo twist shifters take care of the ride.
Come to full stops via Shimano coaster brakes after riding like the wind on Giant alloy rims and CST Cruiser tires.
Extras include the front basket, fenders, and kickstand. Impressed? You should be. Compare this model to the sixthreezero EVRYjourney Women's model described above since they are both in the same price ballpark.
---
-Best Retro-Styled-
---
Steel frame
SRAM twist shifters with 7-speed
Full fenders and rear cargo rack
Padded cruiser saddle with springs
---
You can snag this bike in two versions: Step-over frame or step-thru frame. Choose the first, and you don't have to get a second job. The second version costs nearly twice as much, but if you require a step-through design, the choice is made for you.
Fabricated of solid steel, this bike offers riders 7 speeds, and dual suspension won't let you down. Whether you're short or tall, you're in luck. These Schwinns are designed for riders between 5 feet, 4 inches, and 6 feet; 2 inches.
Because full fenders are standard on both bikes, you enjoy protection from mud and dirt, and the rear cargo rack makes carrying items to and from your destination a breeze.
Outfitted with Shimano 7-speed rear derailleur with SRAM twist shifters and aluminum alloy rims, conquer whatever terrain Mother Nature throws since the padded cruiser saddle has sturdy springs that will be kind to your bum.
Like all classic Schwinn products, the Sanctuary 7 comes with a limited lifetime warranty. Make sure someone's on hand with tools if you're not mechanically included since this bike comes unassembled.
---
-Lightweight and Comfort-
---
Made of aluminum to save weight ( 29 pounds)
Shimano RevoShift, 3-speed
Earth Cruiser Comfort saddle with memory foam padding
Shimano coaster brake
---
Jamis calls the Earth Cruiser 3 "The Diet Cruiser" because, at 29 pounds, it runs rings around bikes weighing up to 40 pounds. This lightweight bike owes its success to many aluminum parts, including the seat post, seat clamp, stem, rims, etc.
Further, a silver-plated chain is more rust-resistant than carbon steel, say Jamis bike builders. The Earth Cruiser 3 comes with cruise-control handlebars that strategically place hands to avoid bending at the waist where neck pain originates.
The memory foam saddle pair offers ergonomic benefits: The channel design is achieved by using materials mattress manufacturers prefer, so sitting pressure is eased or eliminated.
Comfort tires roll smoothly on pavement and park paths; since these tires support more air volume, you get a cushier ride. As an added touch, Earth Cruisers pedals have thermoplastic inserts so wet shoes won't slide off. All this at a price that won't force you to buy ground beef instead of steak!
---
-Vintage look and simple mechanics-
---
Flat Foot Technology® for comfort and control
Front and rear alloy linear-pull brakes
Shimano Revo 7-speed twist w/optical display
RetroRunner 26×2.125" tires
---
This 38.5-pound cruiser belongs in the "vintage" category, but the engineering is pure 21st century. A steel frame guarantees years of cruising, but the feature you'll love most is the Patented Electra Flat Foot Technology® allows you to plant your feet on the ground while seated.
The mustache handlebar correctly positions your body for an ergonomic, upright ride. At the same time, 26-inch classic knobby tires with alloy rims with stainless steel spokes keep the bike stable, even at the slowest speed.
Shimano Tourney 7-speed gearing and Shimano Revo Twist shifter enhance the ride, and this recreational machine offers one of the most stable, relaxing travel on the planet. Stopping is effortless when the rim brake with alloy linear-pull levers is engaged, and the 26 x 2.125 tires won't disappoint.
The Electra comfort saddle, fitted with elastomer springs, delivers comfort to spare, and since this bike suits both men and women, trading it down the road for a more sophisticated ride will be easier.
---
-Best Utility Beach Cruiser–
---
Completely equipped with Bosch electric parts
Shimano Deore 10-Speed
Hydraulic Disk Brakes
Range 30-90mi
---
Inspired by vintage Italian scooters and classic German cars, the 55-pound eJoy is in a class of its own, a significant player in the eBike market courtesy of Benne's Etility® design.
Components include the powerful Bosch electric motor, an oversized rear rack, and an optional frame-mounted front tray that makes toting cargo easy. The extra-strong aluminum frame with a low step contributes to the ease of mounting and riding this bike.
Affordable? That depends upon your financial circumstances, but if only the best will do, you'll find a way to get this highly-rated eBike.
The 400-watt-hour battery offers a range of 30 to 80 miles, and you can sustain a Max pedal-assisted speed of 20 mph atop sturdy 2.35-inch balloon tires.
You control the Bosch Purion On-Board Computer in 5-riding mode after a battery charge time of only 4.5 hours via the Bosch 2A/4A Compact Charger.
Shimano Deore 10-Speed, Hydraulic Disk Brakes, and puncture-resistance 26- x 2.35-inch balloon tires accommodate riders ranging in height between 5- and 6 feet. Sound like your ideal ride? Go for it!
Read more: 9 Best Electric Bikes for Big Riders
---
-Most Customizable-
---
Design your own color
Up to 120-mile battery range
Anti-Theft Alarm
Powerful 1000W max motor
---
The Model X is no wimpy ride. Get up to 120 miles on a single charge, no tools (or expensive bike mechanics) are needed since it arrives fully built, and this electric bike is built for folks weighing up to 300 pounds.
The Model X was Awarded the top-rated E-Cruiser in the USA by Electric Bike Review for three years running; 2018, 2019, and 2020.
You undertake the custom build by visiting the company website and scrolling through the menu that offers gearing, suspension, LCD color display, tires, and even stipulating which type of battery you want to power your ride.
The "world's best motors" – projected to last 18 years- power the aluminum 6061 hydro-formed frames. Plug-and-play technology simplifies this bike's wiring system, and thumb throttles get your ride over obstacles before the TEKTRO hydraulic braking system brings you to a quick stop.
Comfort was not given short shrift; this bike's high-density foam saddle is thick, and back bumpers support and cushion your ride. Falling in love? We don't blame you.
Read more: How to Remove Speed Limiter on Electric Bike
---
-Best Value E-Cruiser-
---
SR Suntour E25 Performance Rear Hub Motor
Rear rack, fenders and lights included
Tektro Mechanical Disc brakes
SR Suntour Multi-Function LED Display
---
The Simi electric beach cruiser gets you where you need to go via the SR Suntour Performance rear hub motor that goes the distance yet allows you to stop when you need to and keep your feet on the ground without dismounting.
The package includes front and rear fenders, an integrated headlight and taillight, disc brakes, and a rear rack. With a top speed of 20 mph, you can legally ride this Class 1 bike anywhere you like and depend upon the 36-volt system/11.6 ah battery for an estimated max range of 60 miles with pedal assist.
The battery is removable, and the built-in LED indicator gives you information without requiring you to power up or turn on the bike. The charger and charging port can't accidentally disconnect, and the advanced sensor measuring crank rotation and torque are so responsive power is cut when pedaling starts and stops.
This bike's nerve center delivers stats on this 52-pound aluminum alloy bike, and 7-speed Shimano Tourney gearing plus Tektro mechanical disc brakes make this a feature-packed eBike that's surprisingly affordable.
Read more: Best e-Bikes under $1000 in 2021
---
-Rust-free and good components-
---
Lightweight aluminum frame
Painted fenders
3-speed internal hub
Shimano Nexus Revo twist shifters
---
If your flirtation with the idea of an eBike had to be cut short because even the lowest-priced one would destroy your budget, you wouldn't be disappointed if you have to settle for this cute, sporty step-through cruiser designed for fun-in-the-sun adventures that won't require a battery because you're in no hurry.
Crafted of 6061-T6 aluminum and fitted with easy-to-use Shimano Nexus internal 3-speed gearing with coaster brake, you perch on a custom saddle atop 26 x 2.125 in. Retrorunner whitewall tires guarantee a stable and smooth-rolling trip.
The Shimano Roller front brake and hub are responsive and reliable as you steer this 36-pound bike through its paces using the adjustable-reach alloy levers to control your stop.
The handlebar shape is a cruiser classic: Mustache Bar welded to the forged alloy 22.2mm quill stem, while the classic alloy pillar seat post hosts an Electra custom comfort saddle that features elastomer springs. Designed and made for women, this is the bike to choose when you need reliability and style – and at a price that won't require you to get a second job.
---
Firmstrong Bella
-Great Look and Value-
---
Steel Coaster Brake
Kenda 24″ x 2.125″ White Wall Tires
Dual Spring Oversized Cruiser Seat
Designed in Hermosa Beach, CA
---
You must compromise your reputation as a trendsetter and fashionista to save money. Not if you get your hands on this affordable Firmstrong Bella; that is the least expensive ride on this list. Choose from 12 hot colors, each of which will get you the attention you seek.
Yes, you'll pay a few bucks more for the exotic shades, but why not get the look you crave? This 7-speed, solid steel cruiser featuring front and rear handbrakes weighs 37 pounds, but despite the heft, it's built for speed and hills, yet all of this power hides beneath and colorful Hawaiian graphic art that sets this bike apart from the crowd.
The front and rear handbrakes are easily operated via the handlebar. In concert with a comfy oversized saddle fitted with dual springs, big white-wall balloon tires make this one an enjoyable ride.
Wide handlebars featuring synthetic leather grips keep women between 5 and 6 feet tall nicely positioned, so the bike's objective is never compromised by winding up with an achy back after the smoothest ride on earth.
---
sixthreezero Classic
-Cheap and good-looking-
---
2" semi-slick cruiser tires
Ready for beach cruising or riding in the park
Shimano Index Revo Shifter 7 Speed
Comfortable dual-spring saddle
---
Called "the bike for all journeys," if you choose this sixthreezero Classic as your ride, you'll travel far on the money you save when compared to most other products on this list, yet you won't have to make a single sacrifice in terms of features, benefits or style.
This highly-committee bicycle company took a rejuvenated classic. It morphed it into a more contemporary ride that includes an upgraded, ergonomic frame, unique pedal position, and a dual-spring seat.
The easy-mount step-through frame starts that journey as you discover the ease with which this bike conquers various types of terrain, and you will look as good when you arrive as you did when you left home, courtesy of the Splash-protect front and rear fenders.
Is this the bike one needs for high-intensity workouts? No way. It's built for pleasure and fun, as you can tell when you check out this ride's innovative frame. It's engineered to keep your body aligned to avoid sore back, shoulders, and wrists.
Further, the pedal position is engineered for full leg extensions, so your lower extremities avoid pain, too. Semi-slick cruiser tires and a saddle so plush it redefines comfort, making long rides on this stylish bike a true pleasure. Even tasks you hate won't be as bothersome when the ride that takes you on them is this much fun.
---
Short History of Beach Cruisers
Are you aware that the beach cruiser bicycle classification "built a bike movement"? It's true say technology writers for Bloomberg.com, and there's plenty of history to substantiate this tale.
Beach towns along the California coast launched beach cruisers in the 1970s.
The beach cruiser bike is one of the cheapest types on the market. On average, expect to spend between $250 and $500.
Most beach cruisers come with a coaster brake only. Some models are fitted with a front-hand brake.
If you live in a hilly area, pick a 7-Speed or 21-Speed bike. Take a single-speed beach cruiser if you live on the coast.
Beach towns along the California coast launched this phenomenon in the 1970s when bicycle manufacturers studied the area's lifestyles and noticed a trend that harkens back to the Eisenhower era: bike designs notable for their ability to conquer sandy boardwalks, parking lots and turf on newfangled big, fat tires.
Related: Types of Bikes – The Ultimate Guide
This fad became a trend, and with each iteration, components were re-assessed to suit this unique riding niche. Saddles got wider and plusher; handlebars were altered to emulate backswept touring designs for proper posture, and that beefy balloon tired became the hallmark of the beach cruiser.
But the most practical innovations were yet to come: The use of rust-free hardware to combat the beach dweller's bane: rust and even barnacles.
Today's beach cruiser has become an amalgam of practicality, retro styling, and fun. Today's models maintain all of the traditions and innovations that make riding these bikes more enjoyable.
---
Beach cruisers with pedal-assist (e-Bike)
If you're new to the electric beach cruiser, you may not have been aware that you can purchase one with pedal assist, a feature that, writes Justin Duckham for Radpowerbikes.com adds "a little extra oomph to your ride."
Duckham declares that there's nothing like this feature because, once activated, every pedal stroke gets more accessible. You can go faster and further than you would be forced to undertake every stroke courtesy of your leg muscles.
Related: Best Electric Bikes for Commuting
These controls are usually located on a handlebar and activated when the cyclist presses up or down on controls that send signals to the pedals that it's time to up the action.
Pedal-assist mechanisms offer multiple settings that increase power delivery, equaling 1 horsepower to propel your ride. All this magic originates with a cadence sensor built into a bike's drivetrain, so you don't have to think much while enjoying the extra push.
---
What is the best beach cruiser bike?
Our recommendation for the best overall beach cruiser is
Priority Coast
– a rust-proof, comfortable, and affordable bike with Gates Carbon Drive Belt.