---
Most people spend between $300 and $700 on a trike.
Many models come with a single-speed only, but you need a wide gear range if you plan to climb hills.
Tricycles are very heavy and wide.
Many trikes come fully equipped with fenders and big cargo storage.
---
We've spent hundreds of hours researching more than 15 tricycles to put together this list of the very best tricycles for adults. If you want a reliable, comfortable, and fully-equipped trike with great parts, get the Schwinn Meridian ( Link to Amazon ). It's a great trike with a retro-style, built-in cargo storage for groceries, and an affordable price tag.
---
Schwinn Meridian
-Best Overall Tricycle-
---
+ Retro-style look with a classic aluminum frame
+ Affordable price tag
+ Big built-in cargo storage
+ Low step-through clearance
– Single-speed means no gear shifting for hilly areas
– It's a little bit heavy
---
The Schwinn Meridian is a single-speed adult tricycle with a classic retro appearance and swept-back handlebars for a comfortable upright position. The durable aluminum frame is accessorized with a large metal basket perfect for toting around cargo.
The Schwinn Meridian has full fenders on all three wheels, which helps prevent debris from the road from kicking up onto the rider. The low stand-over frame has step-through access, making it easy to get on and off.
This model comes in black, red, blue, navy, silver, green, and white. The frame should accommodate most adult riders. The seat has a quick release adjustment, making it easy to raise or lower the seat to match the rider's frame.
At 73 pounds this is a heavier model, which is great for durability but not ideal for people who need a more portable bicycle.
Schwinn Meridian is available in two options – with either 24 inch or 26 inches wheels. Both of them with only one speed. You should definitely consider this trike because it's one of the best adult tricycles on the market.
---
Kent Adult Westport Folding Tricycle
-Best Folding Tricycle-
---
+ Convenient folding design
+ Suspension fork
+ Adjustable seat and handlebars
+ Durable steel construction
– Limited color options
– Low-quality materials used
---
The Kent Adult Westport Folding Tricycle is a comfortable, space-efficient folding bicycle. The steel frame is exceptionally durable. Small 20-inch wheels and a folding frame make the Kent Adult Westport Folding Tricycle easy to store.
It's great for apartments and small homes where space is a big problem. The front suspension provides a smooth ride over uneven pavement. The low step-through design makes it easy to mount and dismount.
The wide seat is designed for comfort and can be adjusted for the height of the rider. The handlebar height on the Kent Adult Westport is also adjustable, and the upright design of the handlebars helps the rider sit up with a comfortable reach.
The frame is suitable for most adults and older children. A spacious cargo basket at the rear of the tricycle provides plenty of storage for carting your items. This folding tricycle comes in an electric blue and royal blue color. My personal favorite is royal blue.
---
Mobo Triton Pro Recumbent Bike Trike
-Best Recumbent Tricycle-
---
+ Ergonomic seat and steering
+ Superior balance and stability
+ Good for riders with back pain
+ 100% American company
– No storage
– Difficult to climb hills
---
The Mobo Triton Pro is a compact recumbent adult tricycle that is super fun to ride. The recumbent design allows the riders to recline against back support while riding, providing a comfortable, relaxed ergonomic position. It also makes getting on and off the bicycle easy.
Read more: Best Bikes for Back Pain
The Mobo Triton Pro frame is adjustable and can fit riders as short as 4'2" and as tall as 6'3". The low center of gravity on this recumbent trike gives it excellent stability. The wheels of this trike are 16-inch rear and 20-inch front, which help this bike's agility.
Fenders keep debris kick-up at a minimum. The unique joystick steering system on this tricycle takes the stress off of the rider's wrists, arms, and shoulders with gentle maneuvering and steering.
This 44-pound tricycle provides a smooth, ergonomic ride at a fraction of the cost of most ergonomic bikes. The Mobo Triton Pro comes in blue, orange, red, and silver. The Mobo Triton Pro also comes with a safety flag accessory for high visibility.
In conclusion, I can say that the Mobo Triton is super cool and fun to ride. It's perfect for women, men, and kids 14 and up. If you like to own a 100% American product then Mobo is your top brand of choice.
---
Mantis Tri-Rad Folding Adult Tricycle
–Best for Flat Terrains-
---
+ Convenient folding design
+ Built-in cargo storage
+ Optional six-speed gearset
+ Decent suspension fork
– No rear fenders
– Uncomfortable handlebars
---
The Mantis Tri-Rad Folding Adult Tricycle is a folding trike with suspension that helps absorb the impact of bumps and uneven pavement. The folding design is great for space economy and storage.
The 24″ model has a six-speed gear set which is more than enough for a trike. Have in mind that most of the models are single-speed.
A large basket behind the seat is great for carrying cargo, and groceries. The spring-based comfort saddle is positioned low for a comfortable upright posture and easy reach of the handlebars.
A unique parking brake feature keeps the tricycle still when getting on and off, and the step-over design makes it easy to mount. At 45 pounds the Mantis Tri-Rad is pretty lightweight. A bike bell accessory is an added plus! But if you don't like it you can replace it with some of the best bike bells.
If you are on a budget and want to try a tricycle then this one is a good choice. But if you want to buy something high-quality look for something else.
---
Torker 24 x 20″ TriStar
-Comfortable ride, Great Parts-
---
+ Balanced and smooth ride
+ Great overall build quality
+ Easy to assemble
+ Good cargo space
– A bit heavy
---
Torker's TriStar 2.1 Adult Trike is another great choice for a tricycle for seniors. Actually, it is one of the best tricycles for adults you can find right now.
This tricycle's quality is outstanding, which makes it one of the most durable models in the market right now. The maximum weight it can hold for a rider is around 100kg (220lbs), which is quite a good spec to have.
This tricycle can be used for exercise, shopping, commute, or recreation, where you can ride as comfy as possible. The TriStar is a really fast and balanced tricycle that has very few downsides. The brakes are excellent, too, and in general, the overall build quality is outstanding.
This tricycle could be very nice for seniors to explore the neighborhood or to meet friends in the park.
---
Goplus Adult Tricycle
–Great Ergonomics, Smooth Ride-
---
+ Coaster brakes plus hand brakes
+ Handlebar height is a back saver, and ergonomic handles are made of rubber
+ Affordable and available in 24- or 26-inch sizes
– Difficult to assemble and instructions have been called confusing
– Weighing 67 pounds, this trike isn't easily lifted
---
You'll pay a little extra if you want the 26-inch trike over the 24-inch one or if you want it in red. Otherwise, this navy or black 24-inch model is an ideal choice for both men and women looking for a vehicle that does it all for around $255.
Do you like to shop 'til you drop? You'll love the large-capacity front and rear baskets.
Further, sturdy, quality steel construction ensures this trike's long life and both you and your cargo can weigh up to 331 pounds yet you get a stable ride thanks to the engineered weight distribution design.
If you're crazy about style, this Goplus has you covered: The three big wheels are protected by full-wrap fenders that discourage dirt and soil collection, making this an easy-to-clean and dry piece of equipment.
Alloy rims and iron spokes help deliver a smooth ride over most surfaces, and the large, soft, padded seat with springs is often the reason shoppers choose this trike over competitors.
Whether your only goal is to adopt an easy-going fitness regimen, or you intend to leave the car home to save on gas while you run around town taking care of errands, this tricycle could be the lifestyle changer you seek.
Extra touches like color and wheel size choices, the addition of a handlebar bell (don't laugh; this tiny accessory could help keep you safe), and the fact that the front bike basket folds down when you don't need it to make this a good choice for on-the-go seniors who have a lot of living to do.
---
Happybuy Adult Tricycle
-Affordable, Fully-Equipped-
---
+ People living with Arthritis applaud the adjustable, ergonomic rubber handles
+ The handlebar bell on the right side comes in handy
+ Available in single- or 7-speed models
+ It comes with a lock, instruction manual, and installation tools.
– Not very powerful brakes
---
Also available in a single-speed model, the Happybuy adult trike comes with 24-inch wheels, an adjustable seat, Bell brake system, and basket, so it checks off all the right boxes in terms of the features you're seeking.
At around $210 for a 7-speed trike, you can knock off $10 if you don't care about having access to more than one speed to get you around on your errands or during your workout.
Rider and cargo can weigh up to 300-pounds total thanks to a high-quality iron frame, and the wheels are fitted with alloy rims with stainless steel spokes. Since consumers seek a large-capacity basket for errands when buying an adult trike, this Happybuy doesn't disappoint.
Whether you're cruising with your dog in the basket because he's getting a little older or you've hit a seasonal craft market and decide to do all of your holiday shopping, this adult bike can handle it all.
Meanwhile, you get to go from place to place sitting atop a comfortable cruiser saddle and enjoying the feel of swept-back, upright handlebars.
Further, gain the advantage of having a 7-speed Shimano derailleur plus shifters for effortless control over the trike when you ride. Full-wrap fenders control the amount of dirt the trike collects. Stop on a dime thanks to front and back brakes that offer what the company calls "intuitive stopping."
---
Ridgeyard 6 Speed 24 Inch Trike
-Simple, Comfortable, and Stable-
---
+ Competitive price tag
+ Six gears help you adjust your ride to suit your pace
+ Ideally suited to seniors with limited mobility
+ Rustproof alloy wheels
– Fenders may be flimsier than competitor models
– Assembly instructions may be confusing
---
Feel free to skip this review if you don't like the idea of riding around on a bright yellow adult trike that could remind passers-by of an oversized bee. But if you don't mind the attention or invite it, this 24-inch, 6-speed unit with a roomy rear basket could be just what the doctor ordered for those seeking to up their daily fitness routine.
Priced at around $240, this Ridgeyard product is engineered to hold up to 300-pounds of weight atop a frame fabricated of high tensile steel.
Given this trike's anatomy, you're assured a balanced ride made easier by the wide, upright handlebar that gives you excellent control over your trike, and because it comes in just one high-profile color, plenty of seniors consider this to be a safety feature because the color alone makes you and your trike unmistakable as you zip about running errands or getting in your recreational ride.
The large rear basket accommodates just about everything you bring onboard, just as long as you don't overdo that 300-pound limit. This is a comfortable ride courtesy of the padded, spring-assisted saddle that is designed to handle and absorb bumps on the go.
Adjust the seat to suit the frame of your body, and while you're at it, customize the height of your handlebars, too.
---
Benefits of riding a three-wheeled bike
The numbers are staggering: the 65-and-older population is projected to reach 83.7 million in the year 2050, representing a senior population increase that has doubled over the past 40 years.
For those who have physical impairments but want to stay active, the adult tricycle has been nothing short of a miracle product. Adults get all of the benefits of a two-wheeler without the risk.
They can increase their leg strength while improving their cardiovascular systems, metabolic health, and cognitive acuity—this is especially true for seniors over the age of 70.
Adult Tricycles Are Super Stable
Adult tricycles have two back wheels and one front wheel.
This tripod construction of the adult tricycle provides stability for side-to-side movements that could otherwise tip a two-wheeled bicycle.
For people who like to ride slow and people with balance troubles, this is an important benefit.
On an adult tricycle, you can ride as slow as you please, and the 3-wheeled design keeps you balanced.
Also, most adult tricycles have a step-over design, making it easier to mount and dismount. For older adults, falls are the leading cause of fatal and non-fatal injuries according to the National Council on Aging.
Adult tricycles can prevent a health crisis by reducing the risk of a fall, and optimize health by keeping older adults active.
Another way to reduce the risk especially in your home is to follow some simple home-improvement tactics for seniors.
Adult Tricycles Are Super Comfortable
Because adult tricycles are generally built for cruising, they offer a comfortable upright position.
This is great for people who have stiff backs and feel uncomfortable bent over on something like a road bike. Most tricycles also have a nice big seat which is comfier to sit on.
Then there's also the recumbent variety of tricycles which let the rider sit back in a reclined position while pedaling.
These have become so popular with older adults they were featured in the Wall Street Journal which reported that baby boomers are responsible for an uptick in adult tricycle sales.
Adult Tricycles Keep You Active Longer
The National Institute on Aging reports that staying active can prevent diabetes, heart disease, and other chronic conditions.
They advocate a combination of strength, balance, endurance, and flexibility for older adults to get the most benefit from physical activity.
Riding a tricycle checks three of the four boxes, improving strength, balance, and cardiovascular endurance.
---
What to consider when choosing an adult tricycle
Adult Tricycle Types
A good retailer will stock all three types so you can try them out: recumbent, semi-recumbent (aka adaptive), and upright.
According to Occupational Therapist Mike Price, there's not a lot of difference between them in terms of engineering, so you are likely to make your decision based on personal preferences and price.
Adult Tricycle Power Source
You'll be asked if you prefer to ride a bike powered by foot pedals or a hand-crank when you begin your search.
Why does this matter?
Because mobility issues could come into play. Perhaps you suffer from upper or lower muscle weakness or have a disability that makes it difficult to use one or the other. When in doubt, try both and see which one feels right.
Adult Tricycle Brakes
Once again, you could be offered choices since adult trikes are available with either pedal braking or coaster braking systems.
If you must deal with arthritis issues or your hand strength isn't the best, pedal brakes are a no-brainer option, while leg-related problems can be circumvented by choosing a trike with hand brakes.
Recumbent or Upright?
That depends upon your objective, of course. Upright, semi- and recumbent models all deliver a super cardio workout, but in terms of personal preference, you may like the feeling of being lower to the ground that's the hallmark of recumbents.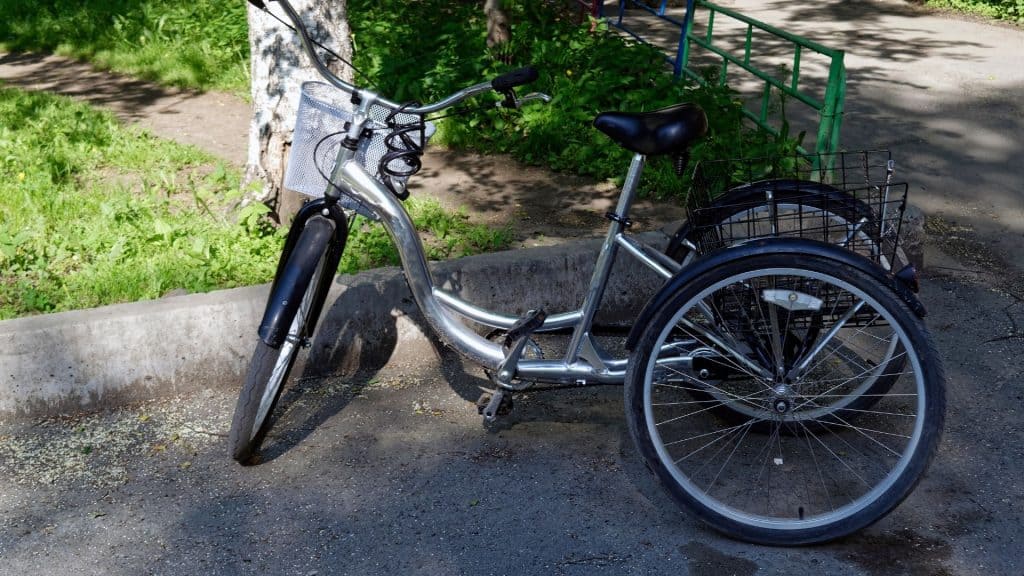 Further, due to the angle, your body assumes while pedaling on a recumbent, weight distribution helps make the riding experience less intense.
On the other hand, if you're in perfectly good condition and prefer an upright for all the right reasons, these adult tricycles could check all the right comfort and hand placement boxes, as well as allowing you to shift your position easily and relieve low back pressure, too.
Adult Tricycle Seat
When it comes to your derriere, the seat you choose could mean the difference between a sublime biking experience and experience-well-a pain in the butt.
As a general rule, uprights tend to have saddle-style seats that are wide and comfy. They offer a stable center of gravity, so you don't tip over when coming to a stop.
The recumbent family of bikes features sling-style, contoured "platform" seats offering excellent back support.
Adult Tricycle Handlebars
Examine all three options. Traditional trike handlebars are ideal for folks who enjoy a good range of motion and don't have upper body strength problems.
Loop handlebars allow cyclists with hand, wrist, and arm issues excellent control since they're ergonomically designed to be kind to these extremities.
No motorcycle jacket is required if you crave chopper handlebars! These are available on upright and recumbent trike models, but make sure your upper body, arms, and shoulders are strong and solid if you pick this type.
Adult Tricycle Weight Limit
Weight limits on upright trikes are surprisingly diverse, though a mid-priced model tends to support weight in the 300-pound range, and that number usually includes both the rider and items stowed in baskets.
That said, you could find trikes on the market that are engineered for the cyclist who tips the scales at less than 200 pounds.
Members of the recumbent trike family (often referred to as bariatric models) tend to be heavy-duty workhorses that could accommodate a senior weighing upwards of 400 and 500 pounds.
Adult Tricycle Gears
We introduce you to yet another choice: Hub versus Derailleur gear systems. This could be where your rubber meets the road in terms of pricing.
Derailleur gear systems are the favorites of senior tricycle riders who are living on a budget (they're cheaper), but that doesn't mean quality is compromised since high-end derailleur gears are not just lighter, but you could ride at a faster pace if they're installed on your trike.
Look upon Hub gears as you would a Cadillac over a Chevrolet. They're dependable, efficient, and simple—-which could mean fewer maintenance issues over the long haul.
In terms of numbers, many manufacturers are offering consumers gear options: whether a single gear is all you want.
Adult Tricycle Frame
As the heart and soul of an adult tricycle, the skeletal framework may be composed of aluminum, steel, titanium or carbon fiber (though we did run into one made of bamboo on Etsy!).
Trike frames are usually composed of two parts. The front supports body weight and connects the fork to bearings.
The back unit supports the two rear tires and cargo. Opt for high tensile steel if you want a lighter frame and longer life. Titanium is equally strong and pricier, but it absorbs shocks more efficiently.
Aluminum is a stiffer, less expensive material while carbon fiber (fibers bonded by glue) is a tough and sturdy material that competes with metal materials used to fabricate trikes.
Adult Tricycle Wheels
Are all wheels created equal?
Not so much.
Unlike bicycles, you could find yourself stalking a retailer or website looking for your custom size since this equipment comes in varying diameters.
Small wheels require a rider to pump pedals harder to cover the same distance as larger wheels and to confuse matters even more; some offer a more "cushioned" ride because they are made with thicker inner walls that tend to absorb shocks and take road bumps better.
You'll know if your trike has thinner wheel walls from the intense vibration. By the way, did you know that spokes count, too? The more spokes, the more weight the trike can handle.
Adult Tricycle Comfort
How important is comfort?
Your answer is likely to be "Very."
But according to experts in the field, "comfort can be taken too far" if the primary reason you snagged an adult trike is to use it for exercise.
That plush seat could turn into a bum experience, and if that seat is located too far away from those handlebars (particularly if your trike is a recumbent) or you've got yourself a badly-positioned backrest, your fitness commitment could come to an abrupt halt.
On the other hand, if you intend to compete in the Senior Olympics, your trike will serve you best with a forward seat that gets you to your personal best.
Adult Tricycle Budget
While all adult trikes offer seniors step-through mounting that makes it easier to get on and off, pricing on trikes is truly all over the planet.
But did you know that according to the Assistive Technology Advocacy Project, you may be able to get the cost of your trike covered by Medicare if it can be classified as Durable Medical Equipment?
Read more: How Much Should You Spend on Your First Bike
You may have to drop a note to the folks at Medicare before making your purchase and include a letter written by a doctor or occupational/physical therapist.
Sadly, private insurance companies rarely cover trikes, even if they're prescribed by a medical professional.
That stated, everything about the trike you desire will impact the price you pay. Go for a tricked out trike with lots of accessories or select a recumbent that meets extreme medical standards and prepare to take out your plastic.
Best-selling trikes average $350 while electric adult models could set you back $3,000. Shop around; this is one product category you'll want to research–and a great place to start is with our recommendations.
What is the best trike for adults?
If you want a reliable, comfortable, and fully-equipped trike with great parts, get the Schwinn Meridian. It's a great trike with a retro-style, built-in cargo storage for groceries, and an affordable price tag.
Editors' Recommendations: